Live streaming helps make people part of the experience when they can't be present. Here are five ways you can optimize your broadcasts to connect with a remote audience:
1. Address your online audience directly
2. Get creative with camera angles
4. Promote your live streams + simulcast
Final Thoughts + Further Reading
1. Address Your Online Audience Directly
Start your live stream by welcoming your audience and giving them a brief agenda of what to expect. Make sure your subject looks at the camera directly to better connect with your online viewers.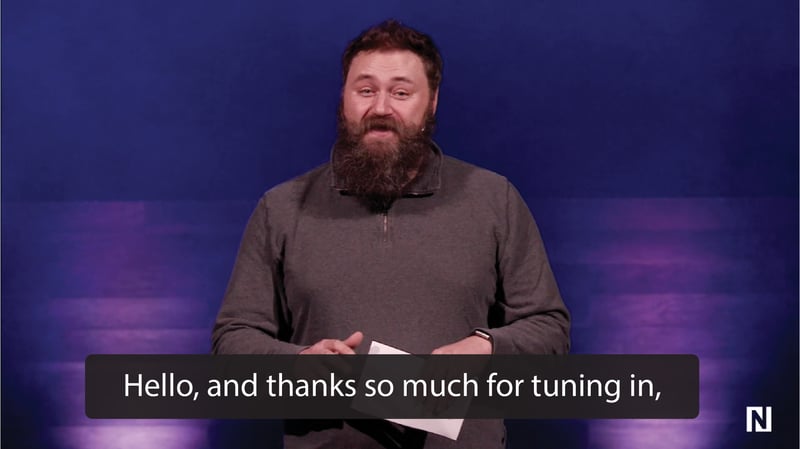 You'll want to be mindful of your facial expression, body language, and tone as you introduce yourself or your stream. Depending on the nature of your broadcast, your demeanor may be drastically different to achieve the desired audience engagement.
For athletic or event streams, it may be better to start by hitting the ground running with a high-energy, engaging attitude to get viewers excited for what is to come.
Religious or business streams will require cooler heads, and often a more even, mellow tone to ease viewers in and affect an air of professionalism, control, and reverence.
Even if you don't have a physical audience present for your recording, it's encouraged to conduct yourself on-stream as though you were presenting for a live, present audience. This will lead to more dynamic and engaging styles of speaking, rather than the monotony of reading from a prompter and just going from one line to the next.
If you inject genuine enthusiasm into your stream right from the start, it will reach and impact your audience no matter where they are. People are tuning in for a reason, don't give them a reason to tune out!
2. Get Creative with Camera Angles
If you're remote live streaming an event without an in-person audience, consider getting up close and personal with your shots. Placing a camera on stage or zooming in closer on your subjects can help make your live stream more immersive. With no one in the audience, you won't have to worry about crowd shots or wide shots.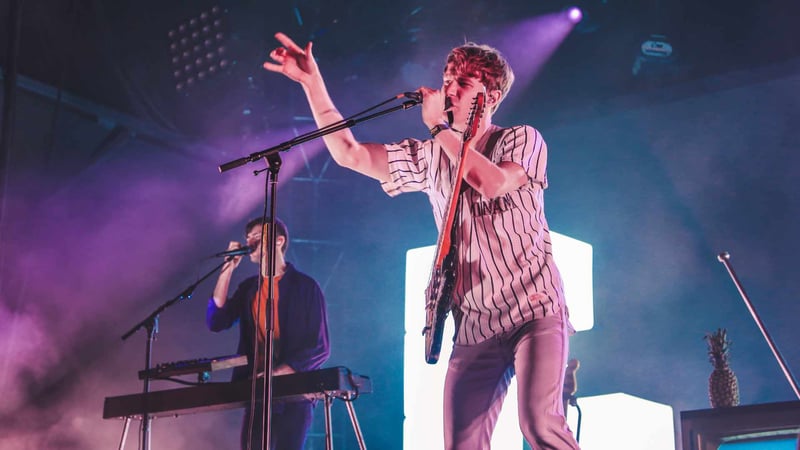 Even if you do have a live audience, you can still get the benefits of multiple camera angles if you utilize multiple cameras. Cutting from one feed to another can improve the dynamism of your broadcast, and refresh audience interest, as well as potentially showcasing set pieces or other parts of your stage.
If you want to learn more about streaming with multiple cameras, you've come to the right place. Check out these helpful resources:
3. Moderate Your Comments
If you're streaming to social platforms like Facebook and YouTube, or using a streaming platform like BoxCast, it's a good idea to have someone moderating and responding to your viewers' comments and questions. This keeps your audience engaged and shows you care about your community.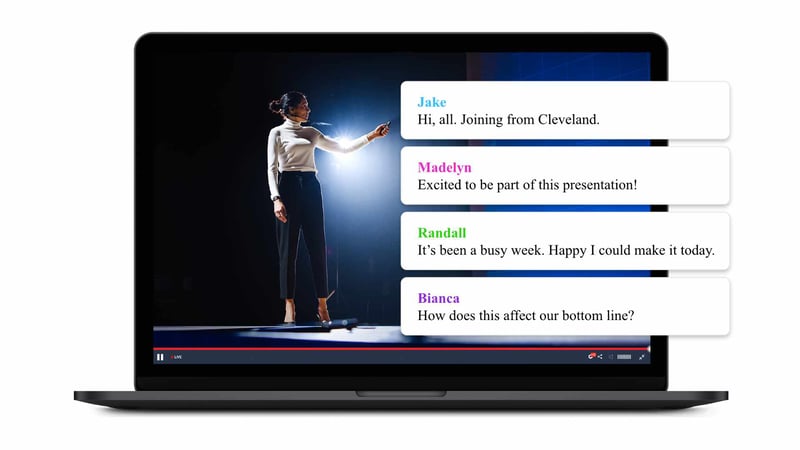 This is especially important for athletic or gaming streams, as the on-field developments often spur plenty of discussion among viewers. Competitive banter can help to create a playful culture within your stream, but be careful of toxic and abusive commenters who may ruin the experience for others.
Viewer Chat is a built-in feature to BoxCast and lets a broadcaster respond to comments on a live stream and engage with viewers. Broadcasters using BoxCast can also block commenters and individual messages without the offending commenter knowing. Viewer Chat has spam and profanity filtering built in, automatically muting swear words and preventing commenters from sending more than five subsequent messages in a limited amount of time.
A well moderated stream can provide engaging audience interactions without having to worry about trolls trying to wreck a fun experience.
4. Promote Your Live Streams + Multistream
What's the point in streaming if no one's watching? Promoting your live stream ahead of time gives you the best chance of getting the most eyeballs on your content.
This webinar dives deeper into ways you can maximize your viewership. Make sure to let your viewers know where they can find your broadcasts online.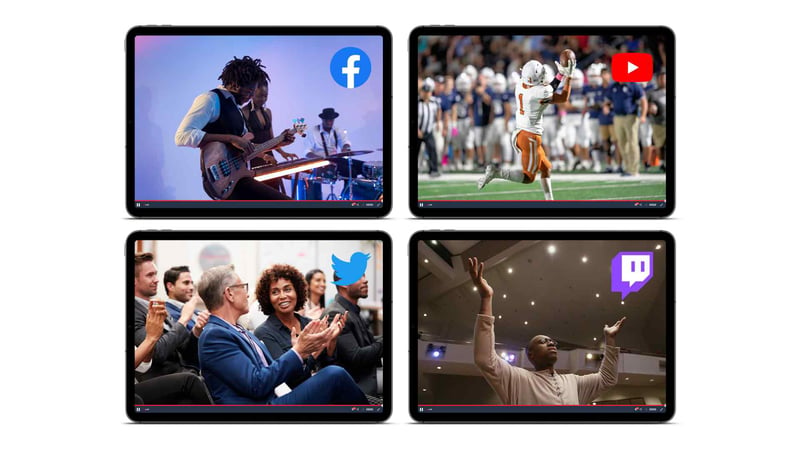 Another great way to increase your viewership is to simulcast to multiple destinations — also known as multistreaming. You can send your live stream to multiple social media channels, websites, and set top boxes all at the same time. You can also use BoxCast's one-time website embed to provide a great viewer experience on your website.
You can also promote your live stream through social media. Sites like YouTube, Facebook, Twitter, and Twitch are extremely high traffic platforms that could help you to attract new eyes to your stream and help to grow your brand. Check out our guides below to learn how to live stream remotely with each site:
5. Rebroadcast to Save Time
A great way to get more out of your live events is to rebroadcast them at a later date. This is especially helpful for viewers who can't watch while you're streaming. Our Simulated Live feature allows you to rebroadcast a past stream or prerecorded video at a later date as if it were live.
Learn more about how to archive live streams for later rebroadcasting on our blog.
FAQs
Can I save live stream videos?
With BoxCast, yes. All live streams that you've produced with your BoxCast account are automatically saved after each broadcast…you don't have to do a thing! They can be found in the BoxCast Dashboard under Past Broadcasts.
What is simlive or Simulated Live?
Simulated Live takes a pre-recorded video and streams it live as if it were happening in real time. YouTube, Facebook, and Twitter live streams display this video with a live notification. Simulated Live is a great way to connect with a live audience because you can enable chat and interact with your viewers (and they can interact with one another) in real time. BoxCast makes it easy to do this in a few clicks in the BoxCast Dashboard. Learn how to re-broadcast your live streams.
How can I copy live streaming video?
If your encoder offers the ability to record your stream locally, either to your computer or to a memory card, you can save a copy of the live stream that way. You can also save the live stream through your streaming provider. BoxCast recommends using both methods to ensure your copy of your live stream is safe.
Final Thoughts + Further Reading
Live streaming helps you stay connected to your community. BoxCast makes streaming to people easy, regardless of where they are. With features like viewer chat, multistreaming, document uploads, graphic overlays, and more, streamers using BoxCast create a professional and reliable experience for their viewers whether they're in person or completely remote.
Check out these articles to learn more about connecting to remote audiences and streaming hybrid and virtual events:
How to Live Stream a PowerPoint Slideshow with Picture-in-Picture Video
How to Live Stream All-Company or Town Hall Meetings
Conferencing + Meeting Video Tools vs. Live Video Streaming