When live streaming, you can easily share content from your computer and present your webcam's video feed all at once. This lets your audience see you and your content at the same time. Sharing a video feed on top of other moving content is called picture-in-picture (PIP) and works great for presenting content or hosting virtual and hybrid events.
There are four easy steps to share content and live stream a webcam at the same time — keep reading as we walk you through each.
What's the easiest way to live stream PowerPoint content in picture-in-picture mode? With Producer by BoxCast. It's really simple way to host live virtual and hybrid events, produce podcasts, and share screens directly from a web browser. Producer is your own professional streaming studio, right on your device. See everything you can do with Producer here.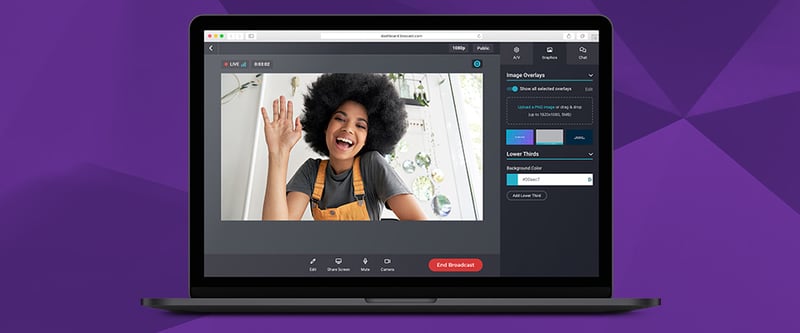 Before you get started, make sure you have the following.
Equipment Checklist
In order to produce a picture-in-picture slideshow presentation with Producer, make sure you have the following items:
You can find all the gear we're using for this picture-in-picture slideshow guide here on our Kit page.
How to Stream a PowerPoint Slideshow with Picture-in-Picture Video
Step 1: Connect Your Gear
Start by connecting your external monitor to your streaming computer via HDMI. Once you're connected, you'll want to make sure your computer has display mirroring turned on: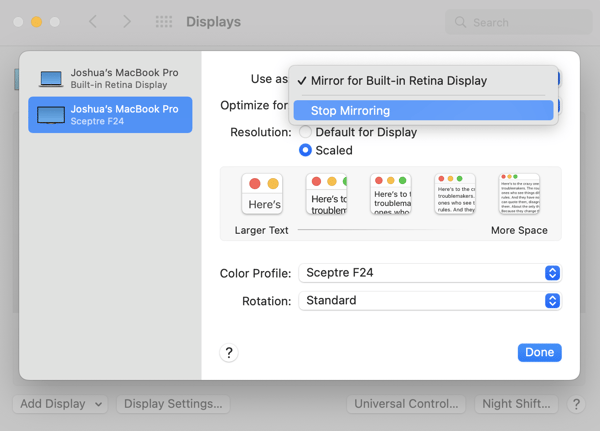 Step 2: Present Your Slideshow
Now that your monitor is connected, hop into Producer on your streaming computer's display. Click Share Screen below the live preview, then select your external monitor as the display. This will likely be labeled as Screen 2.
Optional: If you're using an external webcam, you can simply add it alongside your presentation by clicking the vertical ellipses under Media Sources next to your live preview, and selecting your webcam as the video source.
Step 3: Select a Layout
Once you've shared your screen in Producer, you'll notice a Screen Configuration tab appear under the A/V setting next to the live preview.
From here you can select between split screen and different picture-in-picture layouts.
Bonus Tip:
If you'd like to add a custom color background to your display, click on the graphics tab in Producer, and select Broadcast Background Color under Theming.
Here you can enter your own custom hex code, or select from one of the presets in the color picker below it.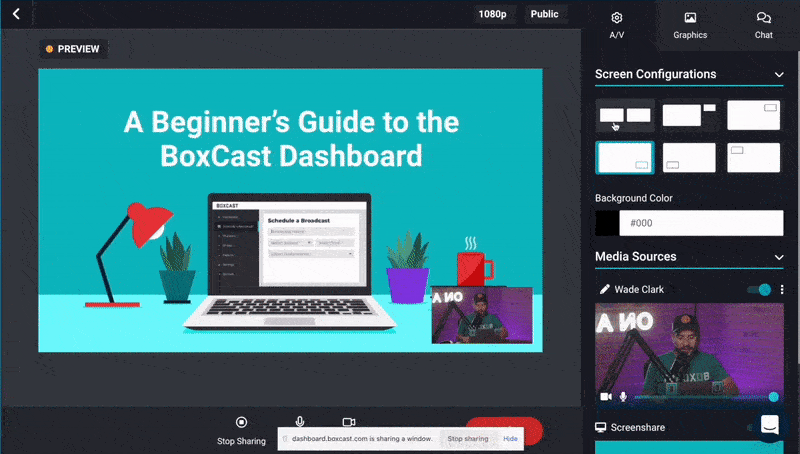 Step 4: Present Your Slides
Now that your layout is set up, you can enter into presenter mode using your presentation software (PowerPoint, Google Slides, Keynote, etc.) and start your presentation.
Once your slides are fullscreen, there are two ways to progress through your slides while you're in Producer.
Option 1:

Use the left and right arrow keys on your keyboard to advance and reverse your slides.

Option 2:

Use a USB clicker to advance and reverse your slides.
Step 5: Go Live!
Once your presentation and webcam layout is set up the way you'd like, click the red Go Live button right below your live preview. Now you're streaming live — good luck with your presentation!
Bonus Tip:
If at any point in the presentation you want to switch between picture-in-picture, fullscreen of your webcam, or fullscreen of your PowerPoint slides, you can easily do this by toggling off the other source under Media Sources.
Once you toggle it back on, the presentation will automatically revert back to your original settings.
Final Thoughts + Further Reading
Looking to take the next step and add professional sound to your presentation? This article breaks down our favorite USB mics at every level. Once your audio is as crisp as can be, check out our guide to the best webcams for live streaming.
Watch three quick tips for delivering high quality streams directly from home:
Live Stream Straight From Your Computer for Free
With Producer by BoxCast, you can live stream directly from your device with professional quality and streaming tools in minutes. Get started for free here.