Audio quality is one of the most important elements of video — especially live video. If you're live streaming from a computer at home, the office, or a studio, the quality of sound picked up by your computer's microphone just isn't going to do the trick for your audience in most instances.
We recommend enhancing your production value by using an external mic or mixer instead of using the built-in microphone on your device. In this post, we'll give you a few simple recommendations for mics and gear that can enhance your live stream audio quality.
Luckily, getting quality audio and live video from your computer doesn't have to be difficult. Live streaming software like Producer by BoxCast makes streaming virtual and hybrid events directly from your computer simple and easy.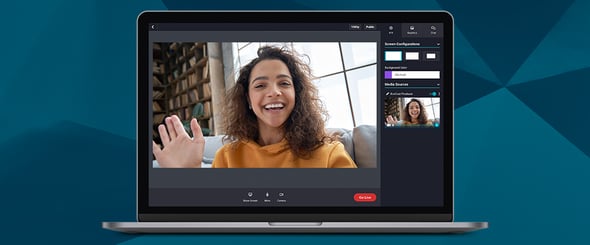 Producer is your own professional streaming studio, right on your device. With Producer, you can live stream, host virtual and hybrid events, produce podcasts, and share screens directly from a web browser. Get a full breakdown on everything you can do with Producer here.
The Best Mics for Live Streaming from a Computer
Table of Contents
Keep this in mind: People ask us all the time for "the best mic." Full stop. Similar to choosing a video camera, there's no such thing as "the best mic" — there's only the best mic for the type of content you're creating, your video setup, and your budget.
1. The Budget-Friendly Mic Option
The easiest, no-fuss way to capture high-quality audio for Producer and other browser-based live streams is to use a wired lavalier mic that connects directly to your computer.
We recommend the Sennheiser XS Lav Lapel mic, which works with computers and mobile devices that have USB-C ports. It works directly out of the box, and you can easily clip the mic to your clothing, giving you great sound with a degree of subtlety in where it's located.

Most wireless lavalier microphones are omnidirectional, meaning they can pick up sound from any direction. It's not so much as important which direction you clip the lav as it is the physical placement of the mic on your subject.
Quick tip: When using lavalier mics, have your subject give you a thumbs up right below their chin to position the lav on them. This way, you'll avoid any clipping and get a nice, comfortable sound from your subject.
2. The Middle-of-the-Road Mic Option
The Rode Wireless Go System is a step up from the Sennheiser XS Lavand comes with a wireless transmitter and receiver. This allows you to capture audio up to 650 feet away for a much wider range of recording scenarios.
The transmitter works as a recorder as well, and has a built-in, clip-on mic so you don't necessarily have to connect a separate lavalier. However, you still have the option to use a separate lavalier with the 3.5mm input, so you have a ton of flexibility on how to mic up your subject.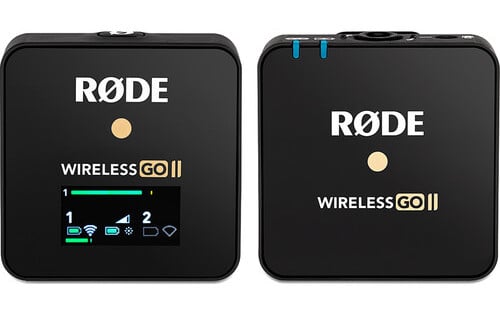 The receiver has a USB-C port that connects the system to your computer or a mobile device.
If you're looking to stream interviews and discussions, the Rode Wireless Go System also has the option to connect two transmitters to one receiver to capture audio from two subjects at once.
3. The Professional Podcasting Mic
For the best sound quality, we recommend using a dynamic podcast mic like the Shure MV7. The Shure MV7 is great for podcasting, YouTube videos, webinars, and voiceover work. It works best when you're not moving around a lot.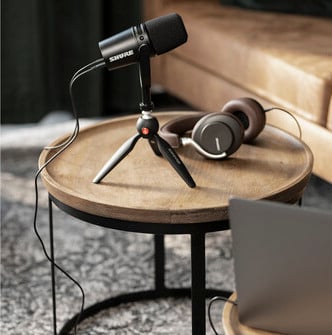 This type of mic has a very full, rich tone. The built-in noise cancellation isolates your voice and removes some background or room noises. You don't necessarily need to be in a professional sound studio to get the most out of it. To capture the highest-quality sound, you or your subject must speak directly into it. The MV7 also looks great on camera, so you won't need to worry about removing it from your frame.
The MV7 is incredibly flexible, and lets you plug into a mixer (XLR) or directly into your computer (USB). There's also a headphone port that lets you monitor the sound of your voice while live streaming or recording.
Connecting a mixer or musical instrument
You can also connect a mixer, musical instrument, or microphone you already own to your computer by using a USB audio interface like the Shure MVI, which comes in a small form factor that sits nicely next to your streaming computer. This allows you to connect your audio source via XLR or quarter-inch inputs on the back. If you need to, it lets you phantom power a mic as well.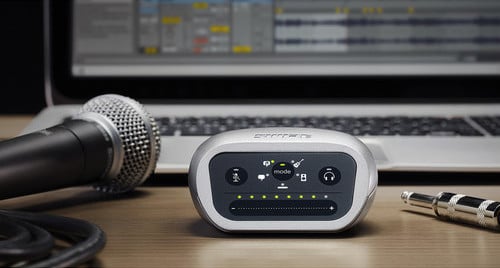 The MVI comes with five different presets depending on the type of content you're streaming or recording. You can manually control headphone volume and input gain on the interface itself, giving you the perfect combination of ease-of-use and flexibility.
Final Thoughts + Further Reading
All the mics we recommended in this video can also be found on our Kit page. Go ahead and peruse the rest of our Kit profile if you want more recommendations on live streaming gear!
If you want to take the next step in live streaming from home and add a webcam to your setup, read this breakdown of our favorite webcams that work with Producer for a clean, professional look. You can learn how to live stream picture-in-picture (PIP) video from a webcam while presenting a slideshow, too. Lastly, browse the best live video equipment for every level.
Live Stream Straight From Your Computer for Free
With Producer, you can live stream directly from your device with professional quality and streaming tools in minutes. Get started for free.