Focusing on video production alone is like brushing your teeth without applying toothpaste. Yeah, that's right: It might get the job done (to a certain degree), but brushing with toothpaste makes your teeth look a lot better. And yep, the same concept applies to live streaming. Incorporating video production and audio selection will make your streams sparkle even more.
People often ask us, "what microphone should I buy first?" or even, "what mic should I get for streaming?"
And our honest answer is, "it depends!" Just like cameras, the best mic for you depends on what type of content you're creating, your video setup, and your budget.
We've done the heavy lifting for you and compiled a list of five common microphone types that you can use to create great content. We'll also dive into when you should use them, and provide recommendations for each one.
Table of Contents
Short on time? Skip right to our recommendation kit.
Dynamic Podcast Mics
There are two main categories of dynamic microphones — podcast and handheld.
Dynamic mics like the Shure MV7 are great for podcasting, YouTube videos, webinars, and voiceover work. They work best when you're not moving around a lot.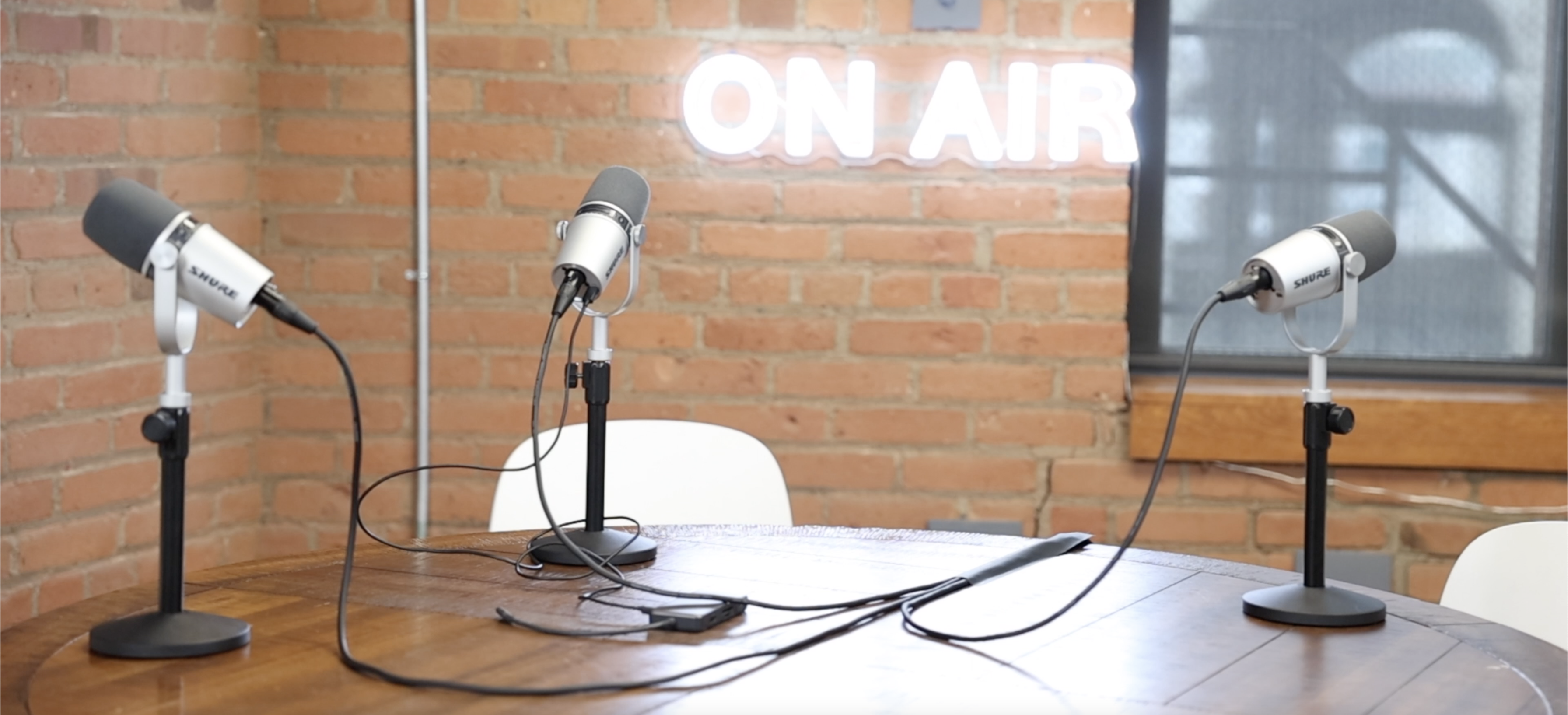 The MV7 is incredibly flexible, allowing you to plug into a mixer (XLR) or directly into your computer (USB). There's also a headphone port that lets you monitor the sound of your voice while streaming or recording.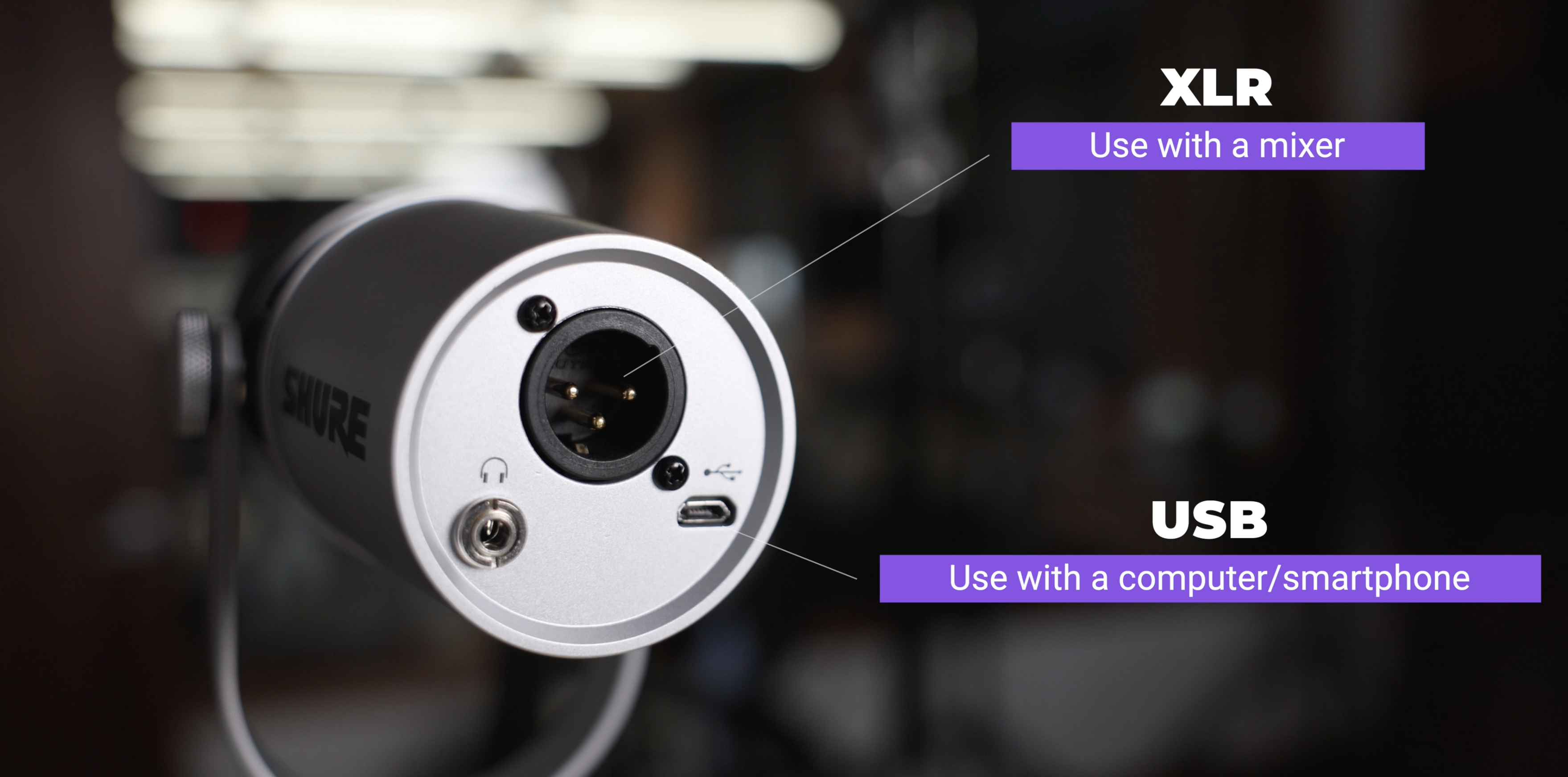 This type of mic has a very full, rich tone. The built-in noise cancellation isolates your voice and removes some background or room noises. You don't necessarily need to be in a professional sound studio to get the most out of it. To capture the highest-quality sound, you or your subject must speak directly into it. You won't want to use a dynamic podcast mic in any situation where you can't be really close to it.
Dynamic Handheld Mics
Dynamic handheld mics sound similar to dynamic podcast mics but are designed to be used in a live environment. These mics can be used for vocalists, discussion panels, or podium presenters.
Mics like the Shure SM58 are both wired and wireless. They are known for their vocal clarity, frequency response, and of course, their durability.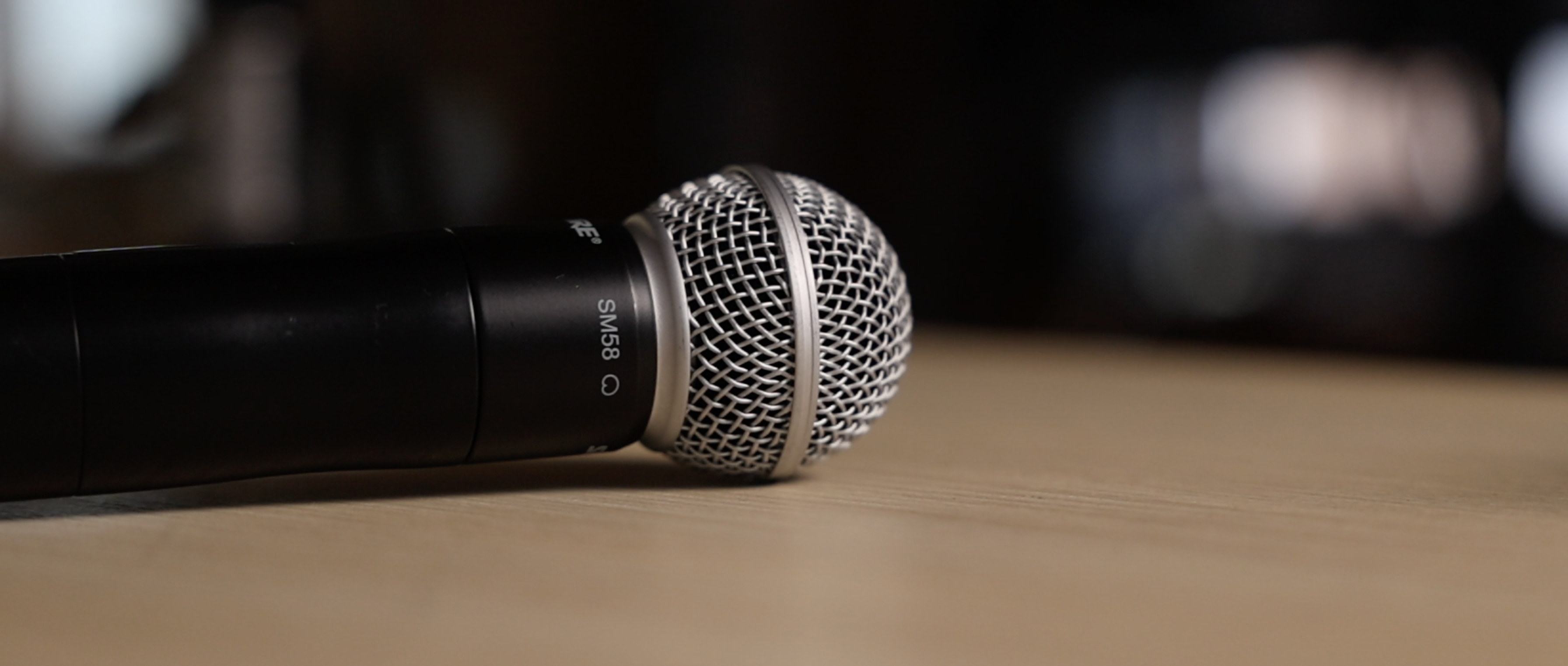 Similar to podcast microphones, handhelds aren't designed to pick up far away or quiet sounds, so make sure your subjects hold them close.
Lavalier Mics
The ultimate hands-free solution, lavalier microphones, are great for moving around on a stage or set. They're a convenient way to capture audio for run-and-gun content if you don't have a dedicated boom operator.
Most wireless lavalier microphones are omnidirectional, meaning they can pick up sound from any direction. It shouldn't matter which direction you clip the lavalier, but it's important that you clip the mic close to your subject. Because they're omnidirectional, they can also pick up noise wanted (or unwanted) from other people, room sounds, etc.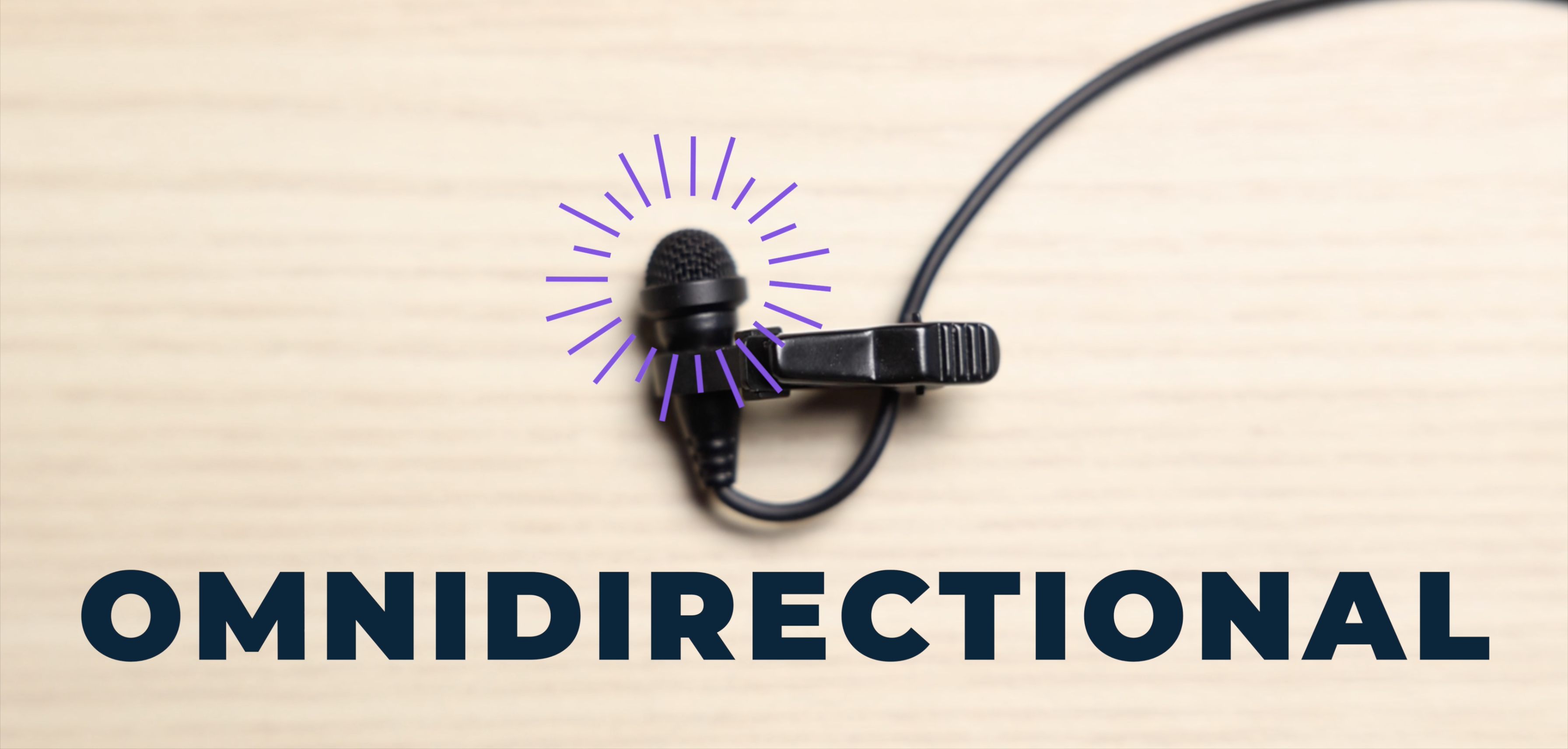 A good rule of thumb (no pun intended) is to have your subject give you a thumbs up right below their chin to position the lav on them. This will help avoid clipping, and you'll get a comfortable sound from your subject.
There's a wide range of options for lavalier microphone systems in terms of quality and budget. We recommend the Sennheiser AVX-ME2 system, which is the perfect solution for videographers and live streamers who need to be mobile. It's plug-and-play, and the receiver fits nicely on top of a camera or directly into a mixer.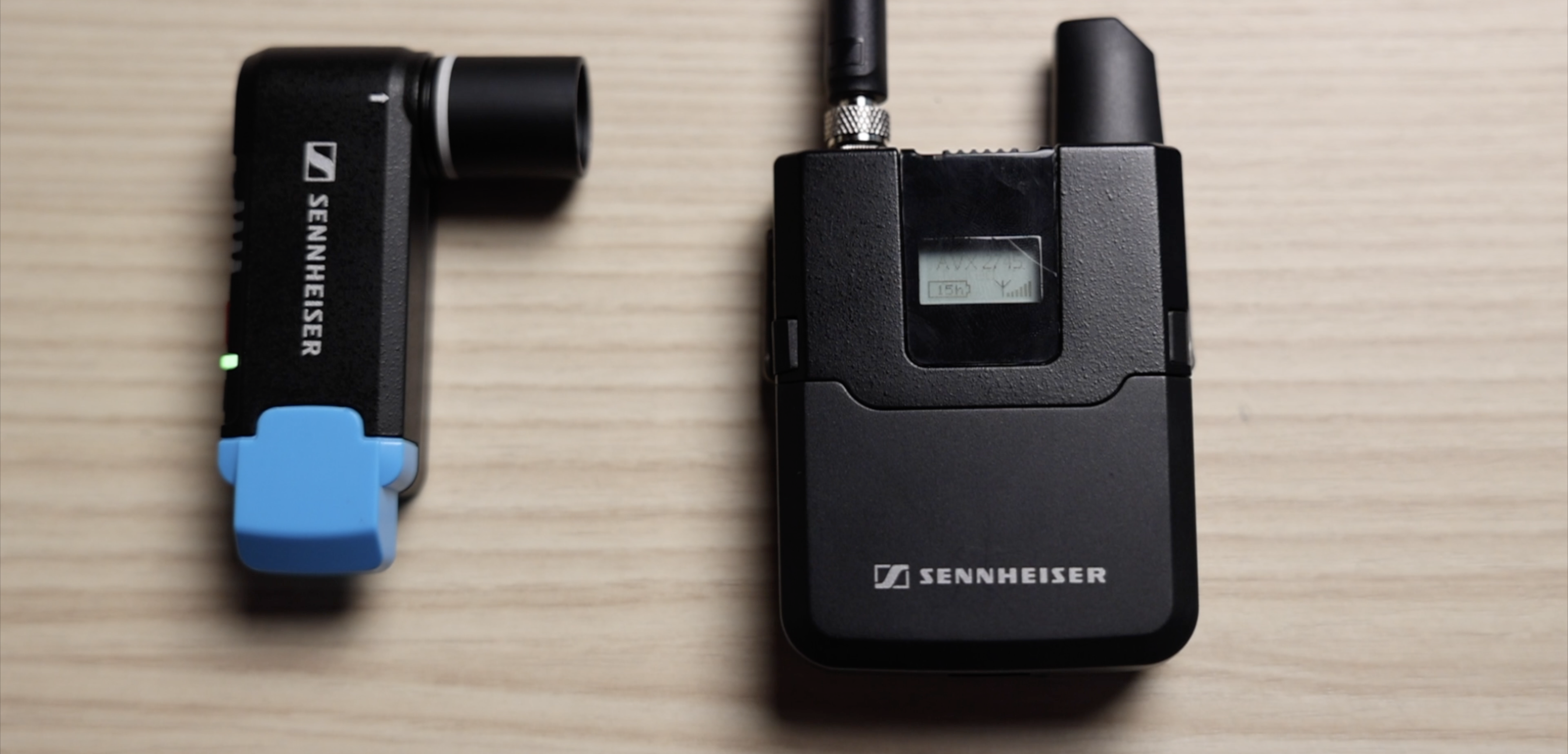 Charging the batteries is very easy, and you won't need to worry about rotating through a bunch of AAs. You can also buy a charging bay to avoid battery removal.
Shotgun Mics
Unlike lavalier mics, shotgun microphones are directional and pick up audio from any direction you point them at. Because of the form factor of shotgun mics, it's easy to think sound can be picked up over long distances, but that's actually not the case.
The ideal mic placement for shotgun mics is about eight to sixteen inches. Placement beyond that range could mean losing the sound of your subject. We recommend cutting the shotgun out of the shot but if that's not doable, then you may want to consider using a lavalier mic.
If you're set on the shotgun mic, we recommend the Sennheiser MKE 600. You can buy it as a standalone mic, or you can purchase a kit on B&H (includes boom pole, shock mount, carrying bag, XLR cable, XLR 3.5mm adapter, and a windshield).
We've used the MKE 600 for many years, and it's stood the test of time. A nice middle ground between price and quality, this mic works whether the camera is mounted, on a boom pole, or hidden during live events to pick up some extra ambient noise.
As a bonus, you can provide the MKE 600 with phantom power or run it on a single AA battery.
Broadcaster Headsets
If live streaming sporting events is your jam, we recommend you invest in a Broadcaster Headset. The Audio Technica BPHS1 Stereo Headset is a great option to stream high-quality audio and allow your color commentators to hear their conversation amongst themselves. To see how it works, check out the video below:
FAQs
What microphone should I buy first?
To figure out which microphone you should buy first, determine what you want to do with your mic. Are you filming a podcast or webinar, interviewing people, or streaming a sporting or music event? Then use our guide to choose between broadcaster headsets, dynamic podcast, dynamic handheld, lavalier, and shotgun microphones.
What mic should I get for streaming?
The mic you should get for streaming depends on your goals, budget, and setup — but if you're like most streamers who film in a static environment while not moving around too much, go for a dynamic podcast microphone like the Shure MV7.
Final Thoughts + Further Reading
Choosing the microphone that best suits your needs is crucial to delivering stellar content and live streamed video. While your viewers may not always notice when the audio is good, remember, everyone can tell when it doesn't sound quite right. Happy brushing — urgh, uh — streaming!
Get even better audio with these tips:
Balanced vs. Unbalanced Audio: What's the Difference?
How To Fix Audio Issues On Your Live Stream