So, you've decided to enhance your live streaming setup. Or you've at least started to do your research. As you've probably already discovered, choosing equipment can be challenging and time consuming.
Let us help. Though BoxCast works well with all sorts of different cameras and production equipment, we've put together a list of some of our favorites to help you get started. Whether you're new to streaming or a professional videographer, this post is for you.
If you're looking for advice on just video cameras, here's our post on the best video cameras for live streaming. If you want multiple camera angles for your live stream and don't know how to make that happen, you should check out our intro to video switchers. Looking for a good approach to buying new A/V gear? Here's how to buy live streaming equipment. Otherwise, read on.
Equipment for New Streamers
If you've decided to dive into video production for the first time, these devices could be just what you're looking for. The technology in these gadgets is great for single-camera setups and helps you put your best foot forward, even if you don't feel like you totally know what you're doing.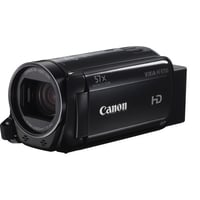 Why we like it: The Canon Vixia HF R800 is a great starter camera if you're new to live streaming and using a video camera. It allows you to shoot 1920x1080/60p video with a light, compact body that fits in your pocket.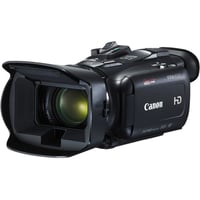 Why we like it: There's a common concern that you have to update your entire lighting system to look good on a live video stream. This HD camera looks good in natural low-light conditions and shuts that misconception down. The HF G21 is a great camera for beginners looking to shoot more professional video. It comes with manual settings similar those on a professional-level camera, easily adjusted on a user-friendly, 3.5-inch touchscreen. With 20x optical zoom, you can position your camera in the back of a room and still get close to your subjects.
Blackmagic's ATEM Mini is the most affordable video switcher on the market. With four HDMI inputs and a few other built-in bonuses (picture in picture, basic audio mixing, etc.) this device is perfect for entry-level video switching.
Note: This won't scale as easily with your productions, since there's currently no way to use a multi-view monitor, but for smaller events, the ATEM Mini is the perfect live switching companion.
Why we like it: This durable tripod is great for any level and will last a long time. Its fluid drag head lets you tilt and pan so there's no jerkiness to your image. It also has both rubber and spiked feet, making it great for indoor and outdoor use.
Equipment for Intermediate Streamers
You have a developed understanding of video equipment and are no longer seeking the most basic production tools. Still, you're not ready to attempt mastering the most technologically advanced options. It can be tough to navigate this middle ground, so we've done your research for you! These cameras, tripods, and microphones are bit more sophisticated than the ones for beginners.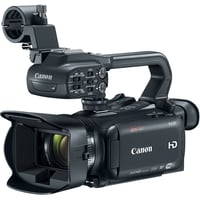 Why we like it: The Canon XA15 is a compact camcorder that comes fully loaded with the professional features of cameras you'll typically find in the $4,000 price range. A 20x optical zoom lens allows you to shoot subjects at long distances. Its HD-SDI/SD-SDI output and HDMI outputs make it compatible with other equipment, and the 2X XLR audio inputs guarantee high-quality audio.
Why we like it: (See above.)

Production (software): Wirecast (starts at $599)
Why we like it: Wirecast is one of the most user-friendly software switchers in the game. You can easily switch back and forth between various camera angles and incorporate graphic overlays onto your stream. Though you do have to pay for it, you can test it out with a free trial.
Note: Software switchers require the purchase of video capture cards in order to allow your computer to receive a video signal from an individual camera.
Production (hardware): Roland V-1 HD ($995)
Why we like it: Roland's highly popular prosumer switcher is an excellent choice for multi-cam live streaming for small houses of worship, smaller corporate meetings, and youth sports. With four HDMI inputs, a built in audio mixer, and picture-in-picture capability, this devices offers professional features for producing live events at a fraction of the cost.
Why we like it: Similar to the Roland V-1 HD, this portable switcher comes packed with four professional SDI inputs and outputs, along with four HDMI inputs, and a built-in audio mixer. This is a great switcher for the professional video producer looking for a more compact solution.
Equipment for Professional Streamers
If you're a seasoned broadcaster and are looking for tools that'll truly enhance your production, we're sure these devices will help you do just that.
Why we like it: This well-rounded camcorder is packed with professional video features. It provides 20x optical zoom and 40x clear image zoom, which still appears to be in HD past 20x optical. A beautiful Sony G lens provides great picture quality and does well in low light, thanks to a maximum aperture of f/1.6 and three CMOS sensors built into the camera. Overall, this is probably the best camera option for general event coverage — the only limitation is that its maximum resolution is 1080p60. If 4K isn't important to you, you'll love this camera.
Why we like it: This is a complete tripod system studio for indoor/outdoor scenarios and is capable of handling camera rigs weighing up to 16.5 pounds. The pan and tilt this tripod offers are smoother and more adjustable than what you'll find in the Magnus VT-4000. It also has an impressive maximum height of 66 inches, which is especially useful when live streaming events with large crowds.
Why we like it: The ATEM Television Studio Pro is an upgrade to the switcher above. It offers up to eight video inputs (four SDI and four HDMI). Everything you need to produce a polished, live production is available on the built-in front panel controls. This includes special effects, transitions, and audio mixing. It's an affordable solution but sacrifices no quality, and is comparable to production equipment that you may find in studios.
Final Thoughts + Further Reading
If you've got a better idea of what equipment your organization needs but are still looking for a streaming provider, read this post, which highlights some things you should consider while evaluating your options. You can also try BoxCast free for 14 days — no credit card or commitment required.
Here are some other articles you might want to check out:
The Best Video Cameras for Live Streaming
How to Add Lower Thirds on a Roland V1-HD
Decimator MD-HX: A Customer Review
Roland V-1HD Video Switcher: A Customer Review
How to Buy Video Streaming Equipment
The 5 Things to Look For When You Buy a Camera