So, you've decided to enhance your live streaming equipment setup — or at least started to do your research. As you've probably already discovered, choosing equipment can be challenging and time consuming.
Let us help. Though BoxCast works well with all sorts of different cameras and production equipment, we've put together a list of some of our favorites to help you get started. Whether you're new to streaming or a professional videographer, this post is for you.
Regardless of your setup, budget, or level of expertise, you should first know the five essential things to look for when buying a video camera for live streaming.
If you're just looking for advice on video cameras, here's our post on the best video cameras for live streaming. If you want multiple camera angles for your live stream and don't know how to make that happen, you should check out our intro to video switchers. Otherwise, read on.
The Best Strategy for Buying Live Video Equipment
If you're new to live video streaming, you might feel intimidated by the prospect of determining what equipment you need — especially with all the options you have for cameras, cables, switchers, etc. Finding what's right for you can seem overwhelming. But it doesn't have to be!
The five guidelines we've listed below will help you break down your decision-making process and properly evaluate what's best. Consider working through these steps as you purchase new video and audio equipment.
Step 1: Create a Budget
The most important thing to consider when you're first entering the streaming space is the amount of money you have to spend. Though it might seem tough, it's essential to create a budget that allocates a certain amount of money to each piece of gear. This makes it easier to avoid unnecessary expenses — especially the extra bells and whistles equipment companies make you feel are needed for your setup.
Be sure to factor in some wiggle room to account for expenses you didn't see coming.
For example: If you have a total of $1,500 in your budget, you may want to allocate $800 to a camera, $500 to an encoder, and $200 to cabling and other miscellaneous expenses. Once you set these standards, it'll be much easier to keep your buying process focused.
Step 2: Research
The beauty of the online marketplace is that there are endless customer reviews available for any major piece of equipment you'd like to buy. When evaluating equipment and reading online reviews, do your best to find people with similar circumstances as your own. That way, you can put yourself in their shoes and see if that piece of equipment helped them achieve their goals.
One of the most helpful tactics during your search is to find footage samples. Since they don't merely rely on the often-biased reviews from the websites you're buying from, these give you the best idea of the video and audio quality you'll get from your streams. A simple YouTube search about the product you're interested in will give you all kinds of reviews from everyday consumers.
Step 3: Consider Your Environment
The environment you stream in will heavily determine your equipment needs. Some common questions you should ask yourself when considering your environment are:
Where will I be

positioning my camera(s)

?

Where will I need to run cabling, and what are those distances?

What are the acoustics of the room like?

Where is the source of the internet connection located?

Where will I be

capturing audio

? Do I need external microphones?

What kind of lighting is available? Will I need more?
Step 4: Think Long Term
Video equipment is an investment. When you make buying decisions, you have to evaluate the lifetime value. If you plan to move, or if you're unsure of your long-term goals, it's quite possible you won't want to spend a lot of money on equipment in the short term.
However, if you plan on streaming for a long time, buying the cheapest equipment isn't always the best solution. Chances are, you might actually end up spending more money than you would have otherwise by constantly upgrading to the next best thing.
When thinking about your long-term streaming goals, consider:
Step 5: Get Started
The most important aspect of live streaming is that it lets you share your story with an audience. You have a story to tell — get it out there! No matter the quality of your stream, you're already doing something great, by sharing moments with people who otherwise couldn't be a part of them.
Though your equipment search is important, don't let it paralyze you from getting started.
Remember: The most important equipment is that which you already own.


Equipment for New Streamers
If you've decided to dive into video production for the first time, these devices could be just what you're looking for. The technology in these gadgets is great for single-camera setups, and helps you put your best foot forward (even if you don't feel like you totally know what you're doing).
New to Live Streaming and on a Budget?
It's completely feasible to start live streaming great content without a hefty production budget. Before spending hundreds of dollars on new cameras and gear, consider using two cameras you already own: the one in your computer and the one in your smartphone.
It's easy to go live straight from your computer with web browser-based streaming platforms. These typically use the webcam built into your computer — but they often allow you to add other external cameras as a video source if you want. With Producer by BoxCast, you can start streaming for free, host virtual events, multistream to numerous social destinations, and more. Check out everything you can do with this web browser streaming platform.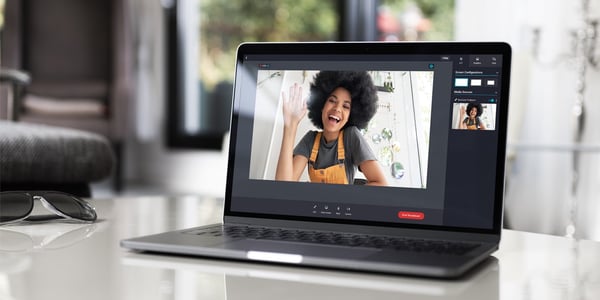 When using your smartphone paired with our Broadcaster app for iOS, we've noticed most newer iOS devices perform equally, if not better, than any camera generally less than $500 when it comes to live stream quality. Why? Because of the ever-improving quality of smartphone cameras as well as the streaming technology built into the Broadcaster app. Check out our Equipment for Mobile Streamers section to see how your phone can efficiently stream 1080p60 with HEVC compression.
The Best Equipment for New Streamers
Many broadcasters begin with this level of gear, but as their stream evolves and their audience grows, often so does the demand for better quality. If you're looking to scale up your stream, you may want to invest in better gear from the start.
Even though much of the equipment at this level only has single or basic functions, if you're just looking to dip your toes into the proverbial stream, this gear should be up to the task.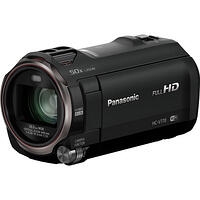 Why we like it: For those on a tight budget, this handheld camcorder is a great option for live streaming and event capture. It will capture high-quality video with a decent zoom range, and even has respectable decent low-light performance. It's super easy to use out of the box. However, if you're looking to scale your productions over time you may want to look at the Canon HF G50 or XA15. For footage samples, check out this video.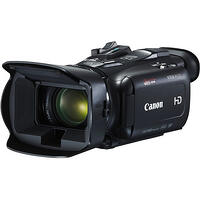 Why we like it: There's a common concern that you have to update your entire lighting system to look good on a live video stream. This HD camera looks good in natural low-light conditions and shuts that misconception down. The HF G50 is a great camera for beginners looking to shoot more professional video, and comes with manual settings similar to those on a professional-level camera. With 20x optical zoom, you can position your camera in the back of a room and still get close to your subjects. For those in need of 4K video, this camera can also record UHD video internally at 30fps.
Blackmagic's ATEM Mini is the most affordable video switcher on the market. With four HDMI inputs and a few other built-in bonuses (picture in picture, basic audio mixing, etc.) this device is perfect for entry-level video switching.
Note: This won't scale as easily with your productions, since there's currently no way to use a multi-view monitor, but for smaller events, the ATEM Mini is the perfect live switching companion.
Why we like it: This durable tripod is great for any level and will last a long time. Its fluid drag head lets you tilt and pan so there's no jerkiness to your image. It also has both rubber and spiked feet, making it great for indoor and outdoor use.
Why we like it: The Shure MV88 is a great on-the-go mic for your phone. If you plan to use our Broadcaster app, we recommend this microphone as long as the person you're filming is a bit closer to the camera. You can also use this mic for creating content around your organization. Here's how you can get it for free.
Why we like it: This Rode microphone is great for the run-and-gun setup. Since this is a shotgun microphone, we recommend the subject you're filming is close to the camera. Also, we like that your camera powers the microphone, so there's no need to carry around extra batteries.
Why we like it: For a handheld starter microphone, we recommend the Shure SM58. This grows with your production and gives you the best sound quality for the price.


Equipment for Intermediate Streamers
You have a developed understanding of video equipment and aren't just looking for the most basic production tools. Still, you're not ready to attempt mastering the most technologically advanced options. It can be tough to navigate this middle ground, so we've done the research for you! These cameras, tripods, and microphones are a bit more sophisticated than the ones for beginners.
Compared to the beginner equipment, much of the gear at this level is multifunctional and more complex, but this added utility comes at a price. Cameras in particular can start to get bulky at this stage, so broadcasts featuring a lot of movement or panning shots will want to deeply consider which option to select.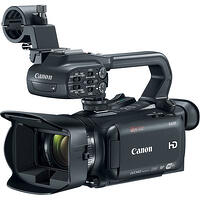 Why we like it: The Canon XA15 is a compact camcorder that comes fully loaded with the professional features of cameras you'll typically find in the $4,000 price range. A 20x optical zoom lens allows you to shoot subjects at long distances. Its HD-SDI/SD-SDI and HDMI outputs make it compatible with other equipment, and the 2X XLR audio inputs guarantee high-quality audio.
Why we like it: The Magnus REX VT-5000 is a step up from the Magnus VT-4000 and will give the same — if not better — smoothness for each shot. It can hold a heavier camera (up to 17 pounds) and is a great tripod for following the action onstage or on a field.
Production (Software): Wirecast (Starts at $599)
Why we like it: Wirecast is one of the most user-friendly software switchers in the game. You can easily switch back and forth between various camera angles and incorporate graphic overlays onto your stream. Though you do have to pay for it, you can test it out with a free trial.
Note: Software switchers require the purchase of video capture cards in order to allow your computer to receive a video signal from an individual camera.
Production (Hardware): Roland V-1 HD ($595)
Why we like it: Roland's highly popular prosumer switcher is an excellent choice of multi-cam live streaming equipment for small houses of worship, smaller corporate meetings, and youth sports. With four HDMI inputs, a built-in audio mixer, and picture-in-picture capability, this device offers professional features for producing live events at a fraction of the cost.

Why we like it: Similar to the Roland V-1 HD, this portable switcher comes packed with four professional SDI inputs and outputs, along with four HDMI inputs, and a built-in audio mixer. This is a great switcher for the professional video producer looking for a more compact solution.
Why we like it: This is the best podcast microphone on the market for the price. This mic can plug directly into your computer via USB for your Zoom calls, or connect via XLR to a soundboard for a three-person podcast.
Why we like it: The Shure VP89M gives you an amazing audio quality sound with a microphone you can put directly on your camera or a c-stand. This mic works best for filming interviews, YouTube content, or talk shows.
Why we like it: This combo kit gives you the ability to use a handheld mic or a wireless lav depending on what you need. It's also a great onstage or speaker microphone for your organization.


Equipment for Professional Streamers
If you're a seasoned broadcaster and are looking for tools that'll truly enhance your production, we're sure these devices will help you do just that.
As these devices are designed for trained, adept users, they can add a lot of complexity to your broadcast. Understanding all the different features and functions of a $2,000 camera should be a given by now, but that doesn't mean you can't still make rookie mistakes.
The biggest consideration at this level of video streaming equipment is the price tag — specifically for technology. Cameras, microphones, and switchers can cost upwards of thousands of dollars, so you need to have the budget to support this. When you consider situations like multi-camera setups, the cost of your equipment can escalate even more rapidly.
Why we like it: Canon's XF605 is a versatile content-producing machine for professional videographers and live production teams. With 4K60 recording along with 1080p at 120fps, you'll capture high-quality video in a wide variety of recording scenarios, making it great for live production, sports, and ENG-style video production.
It also has 12G-SDI and HDMI outputs that allow you to output 4K video to your A/V workflow. Both outputs work at the same time, so you can attach a monitor for your camera operators via HDMI, while still sending SDI to a switcher, encoder, or elsewhere. A 15x optical/30x digital zoom (25.5-382.5mm 35mm equivalent) lets you reach your subjects from long distances, making it great for sports. For those looking for an instant webcam, the XF605 can also output to a computer via USB-C without the need for a capture card (1080p only).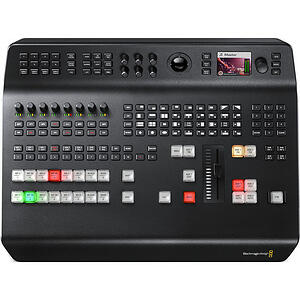 Why we like it: The ATEM Television Studio Pro is an upgrade to the switcher above. It offers up to eight video inputs (four SDI and four HDMI). Everything you need to produce a polished live production is available on the built-in front panel controls. This includes special effects, transitions, and audio mixing. It's an affordable solution but sacrifices no quality, and is comparable to production equipment you might find in studios.
Microphone:
Our microphone recommendations for seasoned pros are the same as our picks for intermediate streamers. Most of the time in a professional setup, there's already an audio system at the event you plan to stream or a separate audio person there to give you a line out.


Equipment for Mobile Streamers
When you're on the go and trying to capture that perfect moment, your streaming equipment needs and priorities can change drastically. You need a live broadcast equipment setup that not only provides the best picture and sound quality, but also portability and durability.
Standard equipment can be far too cumbersome in the field. A lightweight setup can save you the hassle of back-breaking labor, but can it stand up to the environment? Will you pick up the audio you want, or will it be drowned out by every chirping bird and buzzing cicada in the area?
When maximizing broadcast quality with reliability and ease of use, we've got some recommendations to make even your most remote streams look like studio quality.
Camera: iPhone (Price varies based on model)
Why we like it: Using your smartphone camera for streaming gives you the most portable option. With our Broadcaster app, you can stream directly from your iPhone to your website, Facebook, YouTube, and other social destinations in high quality. This is thanks to the smartphone's camera technology and Broadcaster's ability to efficiently stream 1080p60 video using HEVC compression. If you're not ready to make the jump into the production world, our Broadcaster app packs quite a punch.
Why we like it: The Shure MV88+ video kit will give you a mini tripod and a mic for your phone. It's ready to go out of the box, and increases your audio quality for interviews, musical performances, and other events.
Why we like it: Moment.com sells a case that will go on your phone and allow you to attach other lenses from their site. We really like the Moment Tele 58mm for content where you need more depth (like one-person interviews). When you need to show an entire space, we like the wide 18mm.
Pro Tip: It shows you more of a full room if you set the phone up in the back.
Why we like it: If you're looking to take your iPhone content to the next level, check out Beastgrip. They offer a wide variety of cases and lenses for your phone. These cases let you attach a light, small audio recorder, and other items to your phone.


Final Thoughts + Further Reading
Once you've got your basic setup complete, check out the Decimator MD-HX. It's a handy accessory to convert SDI to HDMI, scale different video resolutions, and a whole lot more. It's like a Swiss Army knife for handling video signals — our Decimator MD-HX video review shows how.
If you've got a better idea of what equipment you need but are still looking for a streaming provider, read this post, which highlights some things you should consider while weighing your options. You can also try BoxCast free for 14 days — no credit card or commitment required.