This post is a video review of the Roland V-1HD Video Switcher. It's part of our series on live streaming equipment.
We recently incorporated the Roland V-1HD Video Switcher into our production studio and love what it's allowed us to do with our broadcasts. We're convinced that this easy-to-use switcher is the perfect solution for any broadcaster, especially those who are new to the video production game, work on a small team, or even run a one-person show.
If you don't know what a video switcher is, you should start here: intro to video switchers. If you are looking for a good approach to buying new A/V equipment, here's how to buy live streaming equipment. Otherwise, read on.
Check out the video above to learn more about our experience with the Roland V-1HD, including a walk-through of several of its features.
Final Thoughts + Further Reading
If you've decided to stream but aren't sure which streaming provider is right for your organization, you're not alone. The free Buyer's Guide to Live Video Streaming highlights key features to consider when evaluating your different options.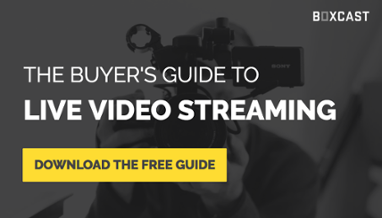 Here's some further reading you might find interesting:
The Best Video Cameras for Live Streaming
How to Add Lower Thirds on a Roland V1-HD
Decimator MD-HX: A Customer Review
How to Buy Video Streaming Equipment
The 5 Things to Look For When You Buy a Camera
Magnus VT-4000: A Customer Review