This post talks about some of the best video cameras that we have found for live streaming at every level. It's part of our series on live streaming equipment.
As every broadcaster knows, the most important piece of equipment in your production arsenal is your camera. (The second most important piece is your encoder). Viewers won't watch something that's poorly captured, so as you develop your live streaming strategy, be sure to dedicate proper resources to finding the right camera.
We've done the legwork to make your search easier. Below you'll find a list of our favorite cameras for live streaming at the consumer, prosumer, and professional levels.
If you're looking for advice on more than just cameras, here's our post on the best live video streaming equipment for every level. If you want multiple camera angles for your live stream and don't know how to make that happen, you should check out our intro to video switchers. If you are looking for a good approach to buying new A/V equipment, here's how to buy live streaming equipment. Otherwise, read on.
Why it's a great camera: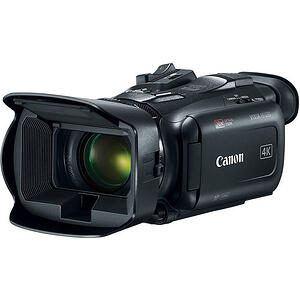 Its 20X optical zoom lens gives you plenty of zoom capability to focus on your subjects when they're far away.

The camera's hybrid stabilization feature makes it great for smooth handheld shooting. It also lets you select the best stabilization method for when your camera's handheld, on a tripod, or in a really shaky environment.

A manual dial on the camera lets you adjust image settings, such as focus, ISO, exposure, white balance, aperture, brightness, and color saturation.
Price: $999.00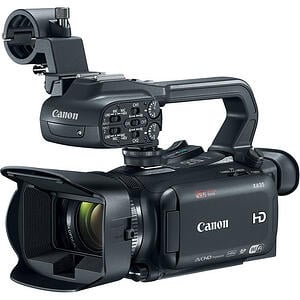 Why it's a great camera:
Its 2 XLR inputs allow you to use professional audio from a microphone. Plus, volume controls by the inputs let you adjust the incoming levels.

The

SDI output

can send a signal to video equipment like monitors and

SDI video switchers

.

The HD CMOS Pro sensor will make your images clear, even when streaming in low-light situations.

Canon's 20x optical zoom lens gives you plenty of zoom capability when you're subjects are far away.

A top handle makes the camera portable and easy to carry around.

Dual SD card memory slots allow you to backup your recordings for long periods of time.

A protective lens hood prevents unwanted light or dust from getting on the lens and adds additional lens protection when the camera is not in use.
Price: $1,799.00
Professional:
Why it's a great camera: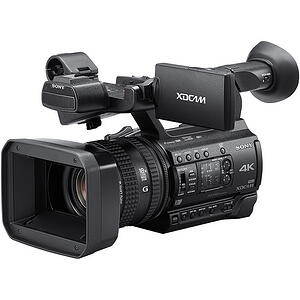 The camera's professional 3G-SDI output allows you to send a signal to professional video equipment like monitors and

SDI video switchers

.

If you're looking to record in 4K, this is a great place to start. You'll be able to capture in video UHD 4K (3840 x 2160) up to 30 frames per second.

The integrated 12x optical zoom can be extended via Sony's Clear Image Zoom technology to deliver an apparent 18x zoom range in 4K. The lens also gives you manual control over focus, zoom, and iris.

There are plenty of other professional features as well, including: 2 XLR inputs, built-in ND filters, and dual recording
Price: $2,998.00
Final Thoughts + Further Reading
Here's some further reading you might find interesting:
The Best Video Streaming Equipment for Every Level
How to Add Lower Thirds on a Roland V1-HD
Decimator MD-HX: A Customer Review
Roland V-1HD Video Switcher: A Customer Review
How to Buy Video Streaming Equipment
The 5 Things to Look For When You Buy a Camera