This post is a summary of the steps that you should consider working through as you purchase new video and audio equipment for your organization. It's part of our series on live streaming equipment.
If you're new to live video streaming, you might feel intimidated by the prospect of determining what equipment you need, especially with all the options you have for cameras, cables, switchers, etc. Finding what's right for you can seem overwhelming. It doesn't have to be.
The five guidelines we've listed below will help you break down your decision process and properly evaluate what's best for you.
Step 1: Create a budget
The most important thing to consider when you're first entering the streaming space is the amount of money you have to spend. Though it might seem tough, it's essential to create a budget that allocates certain amounts of money to each piece of gear. This will make it easier to avoid unnecessary expenses, especially the additional bells and whistles that equipment companies make you feel are necessary to your setup.
Be sure to factor in some wiggle room to account for expenses you didn't see coming.
For example: if you have a total of $1,500 in your budget, you may want to allocate $800 to a camera, $500 to an encoder, and $200 to cabling and other miscellaneous expenses. Once you set these standards, it will be much easier to keep your buying process focused.
Step 2: Research
The beauty of the online marketplace is there are endless customer reviews available for any major piece of equipment you'd like to buy. When evaluating equipment and reading online reviews, do your best to find people with similar circumstances as your own. You'll be able to put yourself in their shoes and see if that piece of equipment helped them achieve their goals.
A tactic I've found most helpful during my search is to find footage samples. These will give you the best idea of the video and audio quality that will emerge from your streams, as they don't merely rely on the often-biased reviews from the websites you're buying from. A simple YouTube search about the product you're interested in will give you all kinds of reviews from everyday consumers.
Step 3: Consider your environment
The environment you stream in will heavily determine your equipment needs. Some common questions you should ask yourself when considering your environment are:
Where will I be positioning my camera(s)?

Where will I need to run cabling? What are those distances?

What are the acoustics of the room like?

Where is the source of the internet connection located?

Where will I be capturing audio? Do I need external microphones?

What kind of lighting is available? Will I need additional lighting?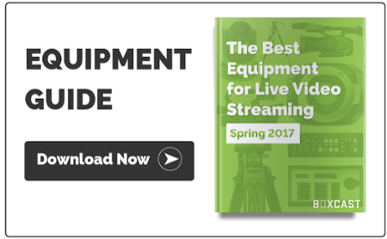 Step 4: Think Long-Term
Video equipment is an investment. When you make purchasing decisions, you have to evaluate the lifetime value of what you're buying. If your organization plans to move, or if you're unsure of your long-term goals, it's quite possible that you may not want to spend a lot of money on equipment in the short-term.
However, if you plan on streaming for a long time, buying the cheapest equipment isn't always the best solution. Chances are you might actually end up spending more money than you would have otherwise by constantly upgrading to the next best thing.
When thinking about your long-term streaming goals, consider:
Step 5: Get started
The most important aspect of live streaming is that it lets you share your story with an audience. You have a story to tell - get it out there! No matter the quality of the stream, you're already doing something great – you're sharing moments with people who otherwise couldn't be a part of them.
Though your equipment search is important, don't let it paralyze you from getting started.
Remember: The most important equipment is that which you already own.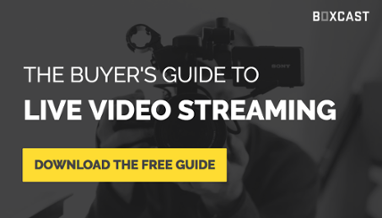 Final Thoughts + Further Reading
If you are looking for equipment for your AV setup and don't know where to get started, you might want to check out our Buyer's Guide to Live Video Streaming or our Equipment Guide for Live Streaming.
Here's some further reading you might find interesting:
The Best Live Streaming Equipment for Every Level
The Best Video Cameras for Live Streaming
How to Add Lower Thirds on a Roland V1-HD
Decimator MD-HX: A Customer Review
Roland V-1HD Video Switcher: A Customer Review
The 5 Things to Look For When You Buy a Camera