feet which give you versatility between shooting indoors on a flat surface or shooting outdoors and keeping the legs locked into the ground.
This tripod is made of aluminum and has a nice lightweight durable design. It will last you a long time. Its height ranges 27 inches to 59 inches and it can support up to eight pounds of camera equipment. If you're new to video production this will be plenty for you.
Lastly, it comes at the price of $149.95, which in the world of video production is extremely affordable for a product as reliable as this. If you spend $30 on a tripod you're probably just gonna end up throwing it away.
Well that's it for me but if you have any other questions you can let me know in the comments below or contact me any time here. Thanks so much for watching and happy streaming!
Buy the Magnus VT-4000 from B&H
Final Thoughts + Further Reading
Though cameras are important, they're not the only player in the live streaming game. To learn more about switchers, tripods, and encoders, check out this free guide: The Best Equipment for Live Video Streaming.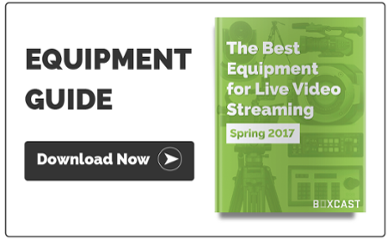 Here's some further reading you might find interesting:
The Best Video Streaming Equipment for Every Level
How to Add Lower Thirds on a Roland V1-HD
Decimator MD-HX: A Customer Review
Roland V-1HD Video Switcher: A Customer Review
How to Buy Video Streaming Equipment
The 5 Things to Look For When You Buy a Camera
Magnus VT-4000: A Customer Review