Picture this: You're attending a fantastic live event. Maybe it's a conference, concert, or a game. It's in person (what a relief!), but if it's not live streamed to the world, the event producers are already behind the curve. (Seriously, what were they thinking?!)
Just as video calls are part of everyday life, live streaming events are already the norm.
That's why today at BoxCast we're proud to launch Producer, the best platform for live streaming virtual and hybrid events directly from a web browser.
Producer is the easiest way to go live in minutes, straight from your computer. Traditional live streaming setups can be complex, but Producer makes it easy — no extra hardware required.
Sign up and start streaming with Producer for free right now.
Already have a BoxCast account? Simply sign in to the BoxCast Dashboard, enter Producer, and go live.
Customizable Live Streaming Platform — Go Live in Minutes
Producer is your own professional streaming studio. Express your creativity and produce world-class live events directly from your device. Here are just a few ways to enhance your broadcasts with Producer:
Screen sharing
Easily share slide presentations, run instructional walkthroughs, show documents, and discuss on-screen content with your audience by sharing your screen. Need a few tips to run a successful slide presentation? Check out the best practices guide for running a slideshow in Producer.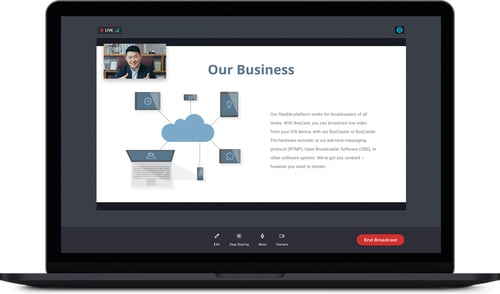 Customize video and screen layout
Easily adjust your screen configuration. Customize your broadcast with a side-by-side layout, enter picture-in-picture (PIP) mode, mirror your video feed, or adjust your screen size in just a few clicks.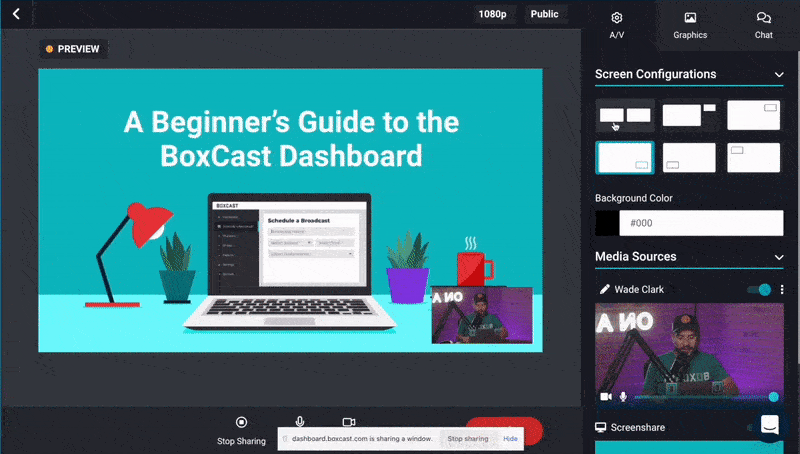 Branding + overlays
Customize your broadcast with your own unique branding. Adjust primary and secondary colors, introduce people and content with text overlays, display lower thirds and full-screen graphic overlays. Save your brand colors, preview overlays before they go live, and move text and images around the screen to create the best experience for your viewers. Note: Graphic overlays are available on the Growth, Experience, and Premium plans.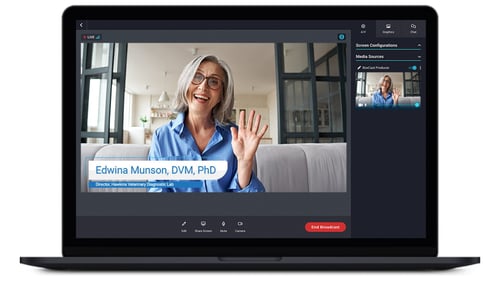 Monitor broadcasts and multistream to different destinations at the same time
Share your broadcast with the world. Producer lets you easily schedule a broadcast and stream it to a wide range of social destinations at once. Live stream to Facebook, Twitter, YouTube, Apple TV, Roku, your own website, and more all at the same time. Once you're live, easily view broadcast information, internet connectivity, monitor packet loss, and more.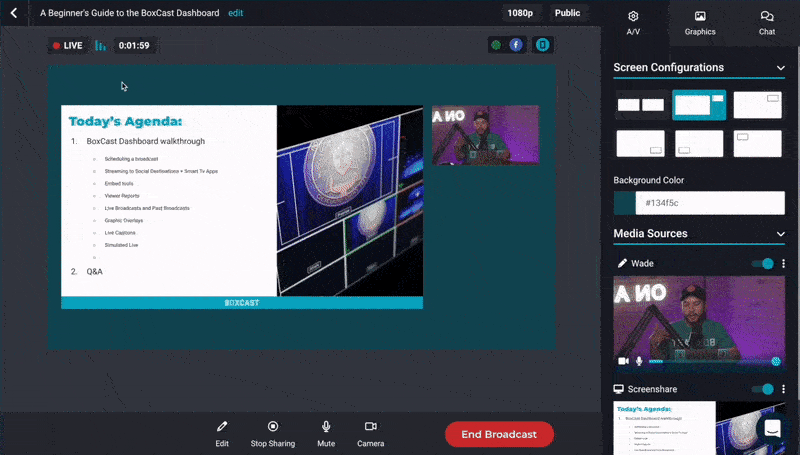 Manage live conversations with Viewer Chat
Whether you're presenting content or emceeing a virtual event, invite viewers to leave comments and questions in real time with Viewer Chat. Moderate, respond, and engage your audience with live chat right inside Producer.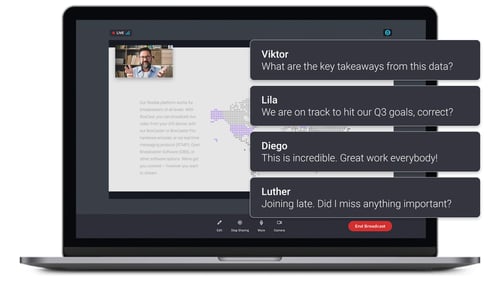 How Producer Works For You. Yes, You.
Every live stream is unique, and Producer removes stress and time from creating a high-quality, professional broadcast. Quickly create a unique production using just a few of these ideas:
Webinar — Present a topic, feature guest speakers and screen share your PowerPoint or Google slideshow.
Product demo — Showcase a new product and field any questions with live Viewer Chat.
Daily prayer and reading — Quickly share a prayer or scripture reading with your community just from your laptop.
School administrator update — Notify faculty and students of a policy change or timely update.
Awards ceremony — Display lower thirds and text overlays with winner names as they're announced.
Have your own unique idea for using Producer? Share your example to our Facebook page and inspire other broadcasters like you. We're excited to see what you create!
Final Thoughts + Further Reading
However you decide to stream, Producer makes it quick, easy, and enjoyable to express your creativity and communicate your message through live video. Take a look at our Producer walkthrough for tips on getting started. You can also learn how to stream a slideshow presentation in picture-in-picture mode. If you want to expand your setup beyond your computer, check out our external webcam and microphone recommendations.
Start streaming for free with Producer.