This post talks about how you can send your live stream to multiple destinations like Facebook Live, YouTube Live, Periscope (Twitter), your website, AppleTV, Roku, Amazon Fire TV, and Chromecast. At BoxCast, we call this 'Simulcasting'. It's part of our series on BoxCast Tech.
'Simulcasting' is the name for live streaming to multiple destinations (your website, Facebook Live, AppleTV, etc.) at once.
If you're live streaming the same video content to your website and to YouTube at the same time, we would say 'your live stream is being simulcast to your website and YouTube' or 'you are simulcasting your broadcast to two destinations.'
It's just a term to help define that form of multi-destination digital broadcasting in a world where there are many places on the internet to send your live stream.
With that definition out of the way, let's dive into the value of simulcasting.
A 90-Second History Of Live Streaming Destinations
Not long ago, organizations who wanted to stream an event digitally had only a few places to send the video.
Either you found a CDN (check out our live streaming glossary if you need this defined) to distribute your content around the world and an embedded video player to show that content on your website, or you sent your stream to a website that hosted the video player and sent your viewers to watch the live stream on that website.
Both of these old methods were clunky and expensive. More importantly, these old methods forced you to bear the full burden of promoting your event.
In the past few years, everything has changed dramatically. Live streaming has become social, which has given the medium an immense amount of additional promotion and engagement power.
Instead of bringing your followers to your live stream, you can now bring your live stream to your followers.
Live streaming to your website is important for your brand, but if that's the only streaming destination you have, you are missing out. Between Facebook Live, YouTube, Periscope (Twitter), and other social platforms, you can (and should) reach your followers, no matter where they are.


Why Simulcasting Can Be Difficult
Unfortunately, as tends to be the case with many technical developments, making one thing easier made another more difficult.
With so many different destinations for all of your live streams, it became complicated to set up a live stream to go out to multiple destinations.
Each of the live streaming destinations wanted you to send your stream only to their platform and created no functionality around sending the stream to other locations as well.
Alone, simulcasting would be unfeasible for many organizations because it would require sending multiple streams to multiple destinations separately at the same time.
A streaming process like that is exhausting and prone to errors. It would also require a massive amount of upload bandwidth.
Easy Simulcasting: Schedule It One Time
If you are streaming multiple events week-after-week, it's important to create a live streaming setup that's easy. Scheduling four separate events on four separate platforms right when your event is starting is stressful and unreliable.
At BoxCast, we make simulcasting setups easy by allowing you to schedule a broadcast with as many simulcast destinations as you would all at once, at anytime, and with a single click.
When the broadcast goes live, we make sure that a stream goes to each destination, so you can focus on creating a beautiful live experience for your viewers.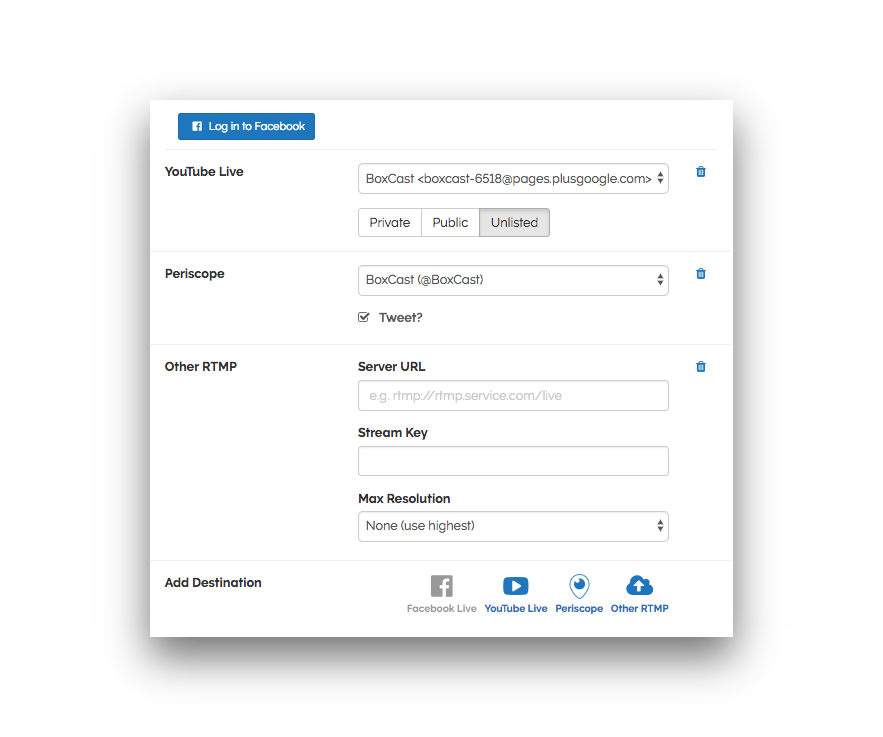 Note: Due to a newly enforced Facebook Platform Policy, you must choose to either simulcast to Facebook or simulcast to other live streaming services such as YouTube, Periscope, or any Custom RTMP Destination of your choice. You may still stream simultaneously to multiple Facebook Pages.
Easy Simulcasting: Maximize Your Bandwidth
Everyone who spends time with live streaming will agree that the most important factor in the performance of a stream is your network connection. The amount of bandwidth that you have can limit your ability to stream a consistent, high quality stream.
If you are simulcasting to different destinations separately, you are not using your bandwidth for maximum performance. Below is an example of this.
If your stream requires 4 Mbps upload and you are sending it to four different destinations separately, it will require not 4 Mbps but 16 Mbps to send them at the same time.
As a result, your network may not have the capacity to send all of those streams reliably. If it does, it's still an inefficient use of your bandwidth.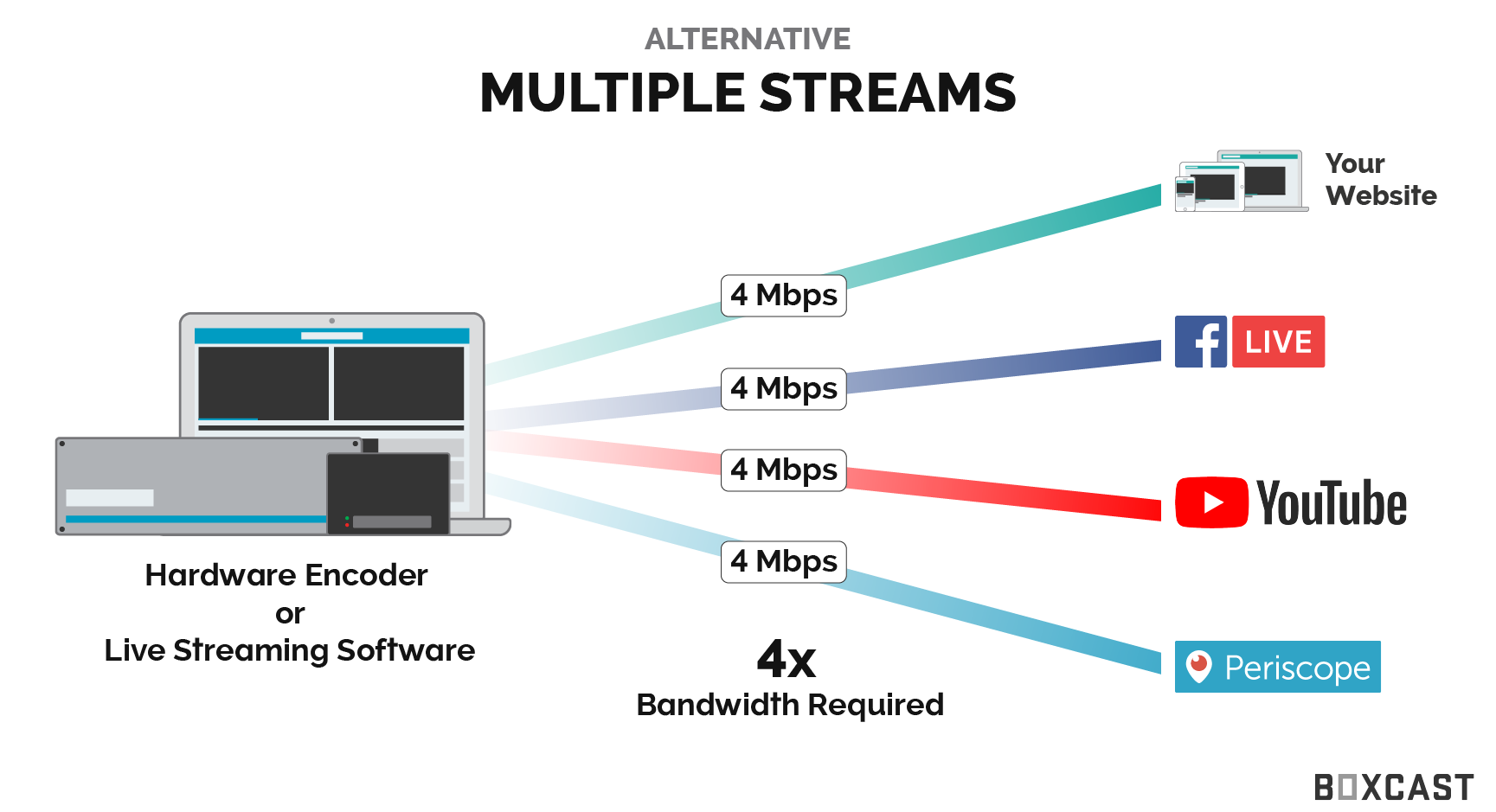 The BoxCast platform eases the bandwidth strain of your simulcast. With BoxCast, you don't have to send the streams to four locations separately over your network.
Instead, your network sends one feed to the BoxCast Cloud Platform. From there, we take care of distributing it to each of the destinations-- same result, one quarter of the bandwidth required.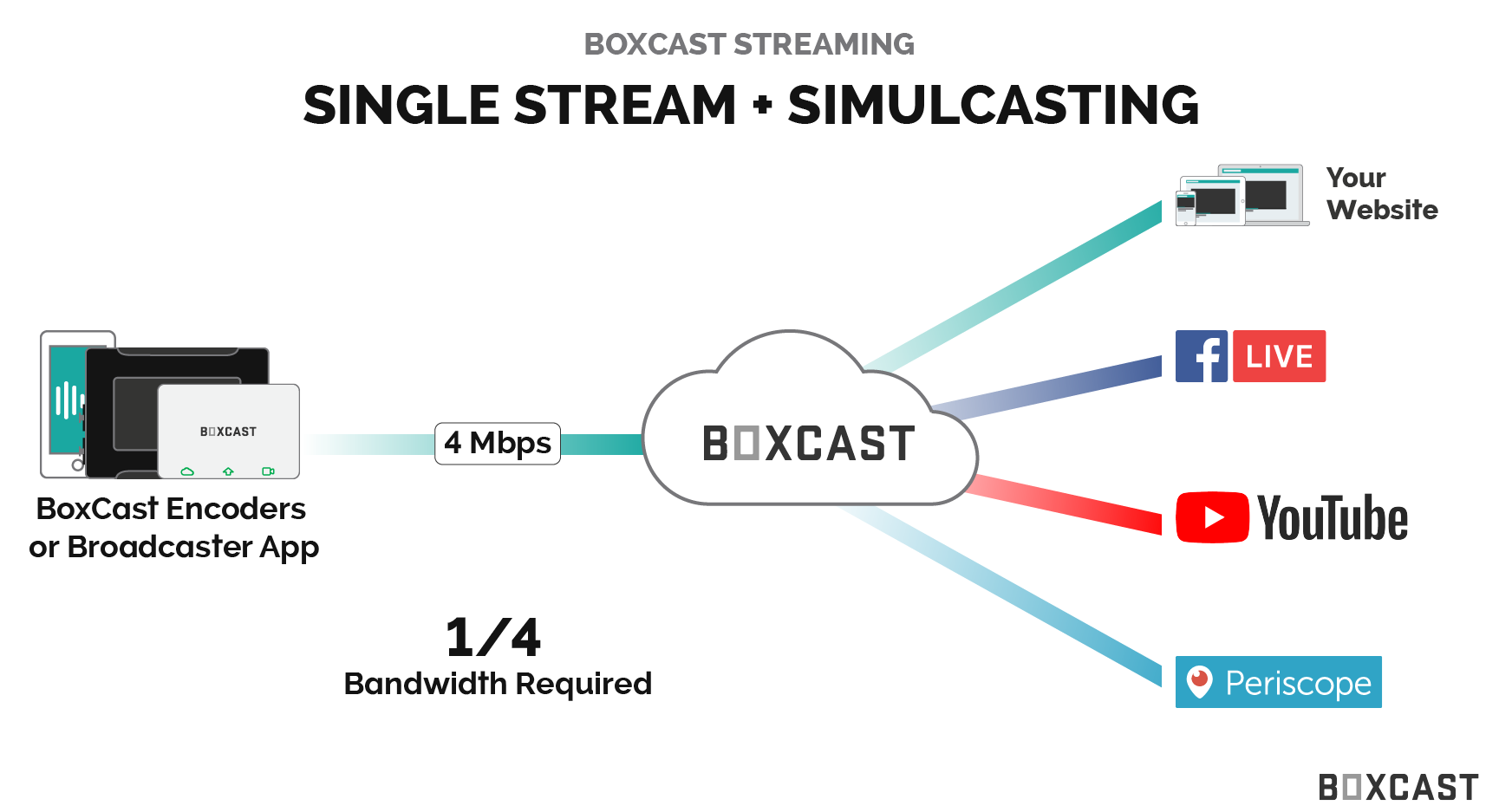 Final Thoughts + Further Reading
Simulcasting is a key part of the modern live streaming platform. If you aren't sending your broadcast to multiple destinations, you are missing out on viewership.
The BoxCast Platform helps you simulcast your broadcast to all the destinations where your viewers might be. More importantly, it makes simulcasting EASY.
Here's how the Cleveland International Film Festival increased their viewership by 760% by simulcasting.