How To Stream To YouTube Live With BoxCast
BoxCast makes it easy to stream directly to YouTube Live. With BoxCast, you can take content from a video camera, full production setup, or even Simulated Live and stream a high-quality feed directly to your YouTube account with minimal setup. You can also skip the encoder altogether and stream straight from your web browser using Producer by BoxCast.
Here's how live streaming to YouTube works with BoxCast:
Start by ensuring live streaming is enabled on your YouTube account. From your YouTube account, click into your YouTube Studio, then Settings. Select the Channel tab. From here, you can see everything you have enabled in your account. Live streaming should be under the Feature Eligibility tab, under Intermediate Features. You may need to verify a few things in your account, including your phone number, to activate live streaming.
Open your YouTube account
Click into YouTube Studio
Access Settings
Choose Channel
Select Feature Eligibility
Click Intermediate Features
Complete the steps to turn on live streaming for your channel
Note: There's a 12-hour provisioning time after requesting live streaming be activated before you're able to use it. Once that time's up, you're ready for the next step.
Now you can link your YouTube account in your BoxCast Dashboard. Go to Settings in the BoxCast Dashboard, select the YouTube tab, and link your YouTube account. Once you've enabled all the proper permissions, your account will be connected!
When you schedule a broadcast in your BoxCast account, you can select your already connected YouTube account as a destination, and your stream will automatically send to YouTube when your event begins. You can send to one YouTube account or multiple pages at the same time.
If you get stuck, we also have a full support article with step-by-step instructions, photos, and troubleshooting tips on BoxCast's YouTube Live integration.
More Benefits of Streaming to YouTube Live with BoxCast
In addition to being able to stream to multiple YouTube pages at the same time, BoxCast uses a feature called Simulcasting. Also known as multistreaming, Simulcasting lets broadcasters send their streams to multiple platforms, including Twitter and Facebook Live. Streaming to multiple platforms can be a great way to maximize your viewership and reach audiences everywhere. All of these feeds are generated in the BoxCast cloud and only require you to send one feed from your encoder. This ensures you're able to stream with less bandwidth from any encoder — even if your encoder is only capable of sending one stream at a time.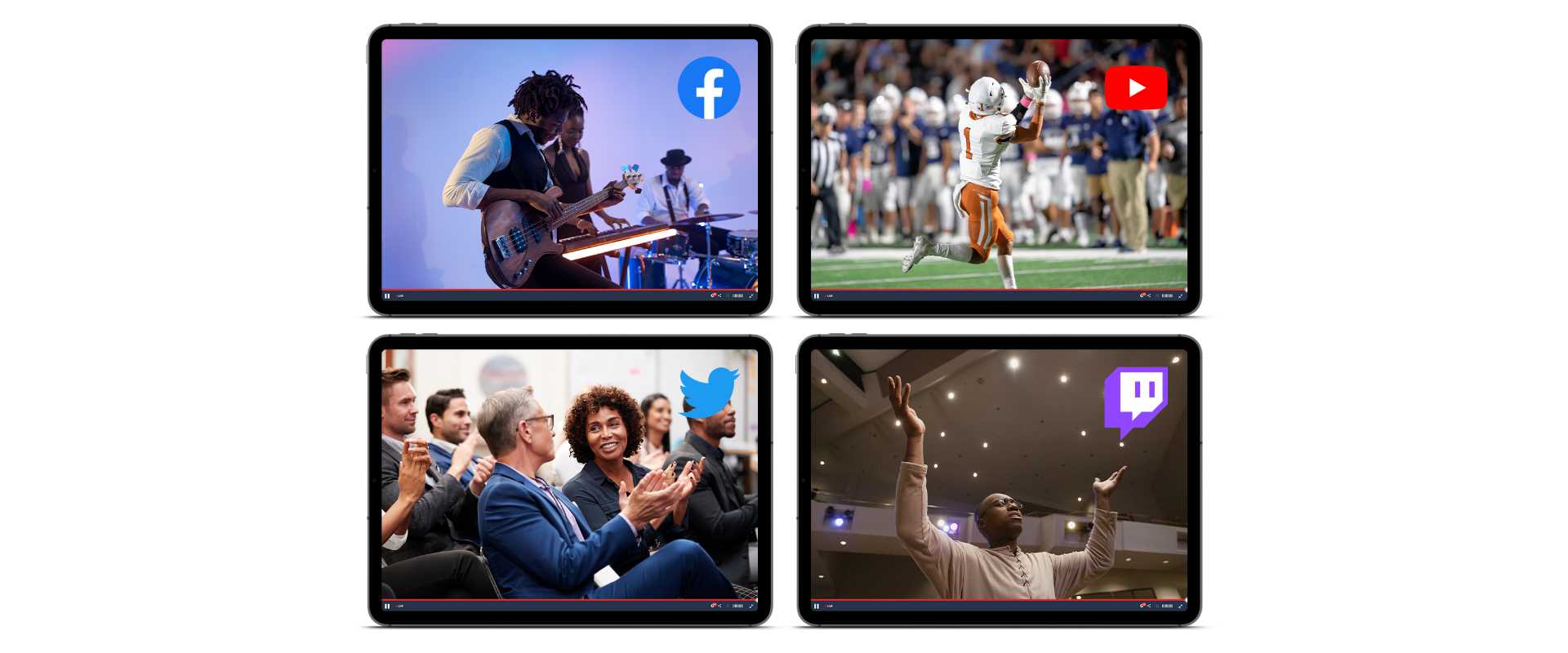 You can schedule your BoxCast broadcasts to be recurring, so you can set your event to stream to YouTube every week (or day or month) at a certain time, without having to log in each time to reschedule. If you use certain encoders with the BoxCast Dashboard, your encoder can automatically begin at the appointed time — so you won't have to worry about pushing a button to go live at a certain time from your encoder, either.
As an added bonus, BoxCast encoders are equipped with a special streaming protocol called BoxCast Flow, which allows you to put a delay on your stream to cover small drops in the internet in case of a spotty connection or temporary outage.Though BoxCast sends RTMP to YouTube, the same as if you were sending directly from your encoder, using the BoxCast Flow protocol can help your stream make the journey safely from your encoder to BoxCast.
FAQs
Can I live stream on YouTube without having 1,000 subscribers?
Yes, any YouTube account can choose to enable live streaming, but it does need to be turned on, and requires a 24-hour provisioning time.
Note: YouTube has policies against creating a certain number of streams in a set time period, as well as rules around minors streaming to YouTube. If these policies are ignored, your account's live streaming privileges may be revoked.
How long can you live stream to YouTube?
Technically, there's no limit for the length of time you can stream to YouTube. But if your stream is longer than 12 hours, your video will not be archived. Also, if your stream is over three hours, you won't be able to edit using the tools in YouTube's dashboard. If you stream longer than three hours, we recommend saving locally. BoxCast also saves a copy of any broadcasts streamed through the BoxCast Dashboard.
Does live streaming cost money?
It depends. If you already have a computer, there are free encoder options available, along with streaming services like YouTube. That said, choosing to invest in quality equipment and a streaming provider that offers things like live support and extra features is usually wise.