Sharing a video online is easier than ever. People send and share video links to their contacts, social media followers, and coworkers every day. Capturing this amount of traffic is essential for broadcasters who want viewers to watch and share their videos. One of the best ways to do this is by embedding your videos on your own website, and this guide shows you how.
Keep reading to see how this process works and learn about the best live stream player to use on your site.
If you're streaming through a social platform (Facebook Live, Twitter, YouTube Live, etc.), you may find the process of embedding the stream on your website to be clunky. Most social platforms make embedding difficult because they'd rather keep your viewers on their sites.
The main exception is YouTube. YouTube makes embedding easier, but their player will link to other third-party videos on your website and display ads so they can monetize your video.
Here are the embedding policies for Facebook Live, Twitter, and YouTube Live.
The bottom line is none of these platforms were built with the goal of making it easy to stream videos branded for you on your own website.
Our Approach to Live Stream Embedding
At BoxCast, we believe organizations find value in driving people to their websites to view live streams in addition to other platforms. After all, your own website is the place where you can best serve your viewers with your brand and your resources.
With that in mind, we are constantly working to help promote your brand (not ours!) with an embedded player that suits your viewers' needs.
Embedding Videos vs. Linking Videos
You've probably clicked thousands of URL links in the past, with many of them leading to videos. The all too familiar jump to platforms like YouTube is simple to facilitate these days, but the easy way isn't always the best.
You might be asking yourself, why should I embed a video if I can just link to it instead? If you're looking to promote awareness and boost your brand, or just hoping to connect with your audience better, you should consider embedding your videos directly onto your website over linking.
Embedding a Live Stream can Enhance Your Web Traffic
Linking to a video is almost effortless now, and with smartphones and other mobile devices able to play on the go, the easy shareability of linking can certainly seem like an attractive benefit. It can help your videos to be more widely circulated and watched, with some watchers possibly even sending the link to their own contacts and increasing your exposure.
While this may be true, it's rebutted by one of the strongest benefits of embedding: As opposed to linking, your prospect never needs to leave your web page.
Internet marketing is a constant battle for attention in a world of veritable goldfish. Every distraction risks losing a prospect completely, and linking is fraught with these dangers.
A bad internet connection can cause a slow redirect, and for some that'll be all it takes to lose their interest and their business.
Similarly, most streaming platforms like YouTube come with thumbnails along a sidebar, subtly encouraging a user to watch those other videos — possibly even before their current one is done. This can be achieved through catchy titles and flashy thumbnails, or simply a more manageable video time length if a prospect is just looking for quick information.
Embedding a Live Stream Gives you Better Customization
The creative flexibility you're afforded by embedding your videos can help you tailor your broadcasts to cater to your target audience.
The embed code can be modified to change the dimensions or properties of your broadcast, whether you need to remove some extra headroom from a shot or you're just trying to fit it perfectly on a screen.
Embedding also allows for custom start times and video indexing. This can help increase the promotion of longer videos, as you can skip unnecessary preamble and get right to what your audience wants.
When linking videos, a snappy or humorous custom URL can help encourage prospects to click the link and follow it, but many are wary of such blind leaps of faith. The moments a prospect spends considering whether to click the link, then to mouse over it to verify the destination, then deciding if they still want to bother can be an eternity relative to their interest.
To properly capture the attention of your audience, a well-designed, professional, and custom thumbnail can reassure prospects and even do some brand marketing for you. Using a mixture of branding and graphic design, your thumbnails can become the calling card of your broadcast. While some diversity among your thumbnails can help individual videos better stand out, you'll want to keep certain design elements consistent.
Title cards and headlines, as well as their location on the thumbnail, will help make them more recognizable if they're always in the same place. Many content creators deviate only slightly in their thumbnail format for each video, as you're already trying to communicate a lot with a single image.
Ultimately, you want to choose an image that'll attract new prospects with something catchy while also drawing in old business from customers who know and trust your easy-to-recognize brand.
What You Should Look for in an Embedded Video Player
Not all embedded video players are the same. Here are a few features you should look for in a video player:
Ad Free and White Labeled
Your organization is your brand — that's something to be protected. Some streaming players (YouTube Live, for example) will want to monetize your content for their own profit. To do this, they'll let third parties play ads on the embedded player on your website. You'll have no control over the ads that play. If a viewer clicks on an ad (on purpose or by accident), they may be taken to someone else's content. You need a player that'll protect your brand and ensure third-party ads don't play on your website.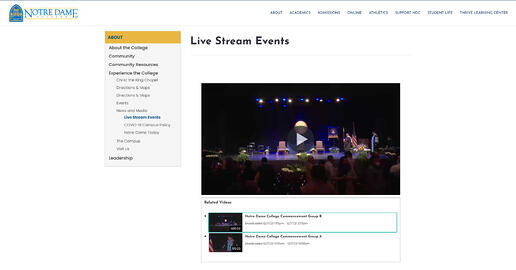 Mobile Friendly and Device Agnostic
More and more of your viewers are watching your content on their phones and tablets. Don't even consider a player that'll struggle to adapt to a mobile device. Don't build a solution that won't last — use a platform that's compatible and adapts to any device on which its video is played. Mobile phones, tablets, laptops, and other computers are common, but remember: Many viewers would rather watch on their living room TVs with a media player or set-top box like Apple TV or Roku.
Also remember: Flash is dead and its parent company, Adobe, is actively blocking Flash content on the internet, so pay your respects and move on from Flash players.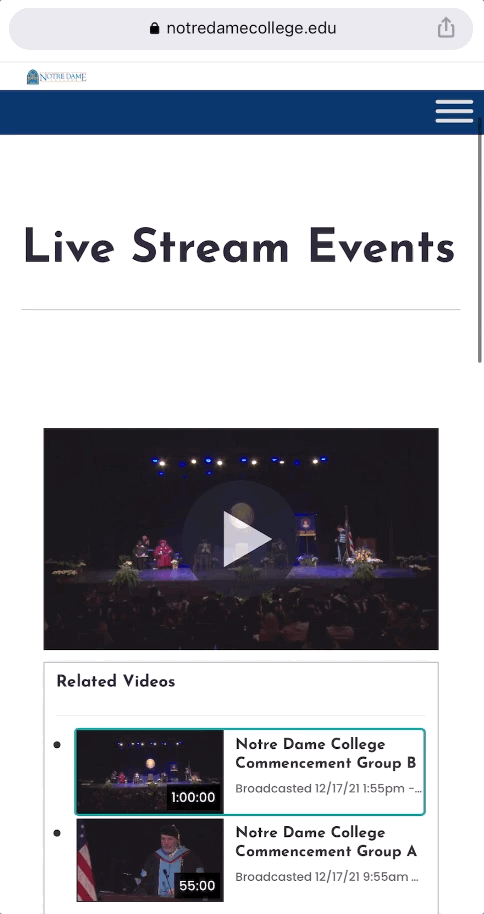 One-Time Embed
From a process standpoint, you don't want to have to embed each stream individually. Make sure you choose a solution that allows for a one-time embed.
Countdown Timer
A countdown timer provides your viewers with information about the timing of the next live stream without extra steps for you.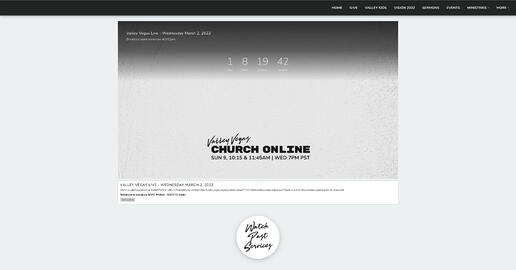 Automatic Archiving for Video on Demand
It can be a pain to download and then re-upload videos after the stream is complete. You need a player that'll automatically archive previous streams and keep them embedded under your current broadcast for your viewers to watch on demand.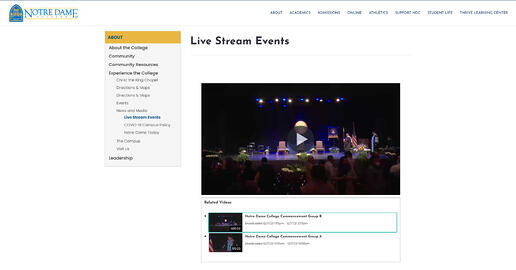 Viewer Chat Functionality
Enabling a chat feature will help keep your viewers engaged and feel like part of your community. Brands and organizations benefit from engaged viewers who comment on live streams and interact with you and others watching your broadcasts.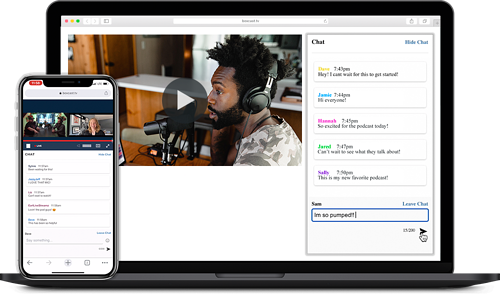 These are all must-have features and functionalities that'll create an exceptional experience for your viewers. They also happen to be built-in to BoxCast's streaming platform, which includes a simple and powerful web player that brings live events to your viewers anywhere.
How to Embed Streaming Videos with BoxCast
Embedding your video from BoxCast to your website is as easy as pulling your embed code from the BoxCast Streaming Dashboard, and pasting it into the code in your website. All of BoxCast's embed codes are white labeled (which means it does not include the BoxCast name or logo, unless you want it to).
You can also choose to embed by source, broadcast, channel, or include every broadcast from your BoxCast account into one embed code. You have control over how much of the player you'd like to show- you can display just the stream, or you can include the title and description, a link to more of your own videos, and even a chat as well.
How to Embed Streaming Videos with BoxCast + Sites
If you'd like a simpler method, and would like more customization as well, we recommend using BoxCast Streaming + Sites together. The BoxCast Sites website builder includes a customized BoxCast Video Widget for easily embedding all of your broadcasts.
With this widget, you can drag and drop streams into your website without having to use any code. There are more robust customization options as well. Watch the video below for a sampling of what you can do when you use BoxCast Streaming + Sites together.
To learn more about creating and maintaining a great church website with Sites, Book a quick meeting with one of our friendly experts to see how it works.
FAQ
Can I embed Facebook Live on website?
Yes. If you stream to Facebook Live, you can embed that stream on your website. See how to stream to Facebook Live here.
Can I embed YouTube Live on my website?
Yes. If you stream to YouTube Live, you can embed that stream on your website. See how to stream to YouTube live here.
Can I embed a BoxCast live stream on my website?
Yes. BoxCast gives you a JavaScript and inline frame embed code for your website. You can embed multiple broadcasts on one page, have a chat option appear, show documents, and index your video — all with the BoxCast embed code.
Where can I find and insert HTML code for a live streaming video on my website?
If you've chosen a quality live streaming platform like BoxCast, you can embed an iFrame that contains the HTML code to display your live stream. This is accessed on the Embed page after choosing a media type and filter (see Steps 1–4 above). This will generate the HTML code you need, and from there you can copy and paste it into your preferred web page's HTML.
Can I embed an RTMP stream into a web page?
RTMP is a protocol for streaming your live videos, audio podcasts, and other data over the internet. Many streaming services and encoders use RTMP to send a live stream to a custom destination, like BoxCast, Facebook Live, YouTube Live, etc. If you plan on using RTMP to stream, make sure the streaming service you're using has the ability to embed that content on your website.
Final Thoughts + Further Reading
Embedding on your website is a great way to improve your live stream viewer experience, but it's not the only way. Here are some more resources you might find interesting:
How to Add Graphic Overlays to Your Live Stream
How To Upload Documents To Your Live Stream
How to Add Video Indexing to Archived Live Streams