This post looks at the best ways to upload documents, including presentation slides, agendas, bulletins, and schedules, to better replicate the in-person experience for your remote, live stream viewers. It's part of our series on BoxCast Features.
At BoxCast, we believe that every event that is viewed live should be streamed live. With that thought in mind, we are constantly working to recreate the in-person experience for remote viewers.
Event Documents Are Essential to the Viewer Experience
In-person attendees of events often receive documents to help them follow along as the event progresses. Meetings have agendas, athletic events have game programs and schedules, and presentations have slide decks (just to name a few).
If your live stream viewer does not have access to helpful documents like these, they may have trouble following along. These documents are essential to the experience of those watching.
The Documents Feature from BoxCast
The Documents feature from BoxCast is the perfect complement to your live broadcast—provide your online viewers with the same documents that you share in person.
Event schedulers can add up to five documents with every broadcast. The documents will appear next to the broadcast on your website using the BoxCast Embedded Player or beside your stream in the BoxCast.tv player.
Example: Agendas for a City Council Meeting
The City of Prairie Village, Kansas uploads its meeting agenda to the live stream. Viewers who tune into the meetings can follow along as the items are addressed over the course of the meeting and keep track of where the conversation is. Here's more on local government live streaming.
Example: Sermon Notes for a Church Service
New Hope Baptist Church in Pisgah, Alabama uploads sermon outlines so that online viewers can reference the same slides that the in-person attendees are seeing during the sermon. Here's more on church live streaming.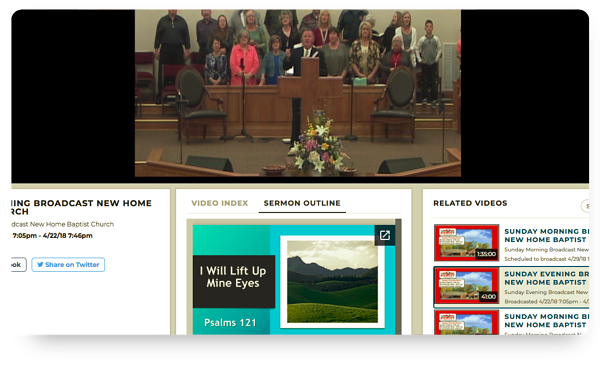 If you're looking for the full support article on BoxCast's Documents feature, including answers to FAQ's, here's where you should go.
Final Thoughts + Further Reading
Documents are a great way to improve your live stream viewer experience, but they aren't the only way. Here's some more resources you might find interesting:
How to Add Graphic Overlays to Your Live Stream
How to Add Video Indexing to Archived Live Streams
How to View Enhanced Analytics for Your Live Stream