This post looks at how to index recorded live streams to mark significant moments in a video. It's part of our series on BoxCast Features.
At BoxCast, we believe that significant moments that are captured live should be kept and cherished. With that thought in mind, we are constantly making it easier for viewers to find significant moments in an archived video.
Video Markers Allows Viewers to Identify Significant Moments Quickly
When events run long, the videos of those events can quickly turn into a hassle to navigate. Many of the viewers who go back to watch archived videos of events that they missed are looking for specific portions.
If it's a graduation, they may be looking for when their loved one gave a speech. If it's a church service, they may be looking for the sermon. Without a video index, these points can be difficult for your viewer to find.
Whether it is tagging the topics of a city council meeting agenda, marking the moment of a goal in a soccer game, or breaking apart a five hour business presentation, Video markers will help your viewers to quickly find exactly what they are looking for.
The Video Indexing Feature from BoxCast
With BoxCast, live streams automatically archive for on-demand, archived viewing. Video Markers allows BoxCast broadcasters to tag significant moments in broadcasts, so that they can be easily referenced by viewers.
Broadcasters can name the moment and it will show up right within the video player and embed the video index right onto their website, next to the archived broadcast.
Viewers can use Video Markers to efficiently find the one moment they are looking for in a recorded broadcast.
Example: Agendas For A City Council Meeting
The City of Prairie Village, Kansas indexes their archived city council meetings so that residents can easily jump to specific portions of the meeting agenda.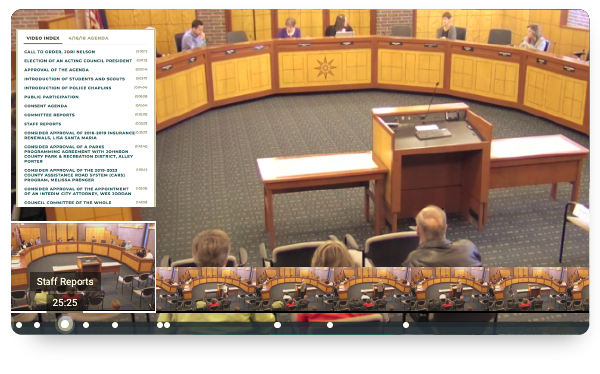 Example: Sermon for a Church Service
New Hope Baptist Church in Pisgah, Alabama marks the spot in their service when the sermon took place so that viewers can easily access it in the recorded broadcast.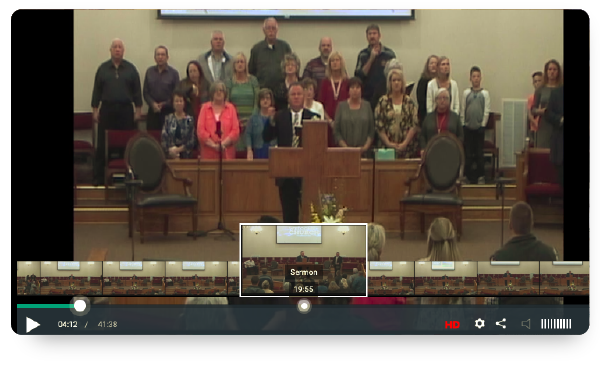 If you're looking for the full support article with FAQ's on BoxCast's Video Markers Feature, here's where you should go.
Final Thoughts + Further Reading
Video Markers is a great way to improve your live stream viewer experience, but it's not the only way. Here's some more resources you might find interesting:
How to Add Graphic Overlays to Your Live Stream
How To Upload Documents To Your Live Stream
How to View Enhanced Analytics for Your Live Stream