You're a broadcaster who live streams a lot of video content for your viewers. You know streaming live is one of the best ways to increase engagement and get prioritized by social media algorithms who will make sure your content gets seen by more people. But what happens after the stream has ended? You're sitting on really valuable video content you spent time and effort to create — once it's over, it doesn't have to disappear into the ether, never to be seen again.
You can get even more viewers, revenue, and value out of your live streams by making them available to your audience after the broadcast is over.
Live video content is important to viewers who can't attend events in person. But in many cases, the archives of those broadcasts can be just as important for viewers as the live event.
For this reason, it's important to consider where your archived broadcasts will be available for on-demand playback and how you're going to get them there.
Table of Contents
How to Archive Live Streams
Your ability to archive broadcasts depends on what platform you're using to live stream. If you're sending directly to Facebook Live or another social platform, your options are limited. For example, once your broadcast is complete on Facebook Live, your video content only exists as an archive in your Facebook news feed. As you continue to post new things, your archived broadcast is pushed down the feed to the point where it's no longer easy to find.
How to Archive Live Streams with BoxCast
With BoxCast, archiving is automatic and easy. If you stream with the BoxCast Platform, you have many tools at your disposal. Every broadcast is automatically recorded and saved to the platform once the broadcast is complete. Want to make a few tweaks or get the archive to another spot? BoxCast makes the process hassle-free. Here are a few of the tools and functions that make archiving live streams easy.
Automatic Archiving (While Maintaining URL Link)
It can be a pain to download and then re-upload videos after your stream is complete. On top of that, if you sent everyone to a certain link to watch the live video, intuitively, you'd probably want the recorded version of that video to be available in the same spot.
BoxCast takes care of those issues by automatically archiving broadcasts as soon as they're complete and keeping them embedded under the link of your current broadcast for your viewers to watch on demand.
Trimming
In the event your stream starts late or ends early, you may end up with unneeded video content at the beginning and end of your broadcast.The BoxCast Trimming feature allows you to trim the video that appears on your website so you can cut out any unnecessary content at the beginning or end of your broadcast. This feature is non-destructive, so you can always go back and trim the video to different start and stop times.
Replacing a Broadcast
Broadcast replacement makes sure your broadcast is exactly as you want it. Whether you simply want to upload a locally recorded version or replace it with a post-processed video, broadcast replacement makes it easy. It also maintains all existing listings, links, embeds, and analytics from your original broadcast.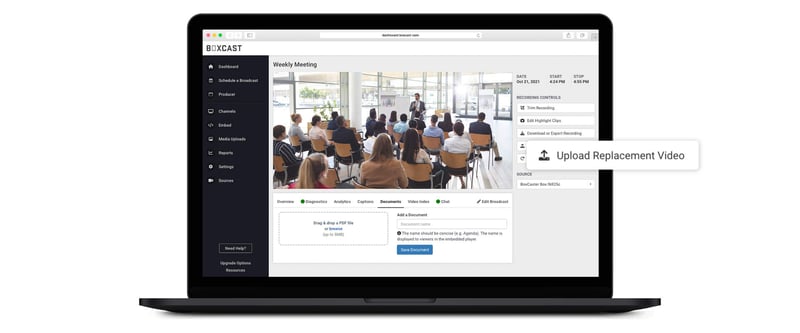 Highlights
BoxCast's Highlights feature allows you to clip significant moments (a scoring play, for example) in your broadcast and capture them in a short, archived video that can be available beside the rest of the archived video.
Video Indexing
Video Indexing lets you tag significant moments in your streams so they can be easily referenced by viewers. Whether it's tagging the topics of a city council meeting agenda, marking the moment of a goal in a soccer game, or breaking apart a five hour business presentation, Video Indexing helps your viewers quickly find exactly what they're looking for.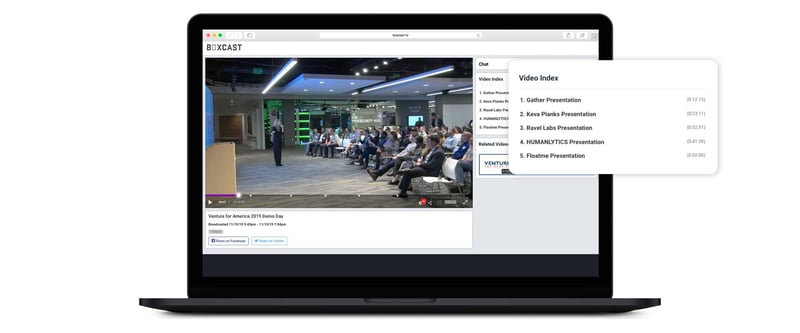 When you've indexed your video, you create timestamps along the video's timeline. These timestamps are markers that you've tagged at significant moments in the stream. When you create a timestamp with BoxCast, you can also give it a title. When viewers watch your video, they click on the specific timestamps and jump to each moment you've tagged in the video. This makes it easy for your audience to skip to the most important or interesting sections of your broadcast — all they have to do is click!
Exporting to Other Platforms
Sometimes there's an advantage to hosting your on-demand content on a different platform, such as Vimeo or a YouTube channel. BoxCast has a direct integration that allows you to connect your social media accounts, so you can export your files to those platforms from within the BoxCast Dashboard.
Downloading for Local Use
If you need to save a copy of your broadcast, you can download it as an MP4 directly onto a local drive or copy a download link to send to another person.
FAQ
How do I archive live video on Facebook?
Facebook live streams automatically save to the page or profile the video was streamed to and post to its feed. However, your video only exists as an archive in your news feed and will eventually be difficult to find as time goes on.
Can you save live stream videos?
Yes! Many live streaming platforms allow you to save a copy of your broadcast for use after the event. BoxCast saves live streamed videos automatically.
How do I archive a YouTube live stream?
YouTube automatically archives all live streams after the broadcasted event for on-demand playback.
Final Thoughts + Further Reading
As you can see, BoxCast provides a powerful, but easy way to archive your broadcasts the way that you need. It's just one way broadcasters can easily organize their media and allow their viewers to find and watch their content later. If you're one of those broadcasters and want to learn more about organizing video content and engaging your viewers, check out these resources: