If (like many other organizations these days) your events have gone mostly or completely virtual, you may have found yourself in a new situation that requires you to host your live presentations from home.
Read on for some simple tips and tricks you can use to make your remote live streams look and sound sharp.
Setting up your Background
The background of your video can set the tone for your live stream, but you probably don't have a ton of resources to create a professional set in your own home. That's okay — here are three easy ways to enhance your video's background:
1. Create a natural-looking backdrop.
Using the furniture and pictures you already have, you can create a set that'll look a lot more interesting than just setting yourself up against a plain wall. Find items in your home that match your personality and fit the tone of your presentation. It's also key to pick a room with good natural lighting.
The screenshot below shows a remote background created in a living room, using only items that were already in the apartment and daylight coming from a window to the right of the frame.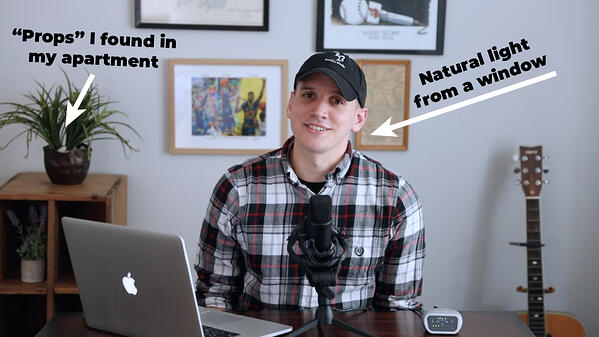 2. Go for a clean and simple look.
You might want to consider using a clean background to simplify the look of your video. A cost-effective way to accomplish this is with inexpensive photo paper and a video light. For example, this seamless photo paper from Savage Universal won't break the bank, and you can pick just about any color you want for your background. If you don't already own lighting, we recommend looking into the Lume cube as a light you can attach to your laptop, or a ring light if you're using a phone or external camera.
3. Live stream with a green screen.
For creative or practical purposes, you may want to use a completely virtual background. Video conferencing software like Zoom makes it fairly easy to create your own virtual background, but if you're going for a more professional look, check out the tutorial below:
Looking Good on camera
Regardless of where you're streaming, the quality of your own presentation matters more than your background. Here are three super simple tips to look your best on a virtual live stream:
1. Address the camera directly to maintain eye contact with your viewers.
2. Add some directional lighting, and avoid positioning yourself in front of bright windows and other major light sources.
3. Keep your camera at eye level (it's generally a more flattering and realistic angle).
Audio Matters
How you sound on a live stream is just as important as how you look. The microphones on your laptop and phone can technically get the job done, but your viewers may want more than the compressed, echoey, or "underwater" sound you get with those audio sources. If you want to improve the audio quality of your live stream, you should definitely look into using an external microphone. One of our favorite external mics comes bundled in our Shure MV88+ video kit.
The MV88+ pairs perfectly with Broadcaster, our iOS streaming app, making it the fastest way to stream in HD with professional audio. It also works well as a voiceover or vlogging mic, so you can record high-quality audio wherever you are. Watch this video to hear the sound quality for yourself.