If (out of necessity or just habit) your events have gone hybrid or completely virtual, you may have found yourself in a situation that requires you to host live presentations from home.
Read on for some simple tips and tricks you can use to make your remote live streams look and sound sharp.
Contents
Set Up Your Home Background
How to Look Good on Camera When Live Streaming
What Gear Do You Need to Live Stream at Home?
How to Get Good Audio Quality When Live Streaming at Home
Final Thoughts + Further Reading
1. Set Up Your Home Background
The background of your video can set the tone for your live stream, but you probably don't have a ton of resources to create a professional set in your own home. That's okay — here are three easy ways to enhance your video's background:
Create a natural-looking backdrop.
Using the furniture and pictures you already have, you can create a set that'll look a lot more interesting than just setting yourself up against a plain wall. Find items in your home that match your personality and fit the tone of your presentation. It's also key to pick a room with good natural lighting.
The screenshot below shows a remote background created in a living room, using only items that were already in the apartment and daylight coming from a window to the right of the frame.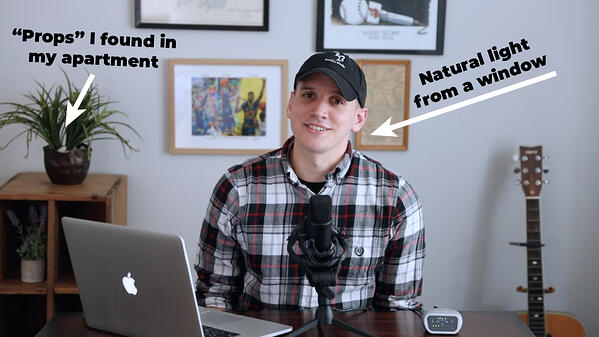 Go for a clean and simple look.
You might want to consider using a clean background to simplify the look of your video. A cost-effective way to accomplish this is with inexpensive photo paper and a video light. For example, this seamless photo paper from Savage Universal won't break the bank, and you can pick just about any color you want for your background. If you don't already own lighting, we recommend looking into the Lume cube as a light you can attach to your laptop, or a ring light if you're using a phone or external camera.
Live stream with a green screen.
For creative or practical purposes, you may want to use a completely virtual background. Video conferencing software like Zoom makes it fairly easy to create your own virtual background, but if you're going for a more professional look, check out the tutorial below:
2. How to Look Good on Camera When Live Streaming
Regardless of where you're streaming, the quality of your own presentation matters more than your background. Here are three super simple tips to look your best on a virtual live stream:
Address the camera directly to maintain eye contact with your viewers.

Add some directional lighting, and avoid positioning yourself in front of bright windows and other major light sources.

Keep your camera at eye level (it's generally a more flattering and realistic angle).
3. What Gear Do You Need to Live Stream at Home?
Turns out, not a lot. If you don't have fancy cameras, studio lighting, or professional microphones, that's okay! You can still produce really good-looking live streams at home with just your computer or smartphone. The best way to do this is with Producer. Producer is our web browser live streaming platform where you can go live in just a few clicks.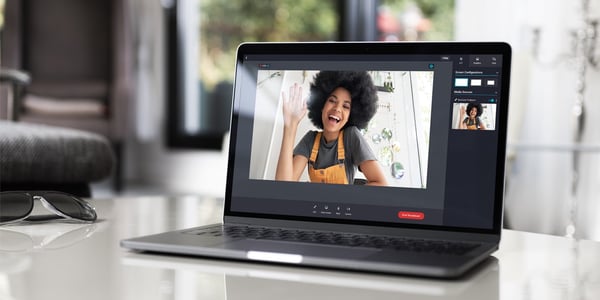 Whether you're just speaking to a camera in your basement or broadcasting a presentation, hybrid, or virtual event, it's important to make sure you can get the most production value out of your computer setup as possible. Not only is it important to set up your background and look good on camera, but the actual on-screen content should look great, too.
With Producer, you can share your screen or show picture-in-picture (PIP) mode. You can also customize graphics, gifs, and lower thirds and add them to your live stream. Managing comments is easy, too, with Viewer Chat built right in. That means you engage your audience and respond to their questions all within the same browser window. Check out our guide to all the things you can do with Producer here.
4. How to Get Good Audio Quality When Live Streaming at Home
How you sound on a live stream is just as important as how you look. The microphones on your laptop and phone can technically get the job done, but your viewers may want more than the compressed, echoey, or "underwater" sound you get with those audio sources. If you want to improve the audio quality of your live stream, you should definitely look into using an external microphone.
Good news is, we've compiled some of the best live streaming microphones in a full comparison list so you can choose what works for you. We compare different mics at different experience and pricing levels and explain how to connect a mixer or musical instrument to your computer. These are all especially important if you're broadcasting from home — and they all work great with Producer, one of the easiest ways to live stream from your computer.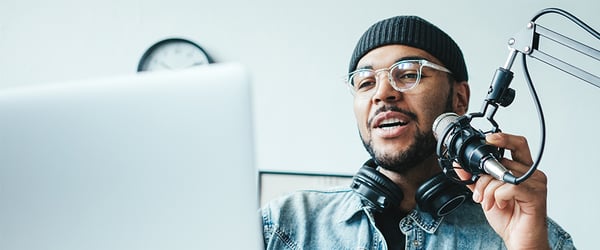 Are you more of a run-and-gun mobile live streamer? One of our favorite external mics comes bundled in our Shure MV88+ video kit.
The MV88+ pairs perfectly with Broadcaster, our iOS streaming app, making it the fastest way to stream in HD with professional audio. It also works well as a voiceover or vlogging mic, so you can record high-quality audio wherever you are. Watch this video to hear the sound quality for yourself.
Final Thoughts + Further Reading
If you're live streaming from your home, it's pretty likely your viewers are also tuning in from theirs. Check out this helpful guide to streaming to remote audiences and more helpful remote streaming tips: