If you're reading this post, you probably understand the importance of live streaming, but you may not know exactly what you need to get up and running. Totally understandable!
If you're a first-time broadcaster, live streaming can seem incredibly technical, complicated, or even overwhelming. But it doesn't have to be. In fact, you really only need three things to get started:
1. A Quality Streaming Setup
Your streaming setup can be as basic or as complex as you like. If you want to keep it simple, all you really need is your computer or smartphone — probably things you already own. If you want a little more range, you might pair a video camera with a dependable hardware encoder like the BoxCaster.
Any setup is great — you can use all of them to broadcast high-quality live video and multistream to multiple destinations including Facebook, YouTube, Twitter, your website, and more. Here are the pros and cons of each:
Live stream with just your computer: Producer by BoxCast
This option is great if you want to stream virtual or hybrid events, produce a podcast, or get started streaming quickly right at your desk with your computer. Producer lets you — ahem — produce a live show or presentation really easily with lower thirds, branded graphics, picture-in-picture (PIP) mode, screen sharing, Viewer Chat, and a whole lot more.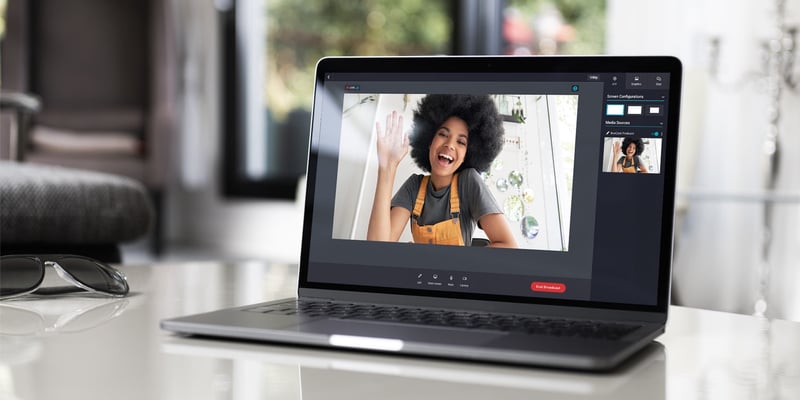 You can get started using the webcam and mic built into your computer or see a few of our favorite external webcams and microphones for an even more professional-looking broadcast. Producer gives you the option of setting up multiple cameras and switching between them to broadcast different views and video feeds.
The best part? It's free! Get started streaming for free with Producer here.
Live stream with just your smartphone: Broadcaster app
Free with any BoxCast plan, the Broadcaster app is the fastest, easiest way to live stream in HD.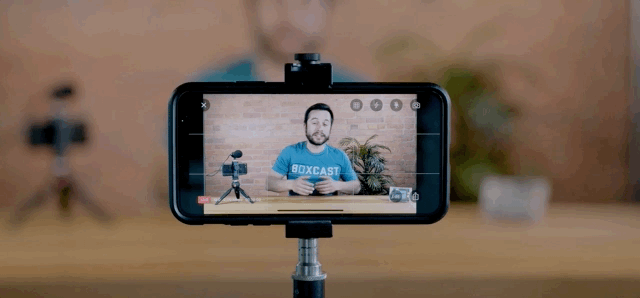 The only gear you need is your iPhone, iPad, or iPod touch. With Broadcaster, you can schedule your broadcasts in advance or go live with the touch of a button. Plus, you qualify for a free Shure MV88+ video kit with accessories after you subscribe and go live with the app!
The only disadvantages of using the Broadcaster app are that you're limited to single-camera streaming and you won't be able to zoom in very close to your subjects if you're set up in the back of a room or in a press box. You might also run into some difficulty if you try to bring in professional audio from a mixer.
Live stream with a video camera + hardware encoder: BoxCaster or others
This option affords you a bit more flexibility. A video camera coupled with a BoxCaster or other hardware encoder provides a broader range of motion and zoomability. With this system, you can easily integrate multi-camera setups along with pro-level audio. And it looks super professional, to boot.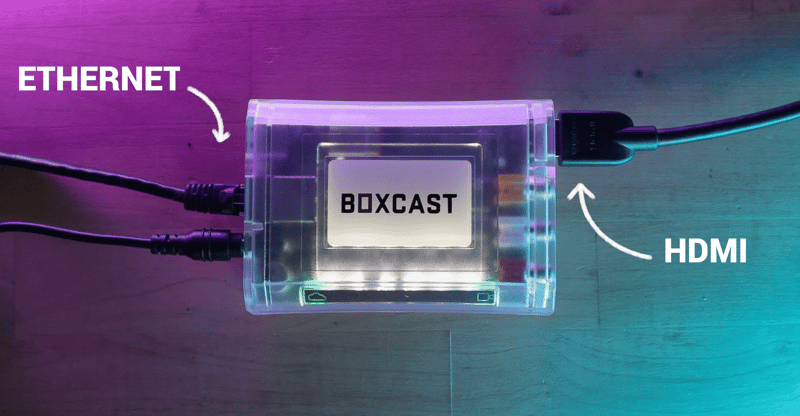 It does take more time to set up, and it comes with a steeper learning curve than Producer or the Broadcaster app. That said, it's still fairly simple to stream using a video camera and a BoxCaster. Just plug in an HDMI cable from your video camera and an Ethernet cable from your router, then use our online Dashboard to schedule a time for your broadcast to go live. You don't even have to be on location to tell the BoxCaster to go live, and you can manage the stream remotely from the Dashboard, or even (wait for it) ... from the Broadcaster app.
Full disclosure: Unless you already own a video camera and an encoder, this is going to be more expensive than using the Broadcaster app. But if you're willing to invest in a reliable streaming setup you can add to over time, this is an excellent choice.
The Right Video Camera
Not sure what kind of video camera is best for live streaming? You're not alone. We recommend using a mid-range camera like the Canon Vixia G50. It's an excellent starter camera, but you also won't grow out of it as quickly as cheaper camera options. We like it because it's got all the essentials to help stream a variety of events — including an incredible zoom range, decent low-light performance, and the ability to record up to 4k30 internally. A camera like the Vixia G50 is nice to have for post-production content, too.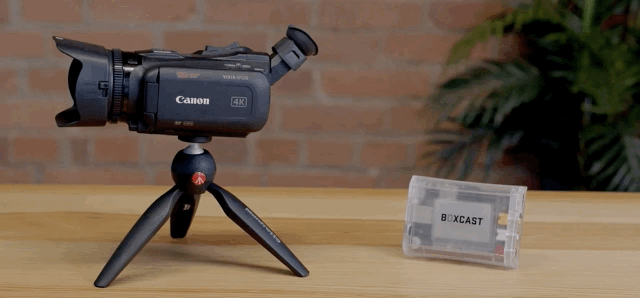 Just make sure whichever video camera you decide to go with can output a clean HDMI signal. Basically this means that the icons you see on the camera's LCD won't display on your stream or any monitors you send your camera's feed to. Otherwise, it'll be pretty distracting for your viewers!
2. A Solid Internet Connection
Once you determine your streaming setup, you need to ensure your internet connection is solid. Whether you use Ethernet or Wi-Fi, the most important thing when it comes to your internet connection is how much upload speed you have to stream with.
If you don't already know, when you watch a video online, your internet connection uses download speed — when you stream a video to other viewers, your connection uses upload speed.
You can simply Google "speed test" to find out how fast your upload speed is.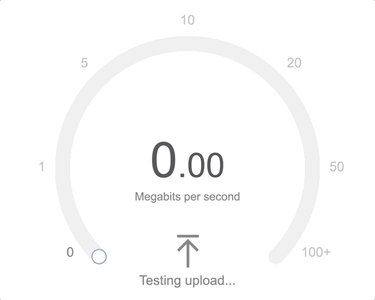 You should probably have twice as much upload bandwidth available as you'll be using for your live stream. For example, if you're going to stream at 5Mbps, we recommend your connection be at least 10 up. Bear in mind that other people could be using that connection, too, so more data is always better.
3. A Reliable Live Streaming Platform
You're almost there — all you need now is a reliable streaming service! With all the platforms and providers out there, you might not be sure which one's right for you.
Consider your need for video quality, stream reliability, viewership potential, and technical support. If you'd like to schedule your broadcasts in advance, stream to multiple destinations at once, or monetize your streams, you may want to go with a paid, subscription-based streaming service like BoxCast (which you can try before you buy). Check out this post to learn more about paid vs. free streaming services.
If you want to take the BoxCast platform for a test drive — er, stream — you can start streaming for free right now with everything great about BoxCast: the Dashboard, Producer, and the Broadcaster app. Give it a shot!
Final Thoughts + Additional Resources
Now that you know what you need to start live streaming, the only thing left to do is get people to watch your broadcasts!
If you're interested in more advanced streaming gear, visit our Kit Page see what our expert streaming coaches recommend. Then check out these helpful articles and guides: