When it's time to level up your live stream from one to two or more cameras, your production setup adds an additional piece of equipment: a video switcher.
What Is a Live Video Switcher?
A video switcher, also known as a video mixer, allows you to bring in multiple feeds (camera, audio, presentation slides, etc.) and choose which one to send live at any given moment. For a quick overview of switchers and the role they play in a live streaming production setup, watch this video:
A live video switcher lets you take multiple video inputs and direct your video output. It's a device you need in order to switch between different camera angles within a multi-cam production.
Think of it this way: If you have a live event with a speaker, an audience, and a wide shot of the entire location, you could use a switcher to shift between a lot of camera angles for the people watching the stream online.
Ever watch an NBA game? What if that was only one angle? It would take you out of the experience, make it difficult to see the action, and be extremely boring. That's where video switchers for live streaming come into play. A video switcher (or mixer) brings a lot of value to your production for such a small investment — especially when you're live streaming events.
Keep reading to see our recommendations for the best live streaming video switchers for your setup and how they work.
Hardware vs. Software Switchers
The biggest difference between types of video switchers for live streaming is whether they're hardware or software.
Hardware Video Switchers
Hardware switchers are dedicated devices for switching between camera views. They're physical boxes that take in video feeds via direct HDMI or SDI inputs. They offer a control panel with buttons to switch between camera feeds and add production elements.
Software Video Switchers
Video switcher software, on the other hand, takes video camera feeds into a computer using a video capture card and allows you to switch between and add production elements on a computer. They're generally less expensive, but you'll need to buy a video capture card in order for your computer to take your camera feeds. Computers on their own aren't actually video inputs —they're only video outputs. That's where a capture card comes in.
What Kind of Video Switcher for Live Streaming Do I Need?
Both hardware and software switchers can be great options depending on your workflow and needs. Software switchers are really useful, but the more cameras you add to your production, the better off you'll be switching (pun intended) to a hardware switcher.
We tend to recommend hardware switchers more often because a production setup that doesn't require a computer with additional hardware (e.g., cables and capture cards) is one that's less likely to fall prey to complications and mishaps. Hardware switchers are a good investment. They can be more expensive, but they're often more reliable than video switcher software.
The Best Video Switchers for Beginners
The switchers we highlight here have all been tested and approved by our in-house Video Production team here at BoxCast. We've used and reviewed several hardware switchers and one software switcher below. Each is easy, reliable, and under $1,000.
1. Hardware Switcher: Roland V-1 HD ($595)
Why we like it: Roland's highly-popular prosumer switcher is an excellent choice for multi-cam live streaming for small churches, smaller corporate meetings, and youth sports. With four HDMI inputs, a built-in audio mixer, and picture-in-picture (PIP) capability, this device offers professional features for producing a live event at a fraction of the cost. Read our full Roland V-1 HD Review.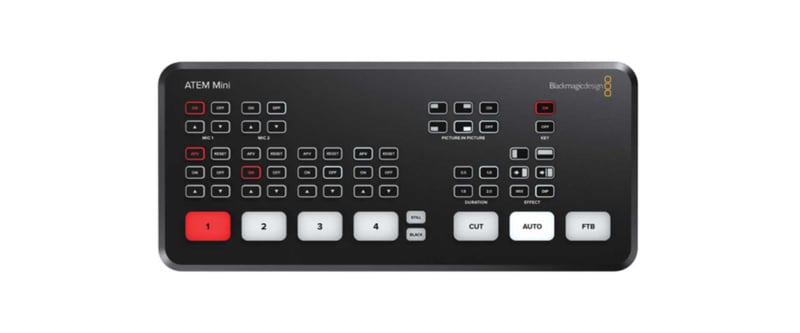 Why we like it: Like the Roland V-1 HD, Blackmagic's user-friendly prosumer switcher is also a great choice for multi-cam live streaming for small churches, smaller corporate meetings, and youth sports. The ATEM Mini Pro has four HDMI inputs, built-in audio mixing, PIP capability, and professional, cost-effective production features. Better still? It can become a dedicated live streaming device that pushes your video to our streaming service with the click of a button, so you don't necessarily need to pair it with an encoder to go live.
Watch how easy it is to connect to BoxCast here.
Why we like it: The Roland V-8 is a higher-end video switcher that combines professional features, connectivity, and special effects with entry-level usability. With eight HDMI video inputs, three HDMI outputs, and separate RCA inputs, this switcher gives plenty of flexibility and creative freedom to scale your productions over time. There's also a built-in monitor on the switcher, which allows you to see multi-view, preview, or program feeds at all times on the device itself. You can live switch, mix audio, and apply special effects on the switcher itself, or control it on an iPad using Roland's remote control app.
4. Software Switcher: Wirecast ($495+)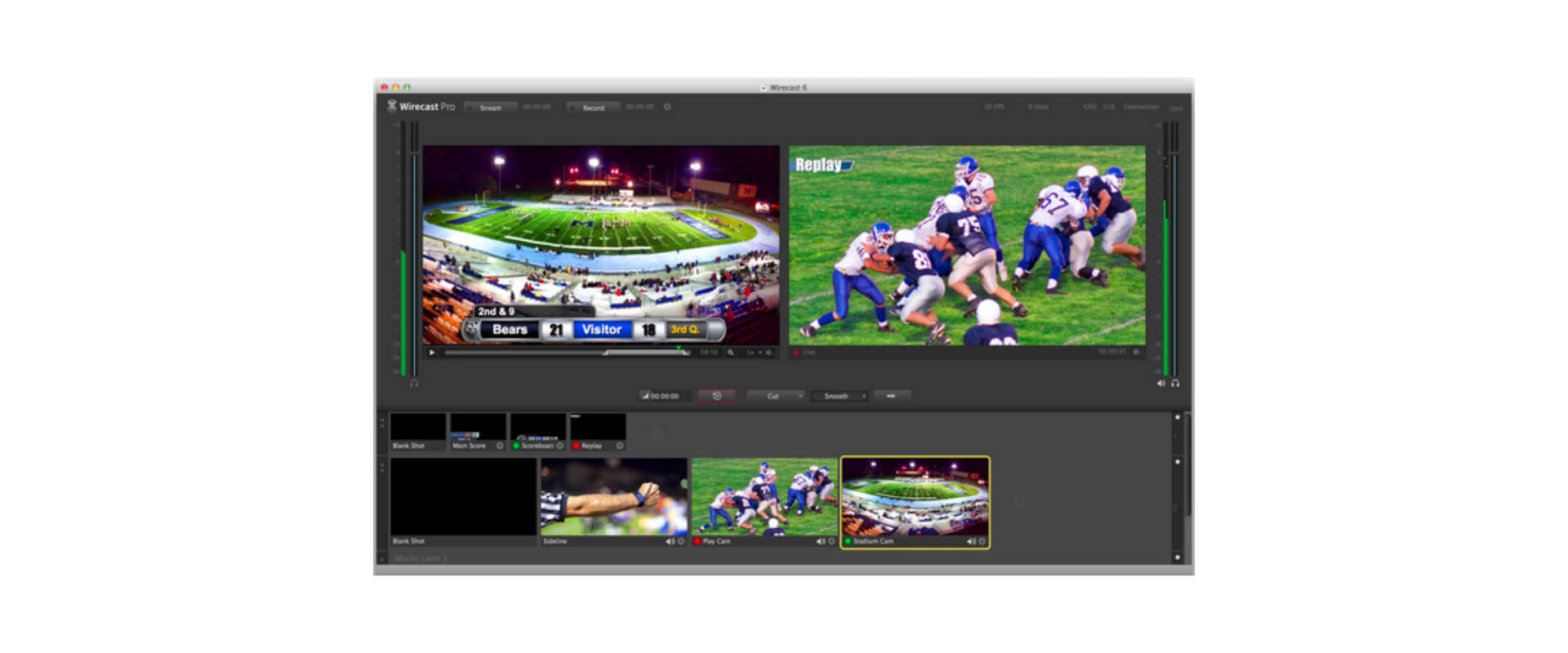 Why we like it: Wirecast is one of the most user-friendly software switchers on the market. You can easily switch back and forth between various camera angles and incorporate overlays onto your stream. Though you do have to pay for it, you can test it out with a free trial. You can also read more about BoxCast's integration with Wirecast here.
Remember: Software switchers do require the purchase of a video capture card in order to allow your computer to receive individual video signals.
Final Thoughts + Further Reading
Video switchers are just one way to take basic live streams to the next level. If you're ready for more broadcast-boosting equipment recommendations, check out these helpful resources: