Live streaming is an excellent way to bring your community together when everyone can't attend your events in person — it's a must-have in the world we live in. All kinds of people and organizations benefit from live streaming, from streamers, influencers, and small nonprofits to large corporations.
Not everyone has an experienced video production staff. Many broadcasters rely on volunteers, small teams, or coworkers that wear multiple hats. If you need to accomplish more with limited manpower, or just want to speed up your production workflow so everything runs smoothly when you go live, the key is automation. Read on to see how you can simplify your workflow and use automation to enhance your broadcasts.
Table of Contents
What is Live Streaming Automation?
Live streaming automation is a series of features and functionality where a broadcasting platform stops and starts live streams automatically. The tech performs tasks so you don't have to. Often this means you can create or schedule a live stream on your computer, click a few buttons, then sit back and relax.
With BoxCast's automation feature, you can schedule a single broadcast or recurring broadcasts in the BoxCast Dashboard to automatically run on a schedule to whatever destination(s) you have set up.
See how you can live stream to Facebook, YouTube, Twitter and more.
Once you've selected a time, your live stream will automatically begin broadcasting video — without you having to touch a single button. That's right — just set it and forget it (queue commercial tagline). BoxCast's automation feature can be used with a BoxCaster or BoxCaster Pro encoder, and is included in all our streaming plans.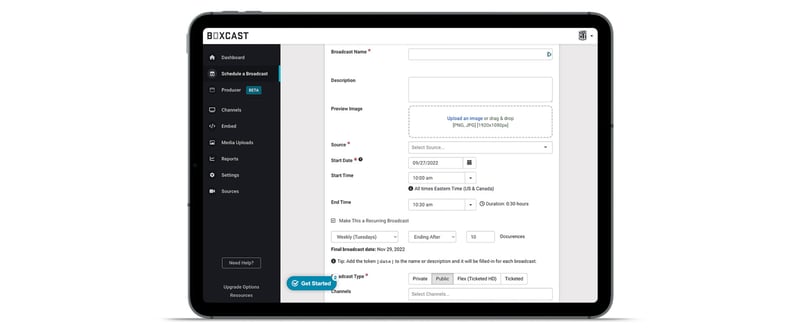 Why is Automation Important for Live Broadcasting?
Automating your live streams is a great way to ensure successful broadcasts. No one forgets to press start. Plus, automation reduces the need for tech training and saves you time for other video production tasks.
4 Reasons Automation is Important for Live Broadcasting
1. No Need to Touch Your Encoder
Imagine members of your community are counting on you to stream a major event because they can't attend in person. Maybe it's a worship service, a championship game, or an important board meeting. Now imagine you're so preoccupied with getting everything just right, you forget to hit the start button on your video encoder. No one would see the broadcast. That important event goes unwatched. However, if you automated your live stream in the first place, everything would have gone off without a hitch. BoxCast's automation functionality ensures that your streams will start on time without you having to do anything.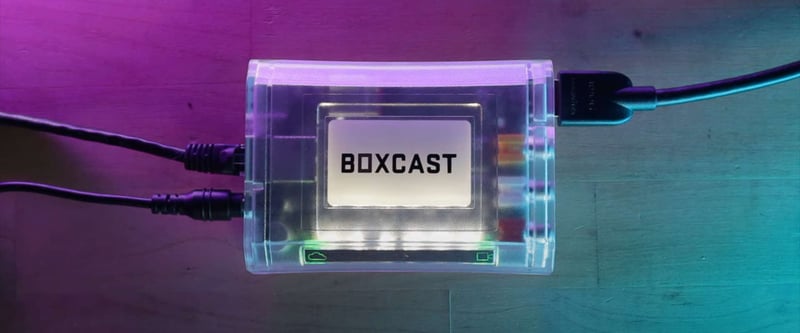 2. Easy to Train New Users and Volunteers
A lot of organizations we talk to mention the frustration they have with training and keeping volunteers to run their live stream setup. Learning how to use and start a stream on an encoder is yet another thing that needs to be learned and leaves potential room for error. An automated encoder removes this frustration altogether.
3. Consistency in Broadcast Schedule
Creating recurring live streams will keep your viewers coming back every time. When you schedule a broadcast on a consistent basis, say, on Tuesday and Thursday evenings, or every week at the same time, your audience knows what to expect, when to tune in, and will look forward to watching your stream. It's an easy way to grow your audience and keep your view count high.
4. Focus on Quality
When producing the perfect event, there are tons of things to consider — like camera angles, sound, and lighting (just to name a few). Knowing your stream will go live on time and to the destinations you've chosen provides peace of mind, so you can focus on the quality of your production.
How Do I Automate My Live Streams?
This might be the best part of all — if you're using BoxCast, you don't have to do anything but make sure your BoxCaster or BoxCaster Pro has an internet connection, power, and a video feed. We take care of the rest based on the schedule you set in the Dashboard.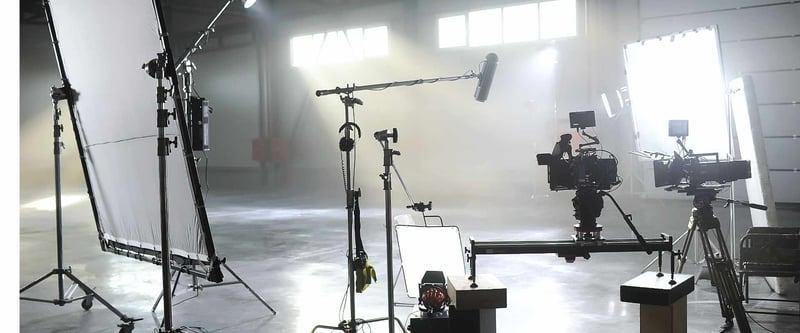 Hear an in-depth discussion on how and why you should automate your live streams on this BoxCast Podcast episode. Plus, get easy tips to how you can reduce your pre-production checklist — all because of automation.
Video Podcast: Automating Live Streams
Listen to this podcast episode instead of watching:
FAQ
Can I automate my RTMP encoder to stream at a certain time?
Some RTMP encoders will allow you to schedule a stream to go live at a certain time, but most don't have the technology to do so at this time. You'll need to hit the start stream in your encoding software or on the hardware.
Can I automate live streams to Facebook or YouTube Live?
Yes! Schedule a broadcast in the BoxCast Dashboard, and choose from a number of destinations to send to. It will multistream to all of the destinations automatically when the broadcast starts.
What kind of encoding protocol does the BoxCaster and BoxCaster Pro use?
BoxCasters send your streams using BoxCast Flow, our own unique streaming protocol. It's super secure, and don't worry, you can still send to other RTMP outputs if you'd like.
Final Thoughts + Further Reading
Automation is a big part of our world today — you can schedule everything from grocery delivery to making sure your porch light turns on at sunset. It's especially important when you're producing live video. With upcoming events, you've got enough to juggle on your own. Using automation ensures your live broadcasts start on time, every time. Use these resources to learn more about scheduling broadcasts and multistreaming to numerous destinations once you've automated your live stream: