Embedding your stream on your website is incredibly beneficial, but did you know it also pays to stream to your social media channels? Think beyond your video player. Think Facebook, YouTube, and the other platforms where potential viewers hang out. With multistreaming, aka simulcasting, you can reach your audience on numerous platforms at the same time and increase exposure to your content.
This article breaks down what multistreaming is, best practices for social media, the pros and cons of each channel, and how simulcasting can improve your business and streaming.
Table of Contents
Multistreaming + Why You Should Do It
First, what is multistreaming? Multistreaming is taking a single broadcast or streamed event and simultaneously distributing it to multiple places and platforms at the same time. (This is why it's also called simulcasting or multi-destination streaming.) The main benefit of multistreaming is that it helps broadcasters reach a larger audience. Generally, people who simulcast send their streams to social media channels as well as their website.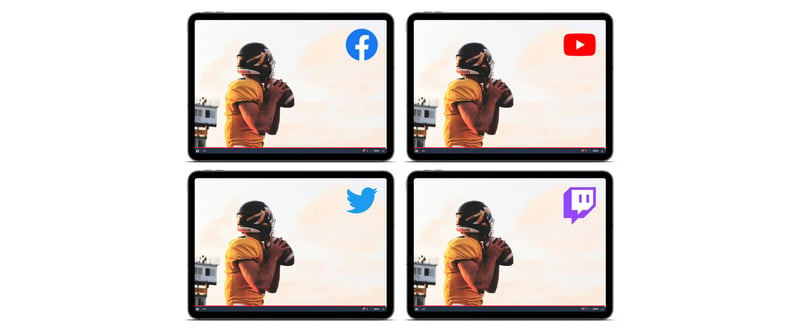 Instead of bringing your followers to your live stream, with social streaming, you can deliver your live stream to your followers. Let's break down the pros and cons of multistreaming.


Pros

You can stream to where you're comfortable

Reach more viewers

Get more engagement from multiple channels

Increase your brand awareness

Improve your SEO traffic

Stream to OTT apps (Apple TV, FireTV, etc.)

Cons

You need people to monitor chat for each channel

Copyright concerns are heightened on social channels
You can hear more in-depth elaboration on the pros and cons on this BoxCast Podcast episode.
Video Podcast: Social, Simulcasting + Switch-Ups
Listen to this podcast episode instead of watching.
What to Know Before Multistreaming
There are many reasons to simulcast your streams. Before jumping right into it, here are a few considerations to help determine if you should, and, if so, where you should go.
1. Know where your social media audience is.
Know where your audience is active. If they're on Facebook, stream to Facebook. If they're active on YouTube, go to YouTube. Or wherever else they like to watch. There's no right or wrong channel to stream to, but you want to ensure you're going where the masses are.
2. Test and try things out.
It costs nothing but time to try a new platform. If one doesn't work for you, it's just as easy to go another route.
Choosing Social Media Channels
You've got plenty of options when it comes to social media. With BoxCast, you can stream to Facebook, YouTube, Twitch and many other platforms, but let's focus on these three big channels.
Facebook is ideal for reaching a wider, more diverse audience or older audiences and families. House of worship services and sporting events are great examples of streams that generally do well and are worth multistreaming to Facebook. Learn the best way to live stream to Facebook.
YouTube has become a melting pot of live streams. Whether streaming an event, teaching a class, or hosting a workshop, YouTube has tools to help manage live streams and interact with viewers in real time. Need help setting up? We have a great article for streaming to YouTube Live.
Twitch is mainly known for being a platform for gamers to watch and perform live play-throughs and commentary. Twitch is the primary destination for folks who want to stream themselves or a group playing video games, RPG games such as The Witcher or Cyberpunk, or in-person RPG games like Dungeons & Dragons. Others have also been known to stream talk shows, cooking shows, sporting events, and gaming conventions. Learn more about Twitch streaming.
A good rule for simulcasting is to start with one and add as you gain traction. You don't want to start with too many and confuse your audience about where they can watch you.
Pro Tip: Even though Periscope is no more (Twitter discontinued the streaming platform in 2021) you can still live stream to Twitter to reach all of your followers. Check out our guide for live streaming to Twitter.
Now that we've talked about each channel, let's talk about how to promote your streams if you aren't multistreaming.
Organic Social Media Best Practices
Suppose your organization or business has a Facebook page, a LinkedIn company page, an Instagram profile, and/or a Twitter account. In that case, you can do introductory promotions of your broadcasts by telling your followers about them. For example, you can create posts as simple as "Join us at 5:00 p.m. every Wednesday for our weekly service. You can find the broadcast [insert link here] " or "Watch the Lions take on the Tigers Friday at 7:00 p.m. EST via [insert link here]."
If you're using a broadcasting platform like BoxCast, you can automatically let your social media followers know you plan to go live. If you've scheduled a live stream in advance, your social media platform of choice will create an announcement post on your profile. This will notify your followers when you'll be live streaming on that particular platform.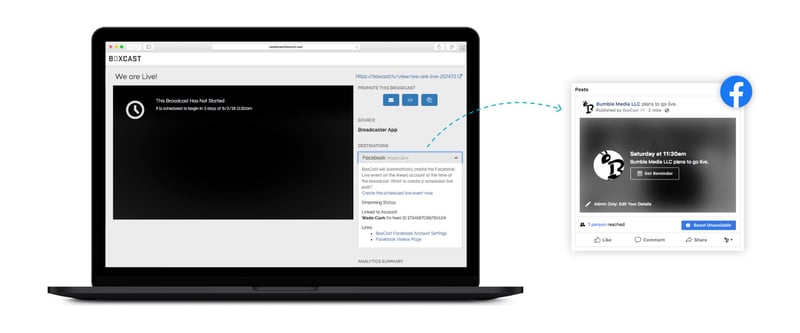 BoxCast also makes it easy to generate links to your live broadcasts, which makes promoting your live streams simple and quick. In a single click you can share a link to your live video to Twitter, Facebook, or any other social destination. This kind of promotion is a great way to reach loyal followers or anyone who might search your accounts on those channels.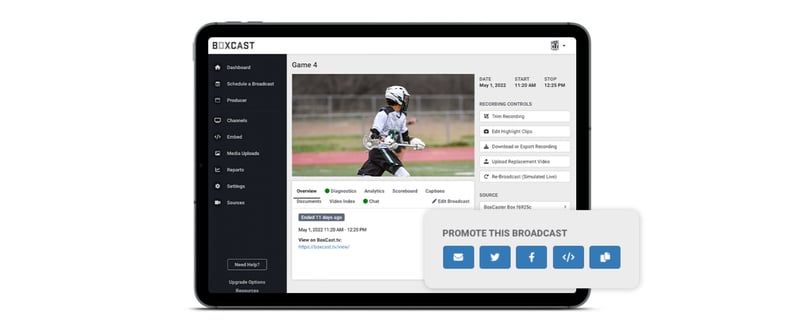 Paid Social Media Best Practices
Paid social media displays sponsored content on third-party social networking platforms to target customers. Marketing leaders often use paid social media to increase efficiency and capture new subsets of customers. Ads are good if you want to attract audiences outside your existing followers.
Hootsuite has a great blog if you want to learn more about paid vs. organic social marketing and how to integrate it into your marketing strategy.
Final Thoughts + Further Reading
Multistreaming to social media has many benefits, and it's easy to do with tools like BoxCast. You can reach your audiences where they (and you) are comfortable, and make your live streams more easily accessible to your existing social media followers without organic promotion.
Remember: Go where your audience is, and happy social streaming! To learn more about simulcasting to extend your reach, check out these helpful guides: