This post covers how you can use your live stream to monetize your events with donations and fundraising. It's part of our series on BoxCast Features.
There are many ways to earn money from live streams. You can monetize your live stream by selling tickets to events or by inserting ads in your content.
If your organization is a non-profit (like a church), you may want your streams available to anyone, but not lose the ability to raise funds. If so, donations are an option for monetizing. Donations can be a great way to support your live stream and raise money for your group.
Your live streamed events should be as similar as possible to your in-person events. If you ask for donations at your in-person event, you should do the same for your live streamed event. BoxCast makes it possible and easy.
A Platform That Supports Your Organization
Fundraising looks different on every live streaming platform.
On Facebook Live, you must apply as a 501(c)(3) to fundraise on the platform. If approved, you can add a donation button to your live stream and recorded video.
Note, on Facebook Live, the amount of money that you raise is public for all viewers to see. That's not always a good thing for when you are starting to fundraise. If viewers see that others are not donating, they might not either.
Here's more on how to collect donations on Facebook Live.
On YouTube Live, YouTube creators (broadcasters) can fundraise via donation cards. Like Facebook, YouTube must first verify that your organization is a 501(c)(3) in good standing. You must opt-in to receive payments from YouTube's nonprofit partner, Network for Good. You don't need a membership to that platform though.
From there, you can add donation buttons to your live and recorded videos.
At the moment, the feature is only available for qualified nonprofits in the United States and United Kingdom.
Here's more on how to collect donations using YouTube Live.
Periscope also offers a fundraising program called Super Hearts. Unlike YouTube and Facebook, Periscope's option supports gamers more than nonprofits.
Donations Powered by BoxCast
BoxCast supports organizations that want to stream on their website. By streaming on your website, you can own your viewers entire experience with your brand. This can be especially powerful for nonprofits. Here's more on how and why to stream to your website.
Here's how it works:
The BoxCast Platform allows you to choose the streams where you would like to add a donation option. You can choose between using BoxCast's donation service, or any donations site of your choosing, such as PayPal, Tithe.ly, Stripe, etc. BoxCast donations are paid out on a quarterly basis with a 6% processing fee.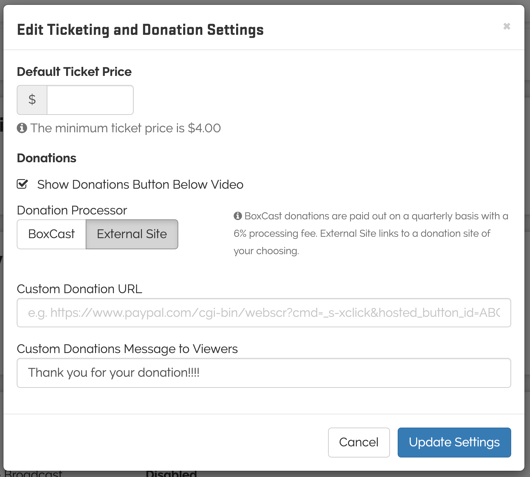 When BoxCast donations are enabled, your viewers will be able to choose a donation amount and submit a payment via credit card. The transaction is secure and happens all on your website.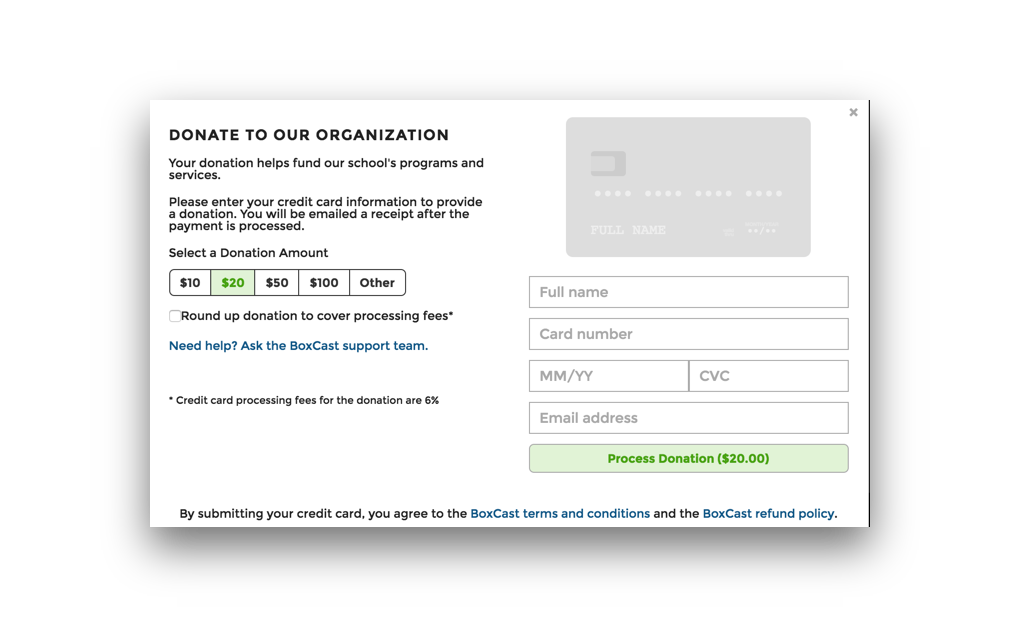 On the BoxCast Dashboard, you will have access to a report where you can see the transactions.
For more details on how to set up Donations on your BoxCast account, check out our support article on the topic.
Final Thoughts + Further Reading
As we talked about before, donations aren't the only way to make money from your live stream. Here are a few other ways to monetize:
How to Add Sponsorships and Ads to Your Live Stream