Whether you're building out your video production setup or just started filming live streams, you'll need to get very comfortable with a small but pivotal piece of equipment: the video cable. Specifically, the HDMI cable. Even more specifically, standard, mini, and micro HDMI cables.
That might sound like a lot, but don't worry — this article will make it easy to understand.
When you start adding more cameras and devices into your workflow, inevitably cabling and converting will become part of your life. It's important to understand the differences between different types of video cables and where you should use them. This guide talks about the different types of HDMI cables, plus where SDI fits into your workflow.
Table of Contents
This is part of our webinar on the basics of multi-cam setups. Check out this video to learn all about live streaming with multiple cameras, where to place them, and what cables and equipment you'll need for a multi-cam production:
Standard HDMI
A tried and true classic, standard HDMI can be found in all sorts of electronic devices and is used throughout the world to transmit audio and video.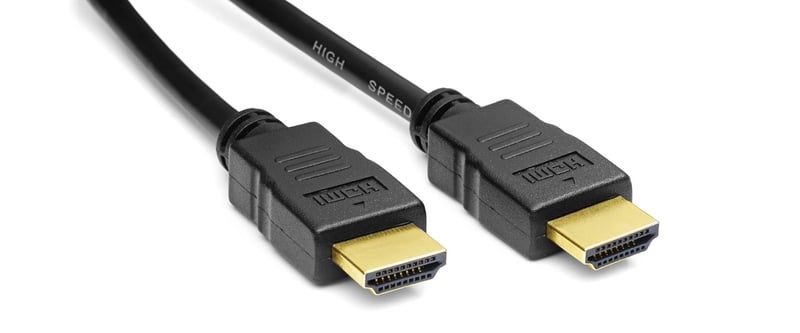 Pros

Standard HDMIs are a big step up from RCA cables and offer up to HD and 4K video transmission.
Extremely common. If you happen to misplace or lose a standard HDMI cable, you'll probably be able to find or borrow another one easily in your shooting location. In a pinch and forgot one? Snag a cable from a nearby TV or DVD player and return it after the shoot.
Versatile. Because they're so ubiquitous, you can use standard HDMI cables with a lot of different equipment, all around the world.

Cons

Doesn't lock into place.
Can come unplugged if jostled harshly or tripped over.
HDMI standards can vary, so they're not always guaranteed to pass a signal.
Uses: Use standard HDMI cables with larger video cameras and camcorders. Standard HDMI is also common in video encoders, switchers, mixers, and monitors used in video production.
Recommended length: 1–100 feet
Mini HDMI
The smaller the connector, the shorter the cable. Mini HDMI cables are smaller in size and shorter in length than standard HDMI cables. You can buy an adapter to connect a mini to a standard HDMI cable if you need more cable length. But if you have the option of using a longer, standard HDMI cable, it's probably best to just use that instead.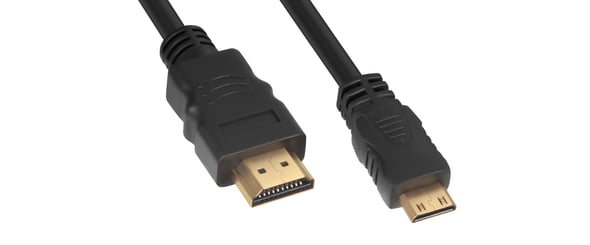 Pros

While smaller than standard, you won't lose video quality or connection reliability with mini HDMI.
Fits nicely on smaller form-factor camcorders

Cons
Uses: Smaller video cameras and camcorders.
Recommended length: Up to 25 feet
Micro HDMI
Smaller cameras require smaller connection ports. Enter the smallest member of the family: micro HDMI.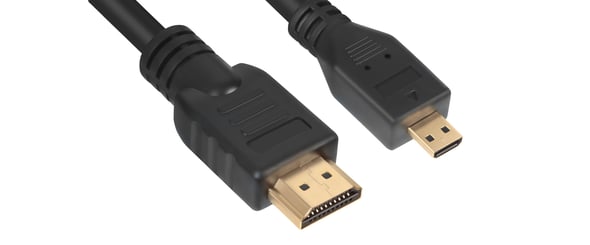 Pros

Fits in where larger connection ports on special cameras would not

Cons

Shorter cable length
Flimsy and easy to break because the connector is tiny
Doesn't lock into place
Uses: You'll find these primarily on action cams like GoPros, the Sony FDR-X3000, Sony ZV-E10, and more.
Recommended length: Up to 25 feet
SDI
These are high-end cables designed for professional video connections, and frequently use a locking BNC connector. SDI cables are common in news and sports environments, and are the industry standard in TV broadcasting.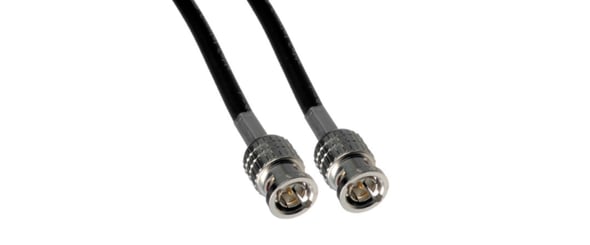 Pros

Can run extremely long
Use connectors that lock in and stay secure
Very reliable
Usable in outdoor settings and in harsh weather

Cons

Only for AV production, not usable with many lower-tier or consumer cameras
Less commonly used and not as versatile with other electronic devices as HDMI
Higher price point
Recommended length: Up to 900 feet
To learn more, check out our in-depth article on understanding and comparing HDMI and SDI. You can also watch this handy video that breaks it down:
Final Thoughts + Further Reading
Knowing what cable you need for which piece of equipment is essential to becoming a better broadcaster and eliminating stress and frustration when the time comes to shoot live video. However, cabling is just one piece of hardware that makes a successful video production. Check out these other helpful resources to boost your video broadcasting knowledge: