The purpose of the church is to make meaningful, lasting connections with community. With today's technology, reaching people has gotten both easier and more difficult. More options and methods of connection make it easier. But it's also more difficult because expectations are higher than they were before the advent of the technologies we have now.
Luckily, Easter is a great opportunity for churches. With increased attendance on Easter, you have more opportunity to reach more people. This guide will show you how.
Having church outside? Check out our guide on how to live stream outdoor Easter church services.
As a reminder, our friendly streaming coaches are here seven days a week to answer any questions you might have.
Table of Contents
However you slice it, engagement is what we use to measure how well our services, videos, blogs, and, yes, even live streams are performing.
What is Engagement? How Does it Apply to Live Video?
Engagement is a marketing term for how many people watch, comment, or participate in your live stream or interact with your content (videos, blogs, social posts, etc.). Engagement looks different for every situation or event.
Let's go over some practical ways to increase engagement with your audience during the Easter season.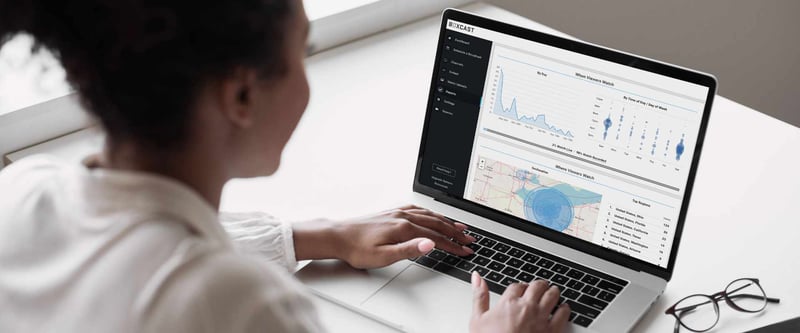 3 Ways to Increase Church Engagement During Easter
Engagement Method 1: Using Church Social Media
Since the inception of social media, churches have used it to inform community members of what they're doing throughout the year and encourage folks to participate.
Here are a few ways to use social media to leverage your engagement. The best part? They're often free!
Direct Posting
The most notable and most common method is direct posting. This is easily done with a simple graphic, well-thought-out text about your announcement, and posting at the right time. It's not a paid ad or a paid post (which we'll get to later). Consider the following when posting directly using your church's page or group.
What Should Churches Post on Social Media?
What you're posting is crucial to gaining successful engagement. The "what" is a direct reflection of your ministry, its purpose, and its focus. Taking time to choose what you post appropriately can help increase the views your post receives and the content you're trying to deliver. You don't need to hire a social media firm to help.
Use these 5 tips to get a good sense of what your church should post on social media:
1. Service Times
Although a good idea, service times are only sometimes the first thing you should be promoting on your social media page. So post them once and pin them to the top of your page or drive audiences to your website. If service times change, you'll obviously want to post an update. See updates and announcements for more insights on time-sensitive posts.
2. Events
Highlighting an event makes for a great post. Be direct and focus on the details of the event, and include a link for folks to register if necessary, along with a link to your website where the event is announced. Remember to include a graphic or video — those always boost engagement.
3. Updates + Announcements
Event reminders or announcements that services are canceled or rescheduled help inform your followers of what's happening and when. Usually, a more direct, simple post here is key, because you need to convey information rather than have people register. Be sure to keep an eye on comments and reply to followers as needed.
4. Video, Photos + Everything in Between
Video and photos of what's happening at your church, alongside blogs and encouraging posts, are always fantastic. You never know when someone needs encouragement throughout the day. Feel free to throw a testimonial video or guest post in to keep your content fresh.
Other quick video or photo ideas could include content from a previous event, a Bible verse created as a graphic, or a clipped video from a recent sermon that might convey an excellent pick-me-up message.
5. Paid Ad Posts
Paid ads can be an inexpensive way to distribute your posts. For the church, sticking to paid posts for large-scale events and holidays can help keep costs down while still effectively reaching a larger audience faster.
However, setting up your paid posts takes a little know-how to ensure you're targeting the right audience and area. This article serves as a great guide to setting up ads for churches.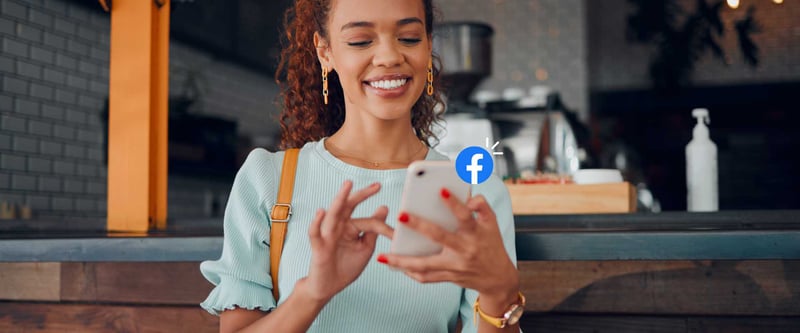 When Should My Church Post on Social Media?
Studies have shown that for churches, the best times to post on social media vary from platform to platform. To keep this blog simple, we'll focus on Facebook, the top social media platform. Now, the when is just as crucial as the what.
These points should help you get a feel for the best times your church should post on Facebook:
Post between 8 and 9 a.m. Wednesdays.
Engagement on Wednesdays is higher than earlier in the week.
Weekends don't significantly impact posting, so skip posting then.
Sundays might seem like a no-brainer, but most people aren't scrolling through social media heavily on Sundays.
Remember: The shelf life of a post usually lasts around 24–72 hours. So being intentional with your post is crucial.
Note: If you have a time-sensitive announcement about your church service taking place on Sunday, it's okay to post about it. Facebook and other social media platforms can be beneficial when getting a direct message out fast. Look to SMS solutions as well.
Engagement Method 2: Live Streaming Church Services
Starting to live stream is no longer difficult, and with most churches being able to begin quickly with a limited budget, it's now turned every church into its own network.
Live streaming your services to social media was initially more complicated. However, a new door for connection was opened with the advent of Facebook Live and its ability to accept streams. As a result, one in five Facebook posts are Live. At the same time, Facebook Live videos drive over three times more engagement than traditional uploaded videos.
Even more so, YouTube changed the way people consume content. With YouTube, more than 720,000 videos are uploaded to the platform every day, and users watch 1 billion hours of YouTube videos every day.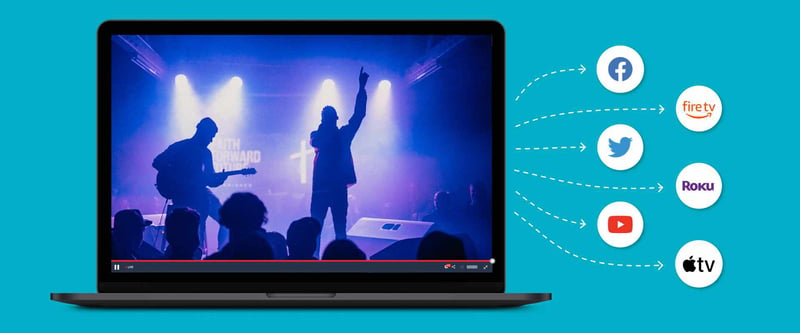 Live streaming your church's events and services across social media can be phenomenal for engagement. Likewise, streaming your church's videos over multiple social media platforms can be gigantic.
Why Your Church Should Multistream to Social Media
Here are a few reasons why streaming your service to more than one destination makes sense:
1. Reach more people
Multistreaming to more than one platform reaches users who may only be on certain social sites. Only some people are on all the platforms all the time. This provides more significant exposure to your online community.
2. Get featured by a platform
Each platform has a different algorithm for how content is filtered and highlighted. This is based on the user. So if one platform isn't featuring your content, another just may.
3. Get seen by people who don't know your church
Using multiple platforms can help you reach folks who don't usually follow you. This allows people to see your church and get a feel for your service without having to directly search for it. By multistreaming, you distribute your content more effectively and with greater ease.
Live streaming to multiple platforms is even easier with streaming services like BoxCast, which offer the ability for you to send one stream signal and then simulcast that to all the platforms you choose. Check out our article on live streaming to multiple destinations.
Engagement Method 3: Generate Shareable Content
Engaging with people goes beyond only being able to chat or connect with them directly. Content is fast becoming a medium to reach and connect with people.
The latest form of content gaining noteworthy engagement comes in the form of 30–90-second video clips. This content is more consumable, quick to create, and able to garner more engagement than simple posts on social media can. It's also how TikTok became a major player in the short-form video space. Yes, we're talking about Reels and Shorts.
Read on to see how your church can easily create shareable video content.
How Your Church Can Benefit by Creating Short Video Content
Instagram Reels and YouTube Shorts offer people a glimpse into the creators' world and invite viewers back to engage further. Still, for use in the church, it can help generate engagement if you create content that concisely highlights and focuses on your ministry. Here are a few significant benefits of using Reels and Shorts to create new content.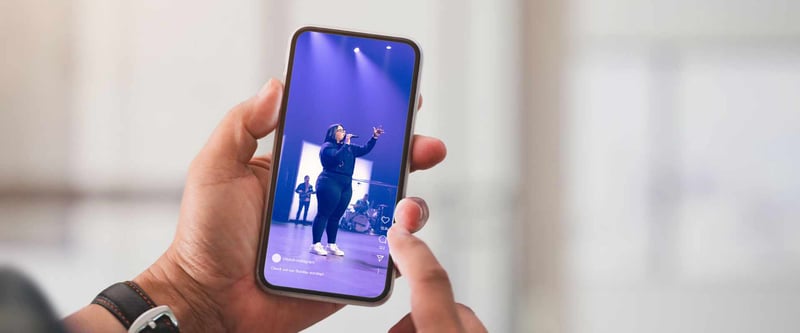 1. High Return for Short Creation
In 2022, 91% of Instagram users indicated they watched at least one video a week and spent 30 minutes or more watching content. Why is this important?
Short-form content is becoming the easiest way to quickly reach viewers. It's how many companies are now selling products. Why not create short-form Reels and Shorts and leverage this medium to spread your message and engage with folks faster?
Thirty minutes is no small amount of time — and if a viewer is intrigued by the content being produced, that time increases. Creating Reels and Shorts can easily engage viewers for a more extended period than uploading long-form media.
This is a great way to feature highlights and clips that drive home a point or focus on the key takeaways of your message, which can compel viewers to want to see more.
2. Creating 30–60 second videos is easier than ever
Most platforms you see using Reels and Shorts also offer tools to create those videos. Most platforms require a mobile phone or tablet that can download their app and a little creativity.
Here's what each platform calls their tool and where to find it:
Facebook + Instagram: Since both are owned by Meta, you can use the same creator tool for both platforms. Meta for Creators provides the tools and inspiration you need to get started.
YouTube: Like Meta, YouTube also has a creator studio for its platform. You can find more details here on Shorts.
TikTok: While the other three platforms mentioned above can be app-based or online, TikTok is strictly app based. There is no creator studio for this platform, but they have great support articles available to walk you through creating your first video on your mobile device.
While you could hypothetically create one video on a platform to share on others, some creator platforms apply watermarks to the video with your username and the platform's logo, and posting on others doesn't work in your favor.
For example: When TikTok took off in 2020, it was where most users created their content. When Instagram Reels started to pick up, people downloaded their TikTok videos and posted them to Instagram. Instagram didn't like that, so they decided to update the algorithm to not promote TikTok-marked videos and push Reels instead.
3. Sharing Increases Reach
The more your content is viewed, the more it's featured, and the more reach it has. Viral videos and content trend because of their number of views and engagements (like comments). With shorter-formed content being the trend, creating them boosts your capacity to reach more people faster and further. Studies have found accounts with less than 5,000 followers reach upwards of 39% of people. The average is around 20% for all reels calculated.
Leveraging this kind of short-form content and creating lots of it can help reach more potential attendees and increase engagement with your church followers.
Planning Tips to Increase Engagement
As Easter draws closer, engagement will become harder. Having a plan early is important to remember. Even if your plan is small, how you invite people to watch or attend services or ask them back for more is critical to maintaining engagement.
The Key to Successful Church Content
Setting up a plan for announcing, offering, and promoting Easter services is the trick here. A key to successful content? A plan. Specifically, a plan that includes the 4 D's: Decide, Design, Develop, and Deliver. Follow this simple guide to get a good start planning your engagement campaign.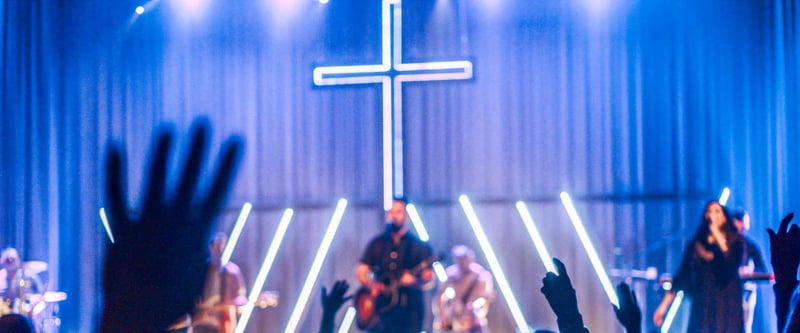 4 Ways to Create + Promote Easter Services
Each of these tips plays a vital role in providing you with the best social content for your church.
1. Decide how many pieces of content you want to create
Content could be graphics, a video, a flier, or mailer. Decide the theme your Easter service will take early (if you want one). Make sure to include any events you're hosting during Easter, along with the time, place, and other important details.
2. Design the content
Hundreds of services and online tools can help you create graphics and videos. If nothing else, use your phone and film a short video that can be easily edited and uploaded for sharing. Think of your pastor inviting folks to attend or have members provide testimonials. Free services like Canva can help you create quick graphics.
3. Develop your timeline
Create a timeline, aka a content schedule. Content schedules let you set dates for deadlines leading up to Easter. This can keep you on schedule for creating and posting content. Be sure to account for any blockers, like shipping times or other events that might hinder your plan.
4. Deliver the content
Delivering or sharing your content goes beyond simply uploading it. Make sure to post on as many social channels as you can. Share on your website and encourage others to do the same. Deploy your content specifically on the dates and times you decided when you created your timeline. This will help with deadlines and follow-through.
Don't forget to check your posts for comments, and always leave a way for people to contact you or find you online outside of where you post for more follow-up.
Using this guide for even the smallest of plans can help ensure your Easter services are highlighted and your engagement increases.
FAQ
Does Facebook or Instagram have a way to create short videos?
Yes. Meta, which owns both Facebook and Instagram, has a creator studio that's free for users to help them create short videos. You can also use the creator studio to learn more about the platforms in general.
What's the difference between long-form and short-form videos?
Short-form videos are videos between 30 and 60 seconds long. Long-form videos are any ones longer than 60 seconds.
Final Thoughts + Further Reading
With Easter being the biggest holiday for churches, getting your message out to as many people and places as possible is crucial. This is why engagement, in all its forms, is critical to the success of your Easter services. Engaging and connecting with your community can be done with a plan, the right tools, and a few good pieces of content. For more insights on engagement or content ideas, check out these helpful guides: