Easter is one of the most celebrated holidays of the year. It's like the Super Bowl of holidays for churches, because Easter is when most churches see their largest attendance — both in person and online.
Roughly 80% of Americans plan to celebrate Easter each year — 22% of attendees watched Easter celebrations online in 2021. Beyond the tons of Easter candy and thousands of people attending egg hunts, Easter services are getting more and more creative with their approach to how they're presented. One of the most innovative ways is having church services outdoors.
Check out our article on how to capitalize on and increase church engagement during Easter.
As a reminder, our friendly streaming coaches are here seven days a week to answer any questions you might have.
Table of Contents
How to Have Church Services Outdoors
Since COVID-19, one of the latest trends to emerge is having services outdoors. This can create a logistical nightmare for many worship and tech directors, as it presents major challenges with moving the entire setup outside — from the audio, lighting, and visual presentations, to simpler things that are often overlooked, like seating.
Outdoor and mobile services are a major production in their own right. So going mobile for your Easter service to your online campus can be the proverbial "cherry on top of the sundae." But don't let fear hold you back — we've got you covered. We'll cover some ways to take your Easter service mobile, so you don't miss a beat when it comes to offering your online community the best possible Easter worship experience.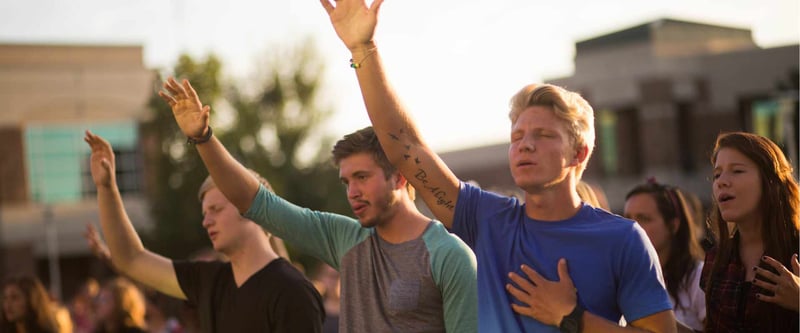 Just Starting Out? Ask These Questions Before Having Church Outside
These questions might seem trivial, but in scope, they determine what you need for your setup and how you'll go about streaming your service outside:
Are you close to your electric and internet connection?
Is your main stage area going to be covered, or open air?
This article breaks down the specifics of two methods to easily live stream with what you currently have, each depending on your level of expertise, equipment, setup, and location.
Live Streaming Outside with Full Equipment Setups
If you're already familiar with live streaming and have been doing it for a while in your building, you may already have the necessary equipment. Oftentimes, this is the hardest part of doing any type of outdoor or mobile service. You'll want to consider a few things when deciding on what gear you'll want to use.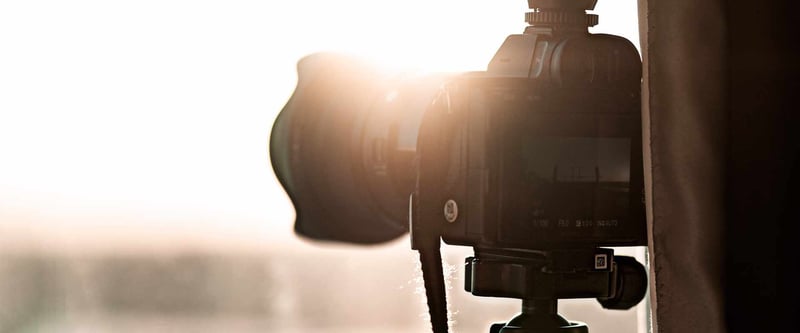 1. Make Sure Your Cameras Are Easily Accessible
We recommend having at least one standalone camera available for applications like this. You could go with something like a Canon G50, which is both portable and easy to use. You could even use a spare DSLR camera. Check out our video on how to turn your DSLR into a webcam for solid options to set up a DSLR for use with streaming.
2. Consider Going Multicam: Using More Than One Camera
Multi-camera setups are an excellent way to add more diverse video angles to your live stream. If you're planning on using more than one camera to stream your mobile service, be sure you're prepared to bring those camera feeds into a video switcher or capture device. The Blackmagic ATEM Mini series works well for this. Our blog outlining multi-cam setups can help you get you started with the basics.
3. Have an Internet Source Available
No internet, no live stream — it's that simple. So you're going to want to think about how you'll get the internet to your production setup for your mobile service. Luckily, you aren't limited to just one option.
How to Get Internet Outside For Live Streaming — 3 Methods:
Method 1: Hardwire extension
Hardwire an extension from your existing network. This is the best method for making sure you have a reliable connection. If you can do it, we highly recommend it.
Remember: Most Ethernet connections are limited to about 350 feet of run length before they need a boost.
Method 2: Wireless Extender
Wireless connections will always be tricky, simply because wireless signals can be interfered with. Try setting up a wireless bridge to help extend your network, or make sure you're close enough to your wireless network to get the best connection and speed.
Method 3: Mobile Hotspot
Streaming from a mobile hotspot has been a go-to for many sports broadcasters. This method relies directly on a mobile carrier (Verizon, T-Mobile, etc.) to provide a cellular connection. Just make sure you have enough data available on your plan so you won't get throttled by your carrier.
Whichever way you choose, you'll want to make sure your internet connection is stable and strong. Watch this video to learn more about live streaming from remote locations:
4. Plan for Audio Outdoors
Audio adds flavor to a broadcast that video can't. Sure, video provides a visual aspect of what you're experiencing, but the audio makes it come alive. Without audio, most viewers end up leaving the presentation. There's an unlimited variety of sounds that could affect your outdoor service, so we want you to be sure you're prepared.
It's important to bring your audio alongside your outdoor service in some way. It could be from a mixing console to your streaming setup or by using a mic located within the area of your service to pick up the surrounding sound. There are a few ways we like to do this.
How to Get Good Audio Outside For Live Video — 3 Methods:
Method 1: Audience or Room Mic
If you use this method, you'll capture everything in your space, so you'll want to be strategic with placement and position. We recommend staying closer to the speaking area or stage. Even using more than one mic can help capture the presentation and the atmosphere.
Method 2: Audio Through the Mixer
This works the same way as if you were inside your church, but because you're outdoors, you'll have to focus on the size and scope of what you're doing and what you'll need.
Method 3: Audio Through the Cameras
In outdoor settings, audio through the camera could be a time saver and still provide you enough sound to keep your live stream interesting. Since you may already be running the cables for video, most cameras can send audio from them with video.
How to Keep Unwanted Noise from Your Live Stream Outside
Let's talk about how to keep unwanted noises out of your audio feed. Is there a lot of traffic going around the space? Will there be construction happening at this time? How do you plan to keep the wind from taking over?
Know Your Outdoor Areas
Outdoor environments don't offer much sound isolation like indoor ones do. So be prepared to combat the open space by making sure you position speakers ahead of mics. Also be sure to have the right number of speakers to provide ample sound to those participating.
Keep the Wind from Being the Main Act
Adding windscreens to your microphones can reduce the noise. Along with the wind, ensure the audio speakers for the members who are in person aren't too loud so that you are getting feedback in mics. You'll also want to try and position singers and speakers with their backs to the wind to reduce ambient noise.
Test Your Audio Before You Go Live
This will allow you to troubleshoot any unexpected noises. Your equipment is likely set up for your indoor church, so you're prepared for sound to bounce back and fill the space, but you don't have that outside.
Live Streaming Outside with Minimal Equipment Setups
Oftentimes, when attempting to stream an outdoor or mobile event, having the least amount of equipment required is best. Cutting down on people, equipment, cables, and time to get everything working can help alleviate some of the stress and challenges of live streaming remotely. Here are some of our favorite ways to live stream a mobile event with a minimal setup.
Use a Mobile Live Streaming App
We built a powerful streaming application called Broadcaster, which makes streaming your video and audio from your iOS device super easy. It links to your BoxCast Dashboard, where you can control your stream, send audio and video from your device's built-in hardware, and be mobile without stressing over how and where you'll set everything up. Plus, you only need your iPhone or iPad, a tripod, and maybe a charger to keep it all running. The best part? You can be up and streaming in less than three minutes!
If you aren't hip to Broadcaster, you can download it from the iOS App Store for free to check it out. All you need is a BoxCast streaming subscription. Not a current customer? No worries! Sign up here for a free, 14-day BoxCast trial to give it a try — no strings attached!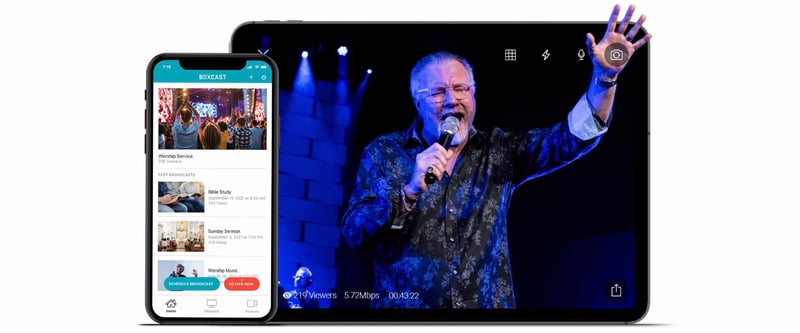 Live Stream Church to Social Media
Facebook and YouTube offer the ability to stream directly using their apps. This is a convenient way to live stream your Easter service without the hassle of setting up a computer or dragging out all the hardware. You can go live right from your device.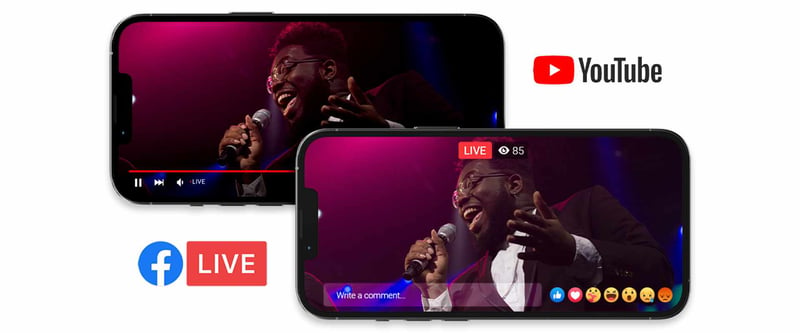 Unfortunately, there are a few issues with going straight to a social site:
You can't stream to more than one destination without having more than one device.
If you plan to have music, you can get flagged for copyright infringement — even if you have the license to play it.
Going straight to a social site limits the options of where your audience can view your streams. We always recommend broadcasting to where the majority of your community members will watch.
Our blog post, Multistreaming: How to Live Stream to Multiple Destinations at Once, covers why it's important to multistream to a variety of platforms.
Live Streaming Gear for Mobile Devices
Using your mobile device for streaming is easy and super efficient with a more mobile service — but your device wasn't made to handle everything on its own. Here are a couple helpful tips to ensure you're not missing out on providing a quality mobile presentation.
Use a Wireless Mic
With advancements in tech and prices coming down, using a wireless mic that can connect to your smartphone or device can help keep the amount of equipment down while keeping the quality high. We recommend taking a look at the RODE Wireless GO II. This mic is inexpensive and offers iOS and Android support for mic audio on the go.
Use a Mount and Tripod
We've all seen really shaky live videos — it can be distracting, to say the least. Using a mount and tripod reduces that and offers you a stable platform to place your device for live streaming. Check out the Joby GripTight Mount. This mount is great if you have a case that supports MagSafe connections, and when partnered with the Ulanzi MT-54 Metal Light Stand, the mobile stand will be lightweight and slim enough not to be intrusive.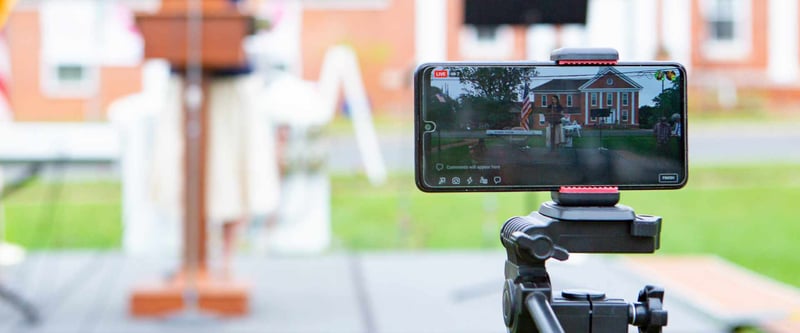 FAQ
Does BoxCast have a mobile app I can stream from?
Yes. Our Broadcaster app for iOS is the easiest and fastest way to stream in HD. Use an iPhone, iPad, or iPod touch, connect to a Wi-Fi or cellular connection, and you're ready to go live with the touch of a button!
How do I reduce wind noises in my microphones when outside?
Windscreens and pop filters can be used with microphones to help reduce excessive pressures on a microphone's element from wind as well as popping sounds from vocal wind.
Can I live stream using my mobile hotspot?
Yes, but this method relies directly on a mobile carrier (like Verizon or T-Mobile) to provide a cellular connection. You have to have a mobile plan that allows for a hotspot. We also recommend you check on your data limits to ensure you have enough to stream.
Final Thoughts + Further Reading
Choosing to live stream church outside can seem difficult at first, but streaming really doesn't have to be complicated. The same principles apply — whether you're inside or out. Having a strong internet connection, good video source, and audio coming into your streaming setup are the three main ingredients to any good live stream.
That said, there can also be a lot of time and equipment involved in going mobile for Easter. Wherever you decide to broadcast your Easter services, check out these other resources to help you extend your church's reach: