This post covers the main reasons your church should be considering live streaming it's services. It's part of our series on church live streaming.
Increased access to the internet has transformed the way people communicate. It is nearly impossible to be in a public place for more than a few minutes without seeing someone use a smartphone to check Facebook, read an article, or send a quick text.
Churches across the country have started to take advantage of this high-tech era by streaming their services. Observing that their community is spending more and more time on their various digital devices, savvy churches can stay relevant by meeting their members where they are: online.
If you haven't made the switch already, here are 5 reasons your church should be live video streaming.
1. Reach Seekers
Live video streaming allows you to reach people you've never reached before. Take a moment to imagine someone who has never set foot in a church, whose parents never spoke about God, and whose friends don't identify with religion. Still, that person might be curious about the Bible and wants to learn more. Though we've all driven by hundreds of churches, most people who fit this description will start their search on Google instead of walking through the doors of a church. Showing your services online shows them a glimpse of the community they could join.
2. Connect With People Who Are Home Sick
On an average Sunday morning, most churches in America could fill the rosters of several baseball teams with people who have stayed home - either because they're sick or because they're caring for someone one who is. One of the most practical and consistently relevant applications of streaming is that it allows the 34-year-old mother to stay at home with her coughing 6- year-old while still tuning into take part in her weekly Bible study.
3. Share Important Moments
Every year, a church hosts hundreds of important events - weddings, holiday concerts, bible studies, and more. Sometimes, however, the people who want to be there just can't make it. Being able to watch the event streamed live lets these people share those important moments, despite their physical distance.
4. Bless Faraway Soldiers
Your community members aren't confined to the walls of your church...your ministry shouldn't be either. Soldiers and missionaries are valued members of our community and should stay connected. Live video streaming is a special tool that can bring them the comfort of home, even when they're out on the field serving a duty to their country or bringing others closer to Christ. The ability to tune into your church online can bless them in a special way, even when they're thousands of miles away.
5. Welcome New Families
Before believers move to a new area, they've often searched online for the new church they can join. After all, a church is a haven for anyone new to a community. Showcasing your sermons and services online makes them more comfortable with who you are, what you're about, and what they should expect from your ministry; it lets new families see if your church is the right fit for them.
Final Thoughts + Further Reading
The goal of any church is to reach people and touch lives.
By streaming your services and other events, you're able to take your ministry beyond the walls of your church, connecting with more people than ever before.
Learn more about how to reach and engage your congregation by downloading The Pastor's Guide to Live Video Streaming.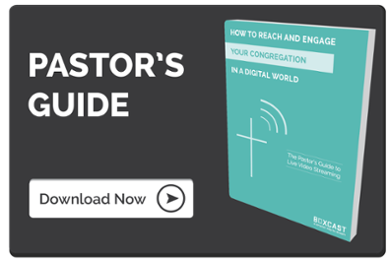 If you've decided to stream but aren't sure which streaming provider is right for your organization, you're not alone.
The free Buyer's Guide to Live Video Streaming highlights key features to consider when evaluating your different options.
Here are a few other resources you might find helpful:
The Best Live Video Streaming Equipment for Your Church
The Best Ways to Buy Used Video Equipment for Your Church
7 Types of Camera Shots To Consider When Filming Church Services
Why Churches Want Lower Thirds In Their Video
4 Ways to Make Your Church Video Announcements Great
5 Easy Ways to Improve the Audio of Your Church's Live Streams
How to Fix Your Church's Lighting Problems
How to Choose the Right Microphone for Your Pastor
Does Live Video Streaming Hurt Church Attendance?
Why You Need To Improve Your Church Lighting
How to Better Connect With Your Live Stream Audience
How to Get the Most Out of Your Worship Service on Your Live Stream