Live streaming and broadcasting sports can be difficult when time isn't on your side. This is made even worse when your setup is complicated, your internet is unreliable, or your equipment is subpar.
If any of these things sound like your situation, you're in the right place.
Table of Contents
How to Live Stream and Broadcast Sports: K-12 to College and Professional Level
If you're tasked with broadcasting your organization's athletic events, you've already got a million variables to consider before the games even begin. What equipment can make your live streams even better? Are you selling virtual tickets or broadcasting to as many online destinations as possible? How do you troubleshoot live stream issues when the internet connection is spotty?
We've put together a list of tips and tricks to help you become a better sports broadcaster, improve your current workflow, and enhance the production quality of your sports live stream. Let's dive in.
3 Ways to Improve Your Current Live Stream Workflow
1. Save Time with a Plug-and-Play Setup
A plug-and-play device, as the name suggests, is ready to use as soon as you plug it in. Unlike others, plug-and-play devices are game changers when it comes to simplicity and functionality.
Plug-and-play encoders are physical devices that take the feed from your camera and audio sources, and connect to the internet directly to share it. This takes the burden off of you (the user) and gives the hard, technical tasks to the equipment you're using for your sports live stream.
When you're ready to start your broadcast, all you need to do is plug in power, internet, and a camera. The BoxCaster is a great example of an easy-to-use, plug-and-play encoder.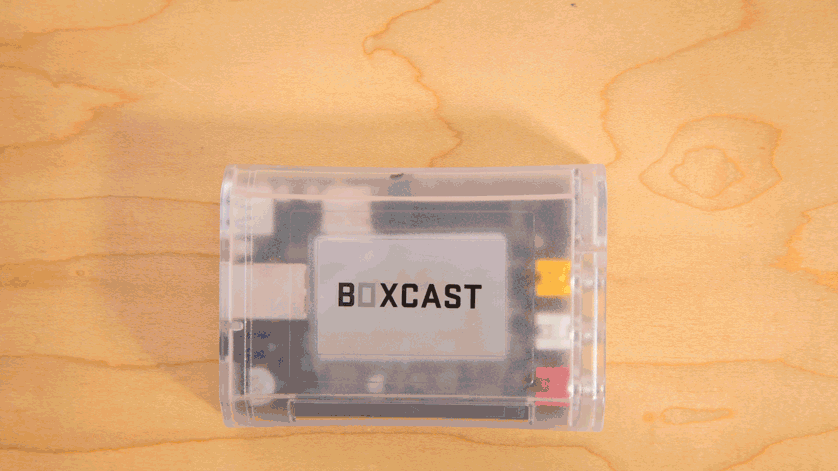 Once you avoid complicated and annoying setup tasks, live streaming sports becomes a whole new ballgame, as you can spend more time focusing on the event and create winning broadcasts for your fans in a fraction of the time.
2. Prep Before You Go Live
Before game day arrives, create a repeatable process to ensure your fans watch the best possible sports live stream.
Here are a few ways you should prep:
Test your internet. Strong connections ensure more reliable streaming. Check your network's strength the day before you go live and the day of using this test.
Check your audio levels. Think of audio as the peanut butter to your live stream jelly. Combined, they make a delicious

sandwich

experience. If you notice any audio issues, troubleshoot how to fix them.
Secure cabling. Tape down any cabling someone might trip over. Bonus points if you organize your video cables to help prolong cable life. Not sure which cables you need? Learn about the difference between HDMI and SDI video connections.
Run a test stream. Once your equipment is set up, test the stream. If you're a streaming newbie, using new equipment, or in a new environment, be sure to run multiple tests — better to be safe than sorry!
Modern technology has come a long way, but issues can still arise. Have a backup plan in place for your video, audio, and internet to remedy things before you go live:
Video. For multi-camera productions, have a wide safety shot or standby shot available if something goes wrong. If you're using a single camera to shoot, bring a backup camera.
Audio. Make sure you can switch to on-camera microphones in case you lose your audio feed.
Internet. If the internet goes down at your venue, have a mobile phone available. You can use its hotspot to connect wirelessly to your encoder.
If you need additional support, BoxCast's friendly streaming coaches are here and happy to help you with your athletics live streaming setup.
3. Use a Reliable Streaming Protocol
Broadcasters in indoor settings are more likely to have access to reliable internet. For many athletic environments, this is not the case. Whether you broadcast sports from an athletic field, gym, press box, or stadium, there's a chance your internet will be unreliable.
Some athletic venues may not have internet access, which means you'll need to stream using a mobile hotspot. It's not ideal, but you can use this option to stream from remote locations when there's no Wi-Fi.
In either case, a dependable connection is great to have but not always possible. So, what do you do? Choose a live streaming platform with a streaming protocol that can reliably stream sporting events with professional-quality — even if your connection is less than ideal.
This ensures your fans won't miss any key moments or plays, and eliminates frustration — especially for viewers who paid for a ticketed event.
3 Ways to Increase Your Production Quality
1. Share Live Scores with Your Fans
You know your fans are important. So why not enhance the experience for all your fans — including the remote ones.
Today's viewers don't want to tally scores the old-fashioned way (via paper and pen). If you expect them to, your engagement will likely suffer. Fans won't be able to tell the winners from the losers — especially if they join your broadcast after it's begun.
One of the best ways you can keep your audience in the game and improve your sports live stream is to add an overlay of the scoreboard. You can automatically overlay the score onto your broadcast, or manually enter the scores shown on the scoreboard overlay as they happen.
Whichever option you choose, you'll need a score bug to overlay your scores. Think of the score bug as the middleman between your scoreboard controller and your plug-and-play encoder. Once you connect them, you can capture, customize, and broadcast sports scores in real-time to your viewers.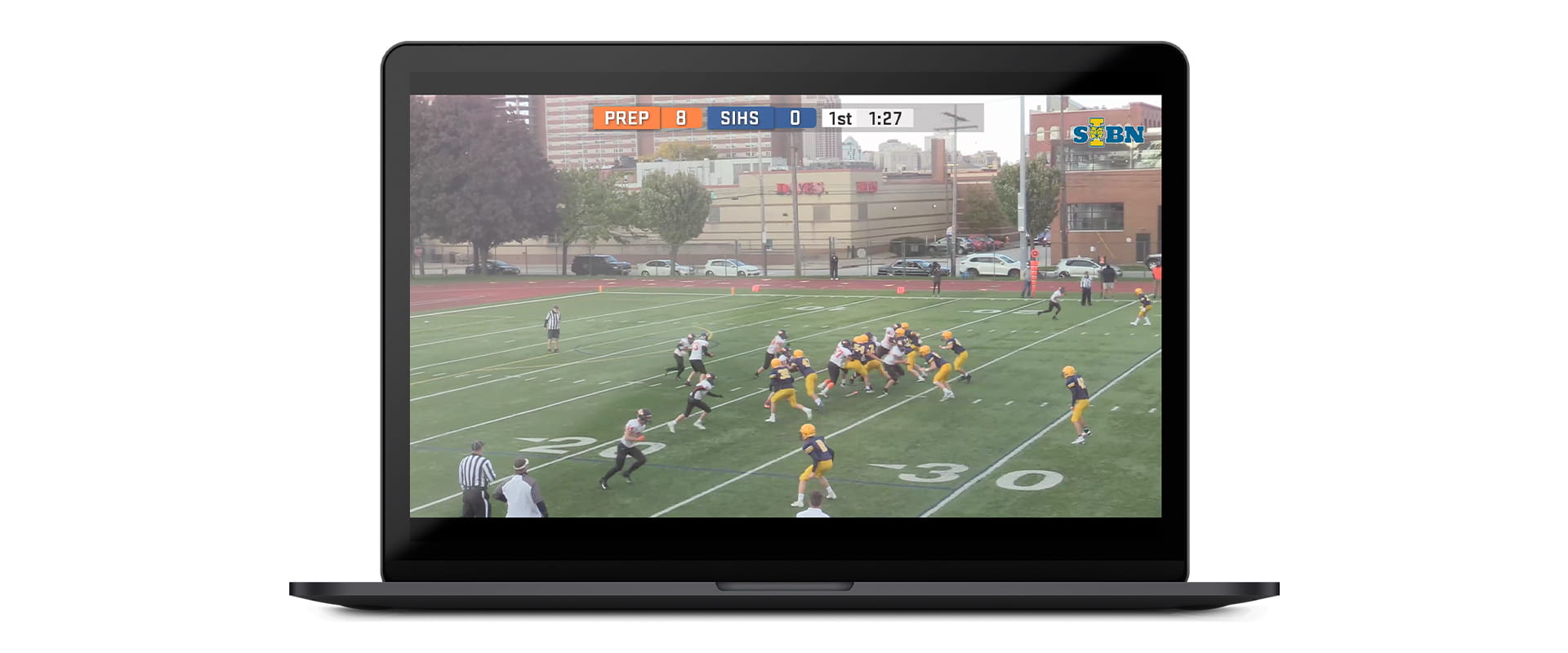 A score bug also helps streamline your workflow by transmitting your live stream sports score and clock information to the cloud on its own.
Now that's what we call a win-win situation!
2. Invest in Quality Gear
Up your sports live streaming game by investing in equipment that enhances your viewers' experience.
A great way to improve your production quality is to add color commentary when you broadcast sports. We've put together a short list of our favorite equipment to help get you started.
Watch this short video to learn how to use this gear:
Another way to improve your overall sports live stream is to buy a more fluid tripod. It'll help you get smoother shots while still following the action. And to easily zoom in and out of the game, invest in a zoom controller.
Explore all of our favorite live streaming gear to see how you can score more points with your viewers.
3. Grow Your Broadcasting Skills
We won't sugarcoat it — learning how to live stream action-packed events can be hard. You might be wondering … What gear should I choose? Which platforms are best to broadcast sports to? How do I connect everything?
Luckily for you, there are a ton of great resources on the internet to help you learn how to become a better broadcaster. Here are a few to get you started:
Educational courses. Learn the ins and outs of live streaming from industry experts. Our live streaming 101 course is specifically designed for broadcasters of all levels.
Informative articles. Scroll through the BoxCast Blog to find answers to your questions, explore best practices, and learn how to sharpen your technical skills for your sports live stream.
YouTube channels. Videos are a good resource to help viewers learn complex concepts in an easily digestible way. The BoxCast YouTube channel has a lot of great Tech Tips.
Keep in mind that one of the best ways to strengthen your broadcasting chops is to gain hands-on experience. By continuing to use your streaming equipment, you'll be better equipped (literally) to connect the knowledge you learned (from courses, blogs, videos, etc.) to real-world applications.
Remember, practice makes perfect.
Final Thoughts + Further Reading
When you're using a live streaming platform to reach your fans, you need to focus on their experience. You want to be as engaging as possible, despite the challenges you may face. That's why it's important to follow these tips to improve your current workflow and enhance the production quality for your viewers.
Here are some additional resources you may find helpful: