This post talks about the audio equipment needed to add announcers to your broadcast. It's part of our series on

sports live streaming.
Live sports aren't nearly the same without announcers. We're used to hearing the greats like Al Michaels and Bob Costas call the games while we enjoy the action on the field. If you're a football fan, you have to love listening to Jon Gruden's expert insight and analysis during Monday Night Football games, right?
If you're live streaming your games, you'll want to add announcer audio because it enhances the viewers' experience.
So, how do you easily add announcer audio to your live streams? This post, drawing from insights shared in How to Add Announcer Audio to Your Live Stream, provides you with a short list of equipment we recommend you buy if you want to add announcer audio to your sports streams.
Headset
You can always trust Audio-Technica to produce high quality audio equipment. The BPHS1 Broadcast Stereo Headset is no exception—it features a design meant to minimize outside ambiance. The boom microphone features a frequency response tailored for speech capturing, and is designed to reduce off-axis noise and feedback. A 1/4" connection is featured for the headphones, and a XLR connection is for the mic.


Headphone Amplifier
This Polsen Headphone Amplifier features a wide frequency response of 20 Hz to 20 kHz with low distortion at high volumes, and no signal loss when all four headphone outputs are used simultaneously. For most sports broadcasts, you'll only need two 1/4" inputs for your two headphones, but it's nice to have four inputs and four outputs. Each of the four channels allows for independent volume control. Plus, this Polsen Amplifier is compact and durable, so, you can take it anywhere.
Audio Mixer
The Behringer XENYX Audio Mixer is such a good deal. For less than $200, you get 12 inputs, a built-in USB audio interface, four phantom-powered microphone preamps, and four compressors. This is the perfect mixer for a simple sports streaming setup.


How to Bring It All Together
Watch the short Tech Tips video (two minutes) below to learn how to utilize all the equipment we recommend above to add announcer audio to your live sports stream.
Final Thoughts + Further Reading
If you've decided to stream but aren't sure which streaming provider is right for your organization, you're not alone. The free Buyer's Guide to Live Video Streaming highlights key features to consider when evaluating your different options.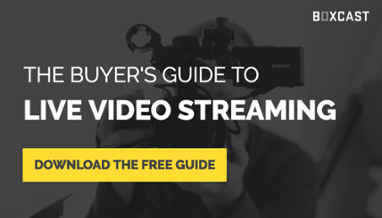 Here are some other resources you might find helpful:
How To Fix Audio Issues On Your Live Stream
Balanced vs. Unbalanced Audio: What's The Difference?
Two Simple Ways to Include Audio on Your Streams