Producer by BoxCast not only lets you go live in minutes straight from your web browser, but also gives you powerful tools to quickly and easily enhance the production value of your streams. In this post, we'll show you three handy tips to increase the viewer engagement and video quality of your broadcasts.
To start, you may want to check out everything you can do with Producer here.
Table of Contents
Tip 1: Use Viewer Chat to engage your audience
Producer makes hosting an engaging study, meeting, or word of the day easy with Viewer Chat. If you've used Viewer Chat before, you know it's a great way to connect with your audience during your stream.
If you're new to this, don't worry — it's super easy. In Producer, you can use the Viewer Chat feature to send messages, moderate discussions, and interact with your viewers while you're live.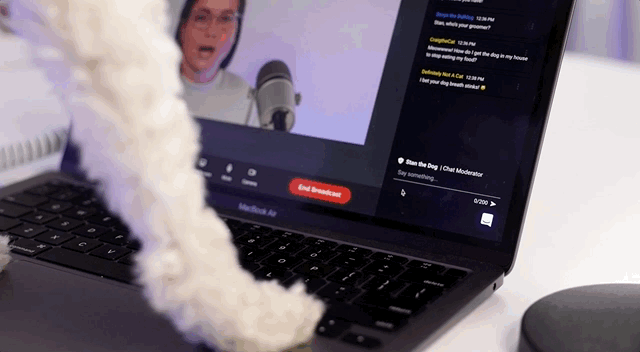 Tip 2: Screen-share slides with PIP or side-by-side effects
Bring your followers, customers, or community into meetings and share info with them quickly using Producer's picture-in picture (PIP) or side-by-side effects.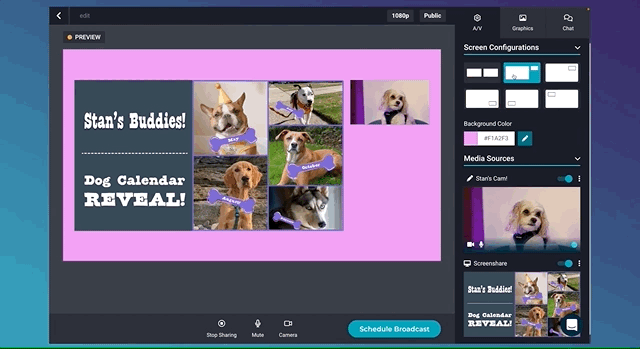 Select Share Screen under the player window while your broadcast is live. You'll be prompted to accept a notification recommending usage of a second screen. If you use Google Chrome, select the screen, window, or tab you'd like to share.
You can also change the layout of the screens to make it more attractive. Check out our post on how to Live Stream Picture-in-Picture Video in a Slideshow to learn more about how this works.
Tip 3: Use graphics + overlays to add interest
Producer lets you bring your podcast or show to life with graphic overlays and titles. Eye-catching graphics and lower thirds can help increase viewer engagement and make your broadcast stand out.
Select Graphics to access overlays. From there, you can add an overlay graphic by selecting the one you want, resizing it, and clicking Apply. The changes to the graphic become live when you click Apply, so make sure you have it set the way you want.
To add lower thirds, go to Graphics. In the Lower Third area, choose a color that matches your brand and hit the Add Lower Third button. Then just enter your text and save it. You can use the toggle to add and remove a lower third with minimal effort.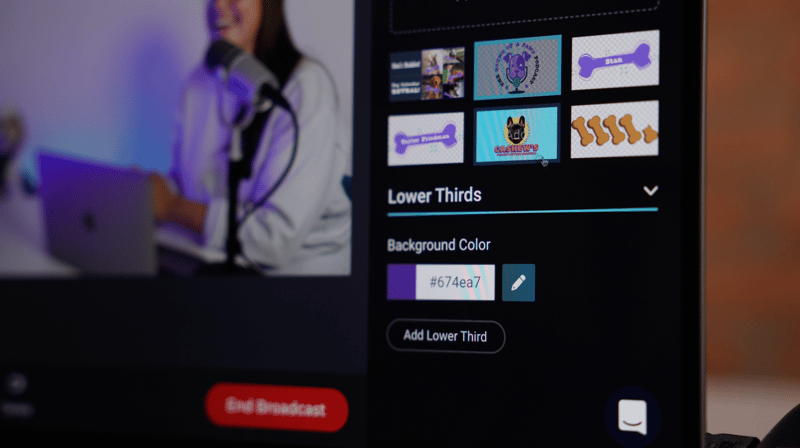 Producer by BoxCast makes live streaming from your browser a breeze, with pro-quality streaming tools you can easily add to your broadcasts. Get started with a 14-day, free trial.
FAQ
Can I do multi-cam live streams in Producer?
Yes! You can produce multi-cam streams in Producer if you have a video switcher like Blackmagic's ATEM MINI or a video capture card that can take an HDMI feed from your video switcher.
Can I multistream with Producer?
Yes! Backed by the BoxCast Platform, Producer gives you the ability to multistream to Facebook, Youtube, Twitter, your website, and other destinations.
Can I add lower-thirds in Producer?
Yes, you can easily add lower thirds in Producer using your own brand colors, or upload your own custom images if you have our Growth, Experience, or Premium plan.
Final Thoughts + Further Reading
Producer is the best way to go live from a computer — you can do it in minutes. If you want to quickly start broadcasting a live stream to your followers from your desk, home, or office, Producer is the tool to use. Taking advantage of all the available features can really boost your production quality over a typical web conference or other web browser streaming platform. Check out these resources to become a broadcasting pro with Producer: