If you're a solo broadcaster or want to enable others to live stream without any fuss or complicated hardware, this is the workflow for you. We've created a setup that's simple, reliable, and doesn't need any equipment other than a computer or laptop. It's an easy way for new broadcasters and those who aren't too tech-savvy to begin streaming successfully.
This workflow also helps people communicate efficiently to large groups from wherever you are. Read on to see how.
Check out all the live streaming workflows in this series:
Table of Contents
Your Browser-Based Live Streaming Workflow
Here's an easy workflow we recommend for live streaming yourself and your presentation slides straight from your laptop. An external webcam and USB microphone connect to your computer through USB, while your laptop outputs an HDMI feed to a secondary monitor for full control and monitoring of a slide presentation.
The laptop itself serves as your source for live streaming with browser-based streaming software like Producer by BoxCast.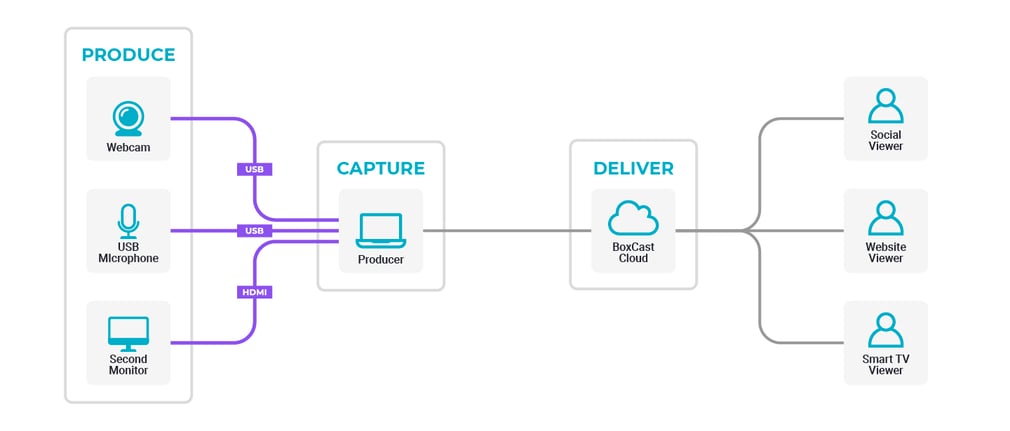 Setting Up Your Slides with this Workflow
In order to run a PowerPoint or slideshow presentation during your live stream, we recommend connecting a secondary monitor to your computer via HDMI. This lets you control your presentation slides separately from your live streaming computer. For best practices on how to do this, take a look at our guide to streaming picture-in-picture video on top of a PowerPoint.
Who Is This Setup For?
This workflow is ideal for solo content creators or people who don't have an extra set of hands to help them produce their broadcasts. Here are some instances where you might find web-browser live streaming useful:
Video: Producer live streaming testimonial
Adding a Webcam + External Microphone
While newer laptops come with built-in webcams and microphones, there's something to be said for adding an external webcam to enhance your picture and a USB microphone to polish your presentation. A little bit of lighting goes a long way, too!
Don't have the budget for extra equipment? No worries. You can easily turn your smartphone's front or rear camera into a webcam by using Camo, a free app for iOS and Android devices that allows your phone to interface with your laptop.
Video: How to turn your phone into a webcam with Camo
Limitations of This Setup
There are a few minor limitations of browser-based streaming with this specific workflow.
If your stream is mission critical, avoid running other programs on your computer while you're live. Your streaming laptop should be dedicated to your live broadcast.
There's no easy or inexpensive way to introduce a local recording option using this workflow. So if your internet connection is spotty, you may want to use a hardware encoder like the BoxCaster.
Looking to create live streams for larger-scale events? That's another reason you may want to consider investing in a hardware encoder. See the simple streaming workflow with a video encoder here.
FAQ
Do I need an external webcam for my computer?
If you're looking for more dynamic range, a crisper image, and a defocused background, a webcam can certainly help — but it's not nearly as important as good lighting. We recommend investing in a good webcam only after you've established good lighting and clean audio.
Can I live stream picture-in-picture video from my web browser?
Yes! If you use a video switcher in conjunction with Producer, you can create multi-cam live streams with slides. Alternatively, you can use Producer by itself to stream yourself and presentation slides in a variety of picture-in-picture formats.
Do I need a capture card to connect my camera to my computer?
That depends. If your camera only has an HDMI output, you may need a capture card like the Elgato Cam Link. Some cameras, like Sony's EV-10, have built-in USB connectivity so you can connect your camera directly to your computer. Of course, if you're using a USB webcam, you won't need a capture card at all — because it's a webcam!
Final Thoughts + Further Reading
So, why Producer?
Producer by BoxCast makes it easy for beginner-level live streamers to get up and running quickly with an enhanced live broadcast. Read the following posts to learn more about the benefits of using Producer: