The camera built into your smartphone is often a better option than the webcam that's built into your laptop or computer, so it makes sense to use it as a webcam. If you'd like our recommendation and an easy how-to guide for the best app to use your phone as a webcam, keep reading.
You may not realize it, but using your smartphone's camera as a webcam is actually fairly simple, and can make a dramatic difference in the image quality of anything you're streaming — whether it be yourself or another subject.
In this article, we'll walk you through a few quick, easy steps that show you how to use your smartphone as a webcam with the Camo app and BoxCast's Producer streaming software (both of which are free).
Let's get started.
Table of Contents
What You Need to Turn Your Webcam into a Smartphone:
A smartphone (iOS or Android)
A laptop or computer
Camo webcam app for Mac or PC
Camo mobile app for iOS or Android
A charging cable to connect your phone to your computer
Step 1: Download + Install Camo
In order to activate your smartphone as a webcam, you'll need to have Camo installed on both your computer and your smartphone. Visit the Camo Downloads page to get the software on your computer. Then download the app on the App Store or on Google Play.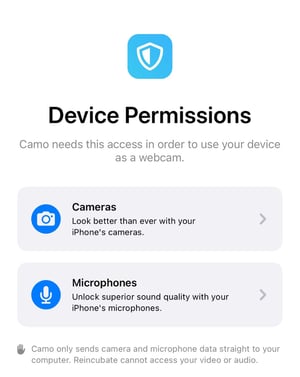 Once you open the Camo app, enable permissions so the app can use your phone's camera and microphone. After you've done that, you can connect your phone to your computer.
Step 2: Connect Your Phone to Your Computer
Now that you have Camo downloaded on both devices, you'll need to connect your phone to your computer using a USB Type-C or Lightning Cable, depending on the ports available on your laptop.
Note: Camo Studio highly recommends connecting your phone directly to the computer to avoid any connectivity issues with dongles and USB hubs. Try using a direct cable connection whenever possible.
Once you're connected, open up Camo Studio on your computer, and then the Camo app on your smartphone. Your phone may pop up the prompt below. You'll need to click Trust to allow the phone to share video with your computer.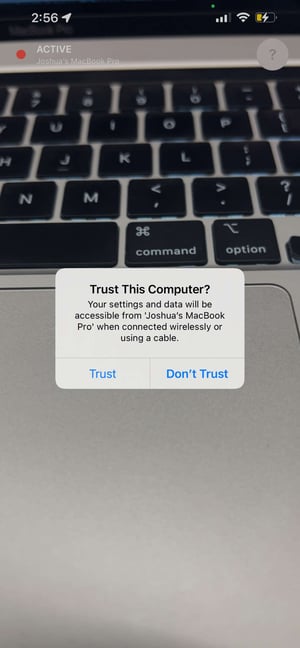 Step 3: Adjust Your Image
When you're in Camo Studio and connected to your phone, you'll notice there are a few simple image adjustments you can make in the free version that will enhance your image. You'll have to upgrade to the Pro version ($79.99 for life or $4.99 monthly) to use its more advanced features, but the free version still gives you some basic functionality to make your video look great. For example:
Free Features
Lens Switching: Allows you to use the front or rear camera on your smartphone. We recommend using the rear camera on your phone, as it's generally built with better optics than the selfie camera.
Color Presets: There are a few color presets built into Camo Studio that can enhance the look of your video.
Paid Features
Novelty Overlays: Similar to Snapchat and other social video apps, Camo Studio lets you add a little personality to your video by applying novelty filters over your subject.
Portrait Mode: This feature blurs out your surrounding background, bringing focus and clarity to your subject.
Image Adjustments: This allows you to manually adjust your camera settings like exposure, white balance, saturation, contrast. etc.
Image Transformation: This gives you the ability to mirror, rotate, and zoom in on your video.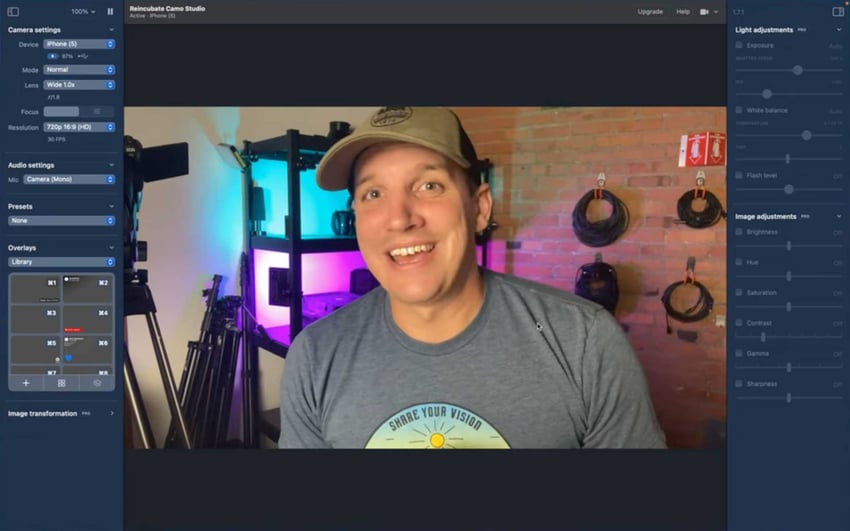 Step 4: Connect Your Live Streaming Software
Once you have your framing, lighting, and subject in position, it's time to go live! Camo Studio works with dozens of free streaming apps, like Zoom, Google Meet, and Producer by BoxCast!
Like cheese and wine, Camo Studio pairs perfectly with Producer. Our free streaming software gives you the ability to go live right from your web browser and produce virtual and hybrid events in minutes.
You can easily incorporate your Camo feed into Producer by selecting it as the Camo Camera under Media Sources in Producer. You can also select your Camo Camera as your audio source in Producer as well if you'd like.
Note: In order for your Camo feed to stay active with any streaming/meeting software, you'll need to keep both Camo Studio and the Camo app open on your devices to maintain the camera's connection to Producer or other streaming software. So make sure you're using your smartphone as a dedicated camera.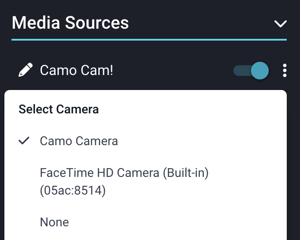 FAQ
Can I use my phone as a webcam?
Yes. Using the Camo mobile app and Camo Studio on your computer, you can easily turn the camera on your smartphone into a webcam for live streaming and recording.
Is the Camo app free?
Yes — the main feature of converting your smartphone into a webcam comes with the free version of Camo. For more features, you'll have to go with the Pro version.
Does Camo work with BoxCast?
Yes, Camo studio works with Producer by BoxCast, along with dozens of other apps (like Zoom, Google Meet, Microsoft Teams, Streamlabs, Skype, Twitch, and Final Cut Pro X) and dozens of video recording and streaming products.
Can I use the Camo app with Android phones and tablets?
Yes, the Camo app is available for iOS and Android devices, as well as with Mac and PC computers.
Get Started for Free
Start streaming for free with Camo and Producer today.
Final Thoughts + Further Reading
Using your smartphone as a webcam is a great way to save money while producing high-quality content. As you get more comfortable producing content from your smartphone, you may want to consider other ways to enhance your stream quality without breaking the bank. These posts will help you improve your audio, lighting, and streaming software: