Established production teams often use more than one video camera. Whether you're in-house or contracting video production services, one of the most tangible ways to create a professional-looking live stream is to use multiple cameras and angles. A variety of shots help engage the viewer and bring them even closer to the action than they could experience in person. In this post, we break down the essential elements of a live streaming workflow with multiple camera angles and a professional audio mix.
Check out all the live streaming workflows in this series:
Table of Contents
The Multi-Cam Workflow for Professional Live Video Production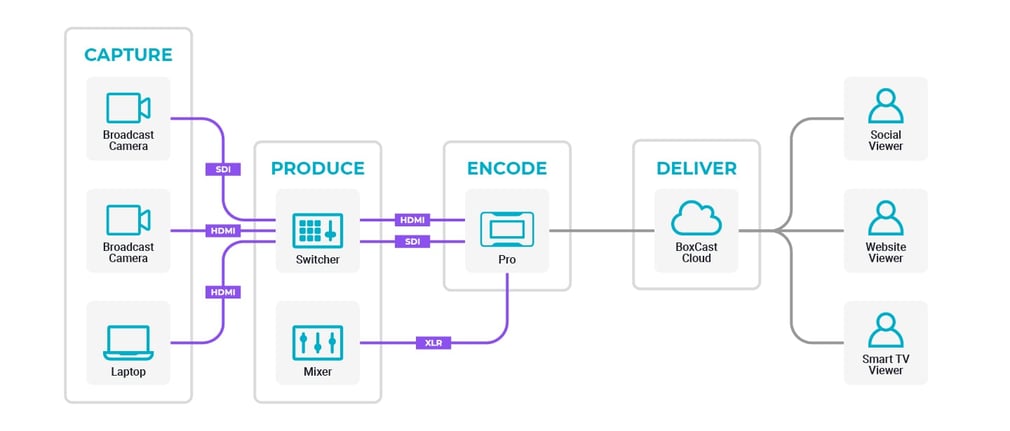 The Professional Multi-Cam Setup, Explained
This workflow includes a two-camera setup with an additional laptop for running graphics and presentation slides. All three video sources can output via SDI or HDMI into a video switcher. The video switcher outputs a mixed video feed to an encoder like the BoxCaster Pro.
Alongside the video feed, a live audio mix is sent to the BoxCaster Pro via an XLR connection, so program video embeds directly with the live mix from an audio mixer in the live stream's final output. From there, the BoxCaster Pro sends the mixed video and audio to the BoxCast Cloud, where video is distributed to viewers on virtually any website or social media platform.
Who is this workflow setup for?
Each type of event is going to have its own custom variation of the workflow above to meet the needs of the content you're streaming. For example, a sports broadcast may require you to add color commentary to your live audio mix, while a house of worship service might need lyrics and presentation software.
In general, the combination of multiple cameras, a live video switcher, a professional soundboard, and a high-end encoder like the BoxCaster Pro will serve a wide range of professionally produced events, including:
Keynote Presentations
Business Conferences
Live Worship Services
Graduation Ceremonies
Live Sporting Events
Concerts
The limitations of a multi-cam setup
You may find the biggest limitations of this workflow are upfront cost, speed, and flexibility.
Cost
It's no secret that video production equipment can quickly get expensive as you add more cameras and upgrade production hardware. If you're not ready to make a significant investment, you may want to consider getting your feet wet with a single-camera setup.
Speed
When you add more gear to your workflow, configuring your setup and testing your live stream in new environments can take a little more time. This probably seems obvious, but it's good to keep in mind as you incorporate more items into your streaming arsenal.
Flexibility
Planning to stream on the go? You may prefer a simpler setup using an app like Broadcaster for iOS. This kind of workflow is not only portable and easy to use, but also works great when you don't have time for a more complex setup and teardown between events.
Choosing a video switcher
In recent years, live video switchers have become much more affordable for small to medium-sized productions. The market now offers tons of prosumer options for producing a multi-cam event in the $300 to $1,500 price range — which was unimaginable before. Check out this post for some solid recommendations on entry-level video switchers.
Here are some things to think about when you're ready to invest in a live video switcher:
HDMI? SDI? Or Both?
Many video switchers exclusively come with HDMI or SDI inputs, so it's important to consider how you want to scale your production over time. Think about the cameras you already own, the environment you're streaming in, and what you want to invest in down the line.
You don't necessarily have to pick a side, though. The influx of affordable video switchers has come with plenty of cross-converters that can change your signal from HDMI to SDI or vice versa.
Video Effects
Do you need to apply graphic overlays, picture-in-picture, or green screen effects to your mixed video feed? Ask yourself what else you need your video switcher to do besides cutting between camera angles, and make your selection accordingly.
Backup Recordings
Many switchers now have the ability to record one or all of your camera angles directly to a drive or even your computer. This is great for having a backup in case of any major live stream disruptions — or if you want to do post-production work on your content. If your switcher doesn't record directly to some sort of drive, you may want to invest in a dedicated video recorder.
Choosing a video encoder
When your live stream is mission critical and your viewers expect the best, it's crucial to invest in a professional-grade encoder like the BoxCaster Pro. The Pro gives you the highest quality video and peace of mind — with flexible inputs and outputs that seamlessly integrate into almost any workflow.
The Pro uses HEVC video compression alongside BoxCast Flow to ensure your live stream can withstand network disruptions. Plus, the Pro only requires half the bandwidth most streaming software and hardware products do to deliver crisp, 1080p video at up to 60 frames per second. This not only makes it a great encoder for high-end productions, but also for live streaming environments where your connection is less predictable (e.g., press conferences, outdoor environments, etc.)
FAQ
What's the best live video switcher for beginners?
If you're just getting started with multi-cam video production, we recommend the Blackmagic ATEM Mini Pro. It's an affordable, entry-level video switcher with four inputs, advanced video effects, and audio mixing. Not only can you record locally to an SSD directly from the switcher, but also live stream to services like BoxCast directly from the switcher itself.
How much should I spend on a video switcher?
If you're new to multi-cam live productions, we recommend spending anywhere between $300 and $1,500 on a video switcher.
Final Thoughts + Further Reading
There's so much you can accomplish when you upgrade your production with multiple cameras. To learn more about advanced streaming setups and get equipment recommendations, dig into the resources below. You may want to start with one of our favorite webinars on multi-cam live streaming: