This post makes the case for using lower thirds in your streaming production for your church or ministry. It's part of our series on church live streaming.
Looking to bring an extra level of sophistication and interaction to your live video stream? Consider using lower thirds.
What are Lower Thirds?
"Lower thirds" refer to information presented in the bottom part of the screen - literally in the bottom third of the image. The space is often used to display contextual details, like someone's name and title, location, or other relevant information. It helps to place the text against a colored background to make it stand out and easy to read.
You've likely seen the technique used in newscasts to identify the person speaking on screen or to convey additional, related information.
But how and why is this relevant for your church?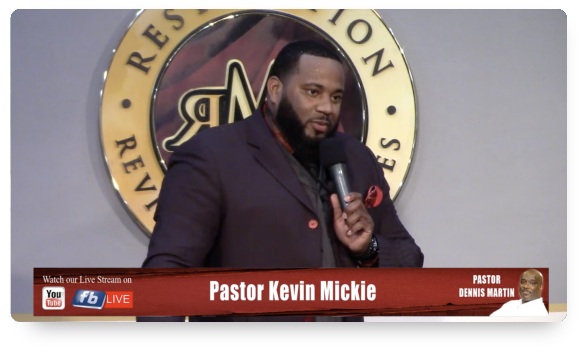 Lower Thirds and Your Church
You can use lower thirds to enhance your stream, going one step further to engage your audience.
The people watching at home likely know the name of your lead pastor, so there's no need to identify him or her throughout the service. But consider using lower thirds if you invite other speakers to the stage to help lead your service, such as Gospel readers and choir soloists.
What we're seeing with increasing popularity is churches using lower thirds to identify scripture readings and provide accompanying text while they're being read.
And during announcements, additional information can be displayed, showing how your viewers can get involved.
Next Steps
While lower thirds can make a stream look more professional, they don't require a video engineer to get started. Using BoxCast's Graphic Overlays feature, it's easy to add lower thirds to your church's live stream.
Final Thoughts + Further Reading
Using lower thirds isn't the only way to take your stream up a level.
Here are a few other resources you might find helpful:
The Best Live Video Streaming Equipment for Your Church
The Best Ways to Buy Used Video Equipment for Your Church
7 Types of Camera Shots To Consider When Filming Church Services
4 Ways to Make Your Church Video Announcements Great
5 Easy Ways to Improve the Audio of Your Church's Live Streams
How to Fix Your Church's Lighting Problems
How to Choose the Right Microphone for Your Pastor
Does Live Video Streaming Hurt Church Attendance?
Top 5 Reasons Your Church Should Be Live Streaming
Why You Need To Improve Your Church Lighting
How to Better Connect With Your Live Stream Audience
How to Get the Most Out of Your Worship Service on Your Live Stream
Why You Should Add Lower Thirds to Your Church Live Stream