This post talks about how to improve the quality of your church video announcements. It's part of our series on church live streaming.
Have you noticed that people often don't remember what you review during your weekly church announcements? Though you might be speaking to a room full of people who hear you, it's quite possible that not many are listening.
That's because, as we discussed in this post, people come to church to worship and be among their fellow churchgoers, not to listen to a monologue of church announcements.
With this issue in mind, some churches have started to record weekly announcements to share on their websites instead of reading them aloud at the beginning of the service. That way, people can view them whenever it's most convenient for them.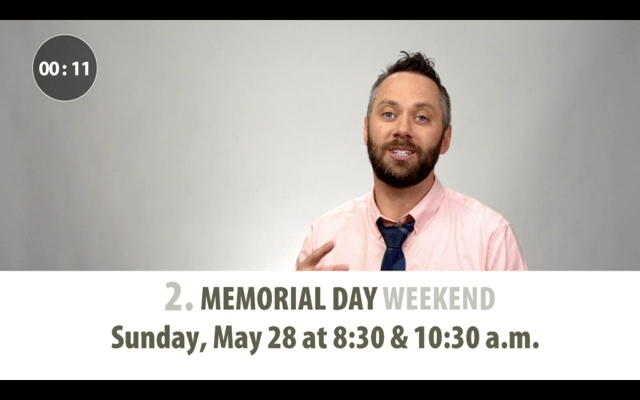 Example from College Park Church, Indianapolis, IN
However, just because you're doing announcements on video doesn't mean you're doing them correctly. In fact, video might require a bit more preparation than simply reading announcements aloud. Why? Because people won't watch video if it's badly done, even if it contains information they want to hear.
This post isn't about the technical aspects of making a video, but rather the creative elements that help create substance. You don't want to put so much effort into weekly announcements that they become burdensome, but there are a few easy things you can do to make them compelling and engaging.
Use graphics
On-screen graphics are a great way to augment and reinforce what the announcer is saying. Pop-up images and lower thirds can clue the viewer into the topic and add additional information.
Keep it concise
Today's viewers see online video content in more places, and from more sources, than ever before. Because of this, attention spans are often shorter than they used to be. According to Visible Measures, you have 10 seconds to capture and engage your audience before they click away. If you haven't engaged your viewers after 30 seconds, 33% of them have stopped watching.
Our attention spans are getting shorter and shorter, so naturally, the more brief a video, the higher the chance someone watches it through completion. Try to keep the weekly announcement video between 90 and 120 seconds.
Pick a good presenter
The announcements should be delivered by someone at ease in front of the camera and who can deliver the announcements without stumbling. Consider whether you'd like to switch up the announcers to add a little variety. This is also a wonderful way to encourage community involvement.
Don't include everything
It's never enjoyable to watch someone rattle off a long list of details about an event in which you're not interested. The video announcement is not the place to read the fine print about every event. Instead, provide the essentials and then refer people to other places on your church's website or the online calendar for additional information. That will allow you to keep the video short and of interest to everyone.
Final Thoughts + Further Reading
When shooting video, there are several optimum ways to capture your speaker on camera. For a basic understanding of framing and composition, read this post about 7 Types of Camera Shots to Consider When Filming for Your Church and download our Video Framing & Composition Guide.
Here are a few other resources you might find helpful:
The Best Live Video Streaming Equipment for Your Church
The Best Ways to Buy Used Video Equipment for Your Church
7 Types of Camera Shots To Consider When Filming Church Services
Why Churches Want Lower Thirds In Their Video
5 Easy Ways to Improve the Audio of Your Church's Live Streams
How to Fix Your Church's Lighting Problems
How to Choose the Right Microphone for Your Pastor
Does Live Video Streaming Hurt Church Attendance?
Top 5 Reasons Your Church Should Be Live Streaming
Why You Need To Improve Your Church Lighting
How to Better Connect With Your Live Stream Audience
How to Get the Most Out of Your Worship Service on Your Live Stream