This post talks about what governments should be looking for in an embedded video player on their website. It's part of our series on local government live streaming.
If you've decided that it's important for your public meeting live stream to be on your website, your next step is to understand what you might be looking for in a video player.

(Thinking you should just stream on Facebook Live? Here's what you should be considering)

Not all embedded video players are made the same. This article addresses a few of the features you should be looking for in a player.
One-Time Embed
If you have public meetings often, you don't want to have to embed each stream individually. Make sure that you pick a solution that allows for a one-time embed.
Automatic Archiving for Video-on-Demand
It can be a pain to download and then re-upload videos after the stream is complete. You need a player that will automatically archive precious streams and keep them embedded under your current broadcast for your viewers to watch on demand.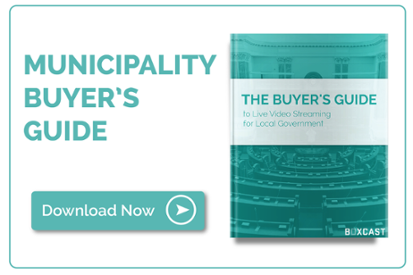 Ad-Free and White Labeled
Your city is your brand. That's something to be protected. Some streaming players (YouTube Live, for example) will want to monetize your content for their own profit. To do this, they will let third parties play ads on the embedded player on your website. You'll have no control over the ads that play. If a viewer clicks on an ad (on purpose or by accident) they may be taken to someone else's content. You need a player that will protect your brand and make sure that third party ads don't play on your website.
Agenda and Minutes Uploading
You are probably already uploading your agendas and minutes to your city website before and after each meeting. You might as well make it easy on your viewers by integrating your agenda and meeting minutes onto the video player for side-by-side viewing.
Mobile-Friendly and Flash-Free
More and more of your viewers are watching your content on their phones and tablets. Don't even consider a player that will struggle to adapt to a mobile setting. Also, keep a watch out on flash-based players. Flash is slowly being phased out across the internet. Don't build a solution that won't last.
Final Thoughts + Further Reading
For more information on how you can engage with your residents through live streaming, check out this guide: