This post talks about the pros and cons of streaming your public meetings to YouTube Live. It's part of our series on local government live streaming.
When you think about video on the internet, YouTube is the biggest name in the industry. With over 1 billion unique viewers each month, the platform is a powerful and effective space for sharing your digital video content.
As live video streaming rose in popularity over the past few years, YouTube slowly rolled out their own live streaming solution. Initially available to its creators with high subscriber rates, YouTube Live is now available to the masses.
As a city official, you may be wondering if YouTube Live can help you effectively engage with your residents. What if you could stream your city council meetings online? How about community events and other happenings around city hall?
YouTube Live raises a lot of important questions about the future of meeting transparency, and digital presence, however, it's just one of many live streaming platforms that can help you take your city hall online. It's important to take a step back and look at how to build the comprehensive streaming solution that your local government needs.
A sustainable plan to bring streaming to your city
Though it's a powerful tool, streaming exclusively on YouTube Live has its downsides and limitations. Here are some reasons your city council should stream with a more sustainable streaming solution.
Ability to stream to your website without ads
Unlike Facebook Live, YouTube allows you to create an embedded player on your own website. It seems great in theory, but there's a caveat: third party ads.
At the end of the day, YouTube makes money off of your streams via advertising partners. If you send your viewers to YouTube's website to watch videos, YouTube will run ads on your content. It works the same way with the YouTube player embedded on your own website.
YouTube's business model is based around third party advertising. However, this model conflicts with your need to distribute a public meeting to your residents. Imagine the implications of having ads for private companies on your city's website. It's not a good look and in some cases, might not even be legal.
More Reading: What to Look for in a Local Government Website Video Player


A team of experts behind it all
If you have a problem with a YouTube Live stream, who do you call?
Live streaming isn't difficult, but certain technical issues could definitely interfere with your broadcast. When your local government is sharing an important event, the last thing you want is to have something go wrong and anger your online viewers. Having someone to call and help you matters.
You need a team on your side that has worked through network issues in all kinds of environments and will troubleshoot issues before they occur.
More Reading: Why Your City Needs Live Streaming Customer Support

Content ownership
In addition to owning your content so that they can monetize it, YouTube needs complete control so that they can stop broadcasts that they deem in violation of copyright law.
In theory, it seems good that YouTube is cracking down on copyright law, but in practice, it can be a big concern for cities. The core problem is that YouTube runs algorithms for picking up video and sound that infringe on copyright material. Those algorithms are not always accurate.
I've had conversations with cities who, despite not infringing on copyrights in any way, had their broadcasts cut off and their accounts suspended because of flaws in the YouTube copyright algorithms. With no backup of their content and no one to talk to at YouTube, they were stuck with records and free speech issues.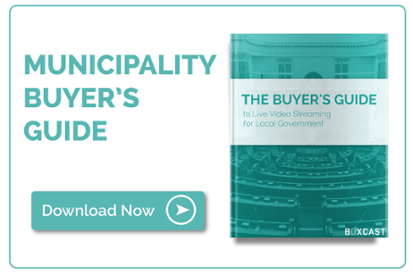 A solution built with you in Mmind
At BoxCast, we've built a solution to serve you as a city official. With the ability to easily embed your video streams directly on your website without ads, a team of experts ready to help you with any issues that may affect your stream, the ability to minimize buffering for each viewer, automatic archiving, and a desire to help your engagement over all else, we are the complete, easy-to-use live streaming solution for you.

Best of all, if you still want to leverage YouTube's expansive reach, we've got you covered. BoxCast's YouTube Live integration makes it easy to simultaneously stream to your website and YouTube Live at the same time. It's a great way to maximize your exposure while retaining the benefits of the BoxCast platform.
Final Thoughts + Further Reading
If you like the idea of streaming, but aren't sure how to go about it, finding the right equipment is a great place to start. This comprehensive guide outlines various streaming trends and showcases the best equipment for live streaming.