This post talks about the best software encoders for live streaming. It also addresses how to create an ideal workflow with these tools. It's part of our series on live streaming equipment.
If you're looking for an encoder for your live streaming setup, we recommend a hardware encoder.
TL;DR (for that link): Computers complicate live streaming. They drastically increase the chance something goes wrong. If you want to make live streaming easy, you should keep them out of your workflow.
That said, there are plenty of situations when you need to bring software into the process. Most likely, you require the advanced production elements that some software encoders offer.
Below, we'll quickly name the top softwares for live stream encoding and then talk about how to set up an ideal workflow with them.
Wirecast
Price: $695-995
Compatibility: Mac or PC
Wirecast, a product of Telestream, is one of the most popular software switchers and encoders on the market. Wirecast offers a wide variety of production elements such as graphics, titles, timers, captions, overlays, and more.
Wirecast empowers broadcasters to take advantage of these features with a (relatively) intuitive platform.
Wirecast is far and away the most common software encoding platform that we see, which is why we have partnered with them directly via RTMP.
vMix
Price: Free-$1200
Compatibility: PC Only
Like Wirecast, vMix is a well-known, feature-rich live streaming program. With many features and plans, they have most of the live production tools any broadcaster would want.
With Full 4K output, vMix is a step ahead of Wirecast when it comes to potential video quality. Of course, that's only relevant for the top level of broadcasters.
Unlike Wirecast, vMix is built on Windows and can only operate on PCs. Additionally, it does not integrate quite as smoothly as Wirecast does with other platforms.
Still, many of our customers enjoy vMix and broadcast their vMix streams to BoxCast via RTMP.
MimoLive
Price: $399-$1200
Compatibility: Mac Only
MimoLive is an upstart platform by German-based Boinx Software. They are completely Mac-based, but they also offer a number of strong features and integrations.
Like Wirecast, MimoLive has direct integration with streaming platforms like BoxCast, making it one step easier every time you stream.
Other Encoding Software
There are plenty of other options on the market. Open Broadcast Software (OBS), is a popular free, open source encoding tool. OBS is flexible and can work well, but it's more complex and less intuitive that the other platforms.
Without a support team, you will most likely find your route to success by hacking away at it and Googling your way to victory. Proceed with caution.
Other Considerations
No matter which production and encoding software you use, you'll want to pair it with a live streaming content distribution network (CDN). A CDN like BoxCast will let you stream to your own website or video player, reduce the the bandwidth burdens on your computer, and manage your content for the long term.
Stream to Your Own Website
Alone, software encoders like Wirecast, vMix, and MimoLive will not enable to you to stream to your website or your own video player. These tools have no distribution capabilities, so they are limited to pushing a feed only to a social platform like Facebook Live or YouTube.
Pairing one of these software options with a CDN will allow you to stream to viewers around the world on your own player or embedded in your website.
Reduce Bandwidth Burden
Most organizations look to stream to multiple destinations to maximize viewership and reach (a process we call simulcasting). If you attempt to simulcast without a CDN, the process will quickly overload your computer. You're likely to experience either a computer crash or reduced quality in your streams.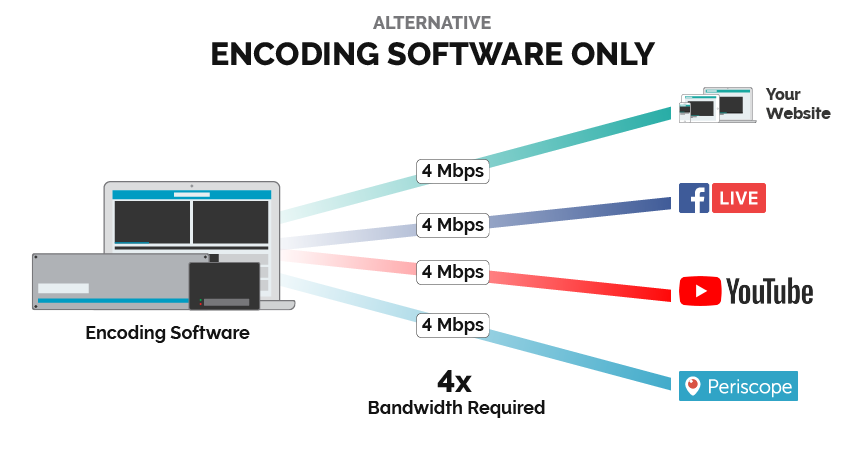 By pairing with a CDN, you can reduce bandwidth issues. Instead of sending out multiple streams from your computer, you can reduce the burden by dividing out the process.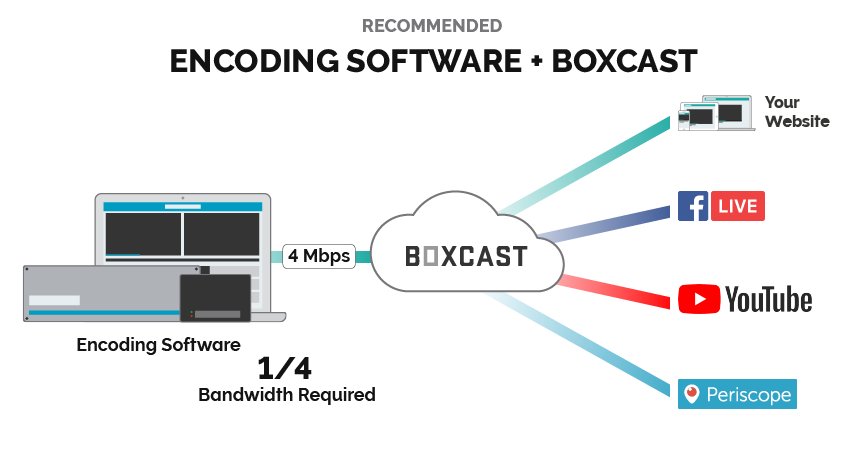 As you see in the diagram above, your computer can send one stream out to your CDN in the cloud. Your CDN, rather than your onsite computer, will bear the burden of sending out to the different stream destinations.
Note, the rules have changed on Facebook simulcasting
Manage Your Video Content
You also need to consider how you store and manage your video content in the long run. You need to have a platform that will host your video for on-demand playback after the live stream is complete. Alone, neither Wirecast, vMix, nor MimoLive will manage your video content for the long haul.
Final Thoughts+ Further Reading
While live streaming software like Wirecast, vMIx, and MimoLive, can bring in beneficial production elements in a professional live streaming workflow, they are limited in their capacities as a standalone live streaming solution. They are best when paired with a live streaming distribution and management platform like BoxCast.
To learn more about how BoxCast can pair with these solutions, check out our RTMP ingest overview as well as further information on our direct integrations with Wirecast and MimoLive.
Happy Streaming 😃 !