How does Wirecast work? It's like a video switcher, meaning you can switch between several live video cameras while also bringing in other media content and overlay graphics. It's an easy way to turn your live video stream into a professional-looking broadcast.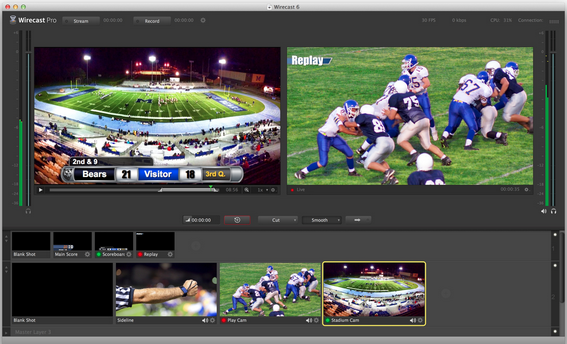 Wirecast Studio: All-in-one live streaming production software for Mac.
Wirecast Studio 7 - Mac Wirecast Studio 7 - Windows
Wirecast Pro: Includes all the features of Wirecast Studio, plus integrated HDV input support, replay, support for more capture devices and IP cameras, web stream input, program feed output live scoreboards, 3D virtual sets, and advanced audio controls.
Wirecast Pro 7 - Mac Wirecast Pro 7 - Windows
Your BoxCaster integrates beautifully with any production tool, without the hassle of installing drivers or complex configurations. Here's the trick - use the BoxCaster like a second monitor or projector.