This post looks at how to stream from Wirecast to BoxCast. It covers the advantages of the Wirecast and BoxCast integration, and how to stream from Wirecast to the BoxCast platform. It's part of our series on BoxCast Integrations.
BoxCast and Wirecast have teamed up to allow you to stream directly to BoxCast using Wirecast's video production software. This integration allows you to use Wirecast's impressive production tools with BoxCast's robust streaming platform.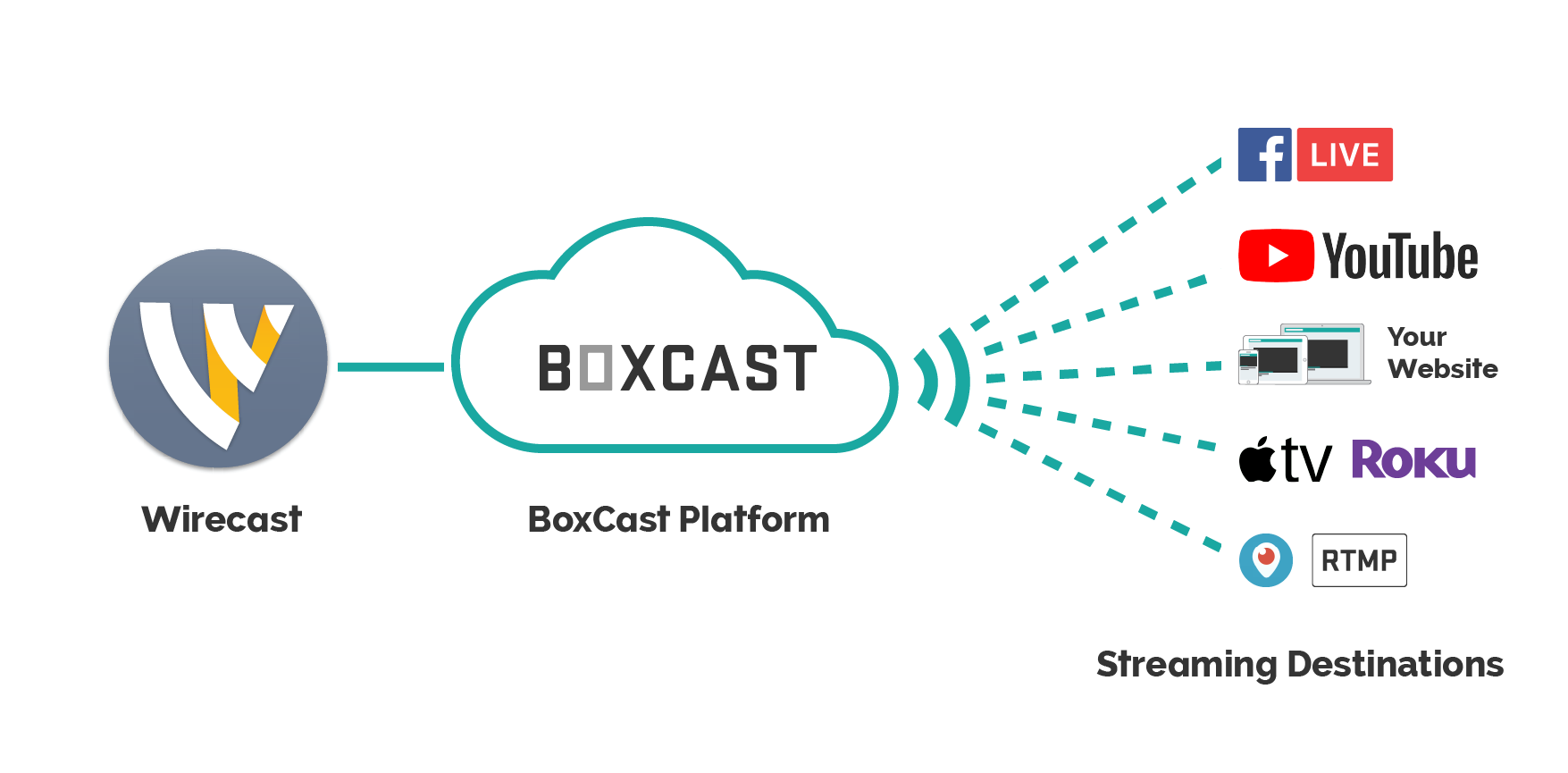 Why Stream With BoxCast + Wirecast
The built-in Wirecast integration makes it easy to enhance the production value of your BoxCast broadcasts, while streaming from Wirecast to the BoxCast Platform gives you the access to valuable features within the platform that make live video streaming easier and smarter.
Stream and produce professional live video in minutes with Wirecast, from Telestream. Wirecast is the award-winning live video production software for Mac or Windows. It's the easiest way to create amazing-looking live video webcasts -- whether you want to just share your webcam and your screen, or mix multiple cameras, graphics, and media for a live event.
Easily stream high-quality video with BoxCast's advanced, cloud-based platform. With unlimited streaming, viewership, and destinations, BoxCast takes care of the difficult part of live video streaming, so you can focus on delivering a great experience to your viewers. The BoxCast Live Streaming Platform gives you access to a number of valuable features, including:
How to Stream from Wirecast to BoxCast



Using BoxCast's RTMP video ingestion option, you can select BoxCast as a streaming destination right from within Wirecast. This allows Wirecast to stream directly to BoxCast. It will utilize the computer for encoding the video and audio, and it will transmit over RTMP.
Note: This can be used with either a Single-Use RTMP or Static RTMP Channel. However in both cases, the setup must be done within 10 minutes of a scheduled broadcast.
Another way to stream from Wirecast is to send the Wirecast to a secondary HDMI output that is plugged into the BoxCaster. The BoxCaster's hardware encoding relieves your computer from the task of encoding the video and audio in addition to taking advantage of specially-designed communication protocols to optimize your available network connectivity.
Final Thoughts + Further Reading
The integration with BoxCast and Wirecast allows for easy live video production and streaming. Learn how both solutions fit into your workflow:
Already using Wirecast?
Start Streaming with BoxCast Today
Interested in using Wirecast?
Produce Professional Live Video