If you need to learn how churches produce worship service live streams, the best teacher is someone who knows their stuff — and has been doing it for a while. In this post, get insights and tips for producing professional broadcasts straight from a church video director.
In our video interview, we zoom in on Christ Church's camera angles and how they create a more dynamic streaming experience to keep online community members engaged. We also dig into how their video director, Tim Drury, trains volunteers to give them real-world experience while maintaining a smooth Sunday service production.
Table of Contents
About the Church + Production Team
When it comes to video production, Tim Drury of Christ Church in Fairview Heights, IL really knows his stuff. He's been producing videos for the past decade and handles "anything video" at his church — from live streaming to recording his pastor's messages for preroll countdown videos and beyond.
Tim and his church have been broadcasting with BoxCast since 2019, and live stream their Wednesday and Sunday services every week, along with other church events and conferences.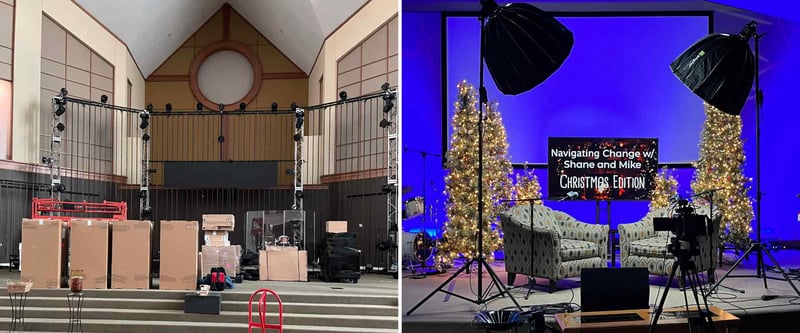 We had the pleasure of interviewing Tim, and asked him about how he produces his Sunday live streams. We talked about the cameras he uses, his camera placement, and how he prepares his volunteers to stream every week.
Video: Christ Church Production Interview
Christ Church's Multi Camera Live Streaming Setup
Equipment List
Tim and his team have a six-camera live streaming setup. They use an ATEM 2 M/E Production Studio 4K switcher and an Avid Profile audio mixer. Tim finds having an Elgato Stream Deck hooked up to the Companion app allows him to do "complicated" macros with multiple programs in one button push.
Church Camera Plot
Tim sent us his camera plot to outline how he positions the cameras at Christ Church. We recommend creating a camera plot like Tim's to share with new volunteers who join your team. This way, they'll understand where all your cameras are if they ever need to help you set up for a live stream.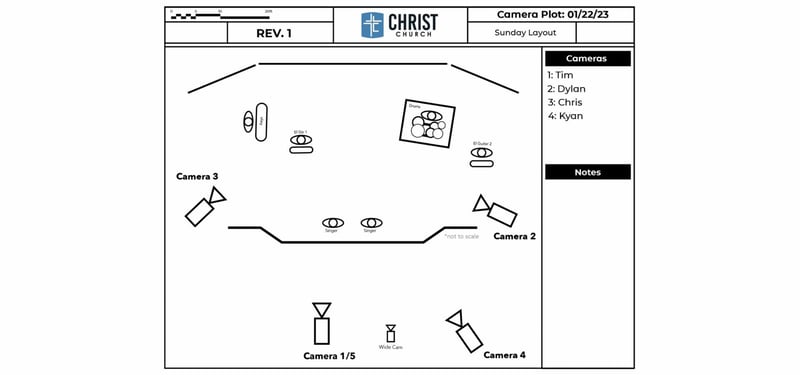 Camera Angles + Shots for Live Streaming Church Services
The Main Shot: Camera 1
The main camera Tim uses in Christ Church's production is a Blackmagic Design URSA Broadcast G2 Camera with a Fujinon 8.5-170mm Digital Servo Lens. This combo of camera and lens allows the camera operator to easily capture the following shots:
A wide shot that can pan left or right
A nice, slow, zoomed-in shot of the main person onstage
A tight shot of the pastor
Tim's Pro Tip: Assign a more experienced volunteer to this camera because it's the main shot of the service.
The Camera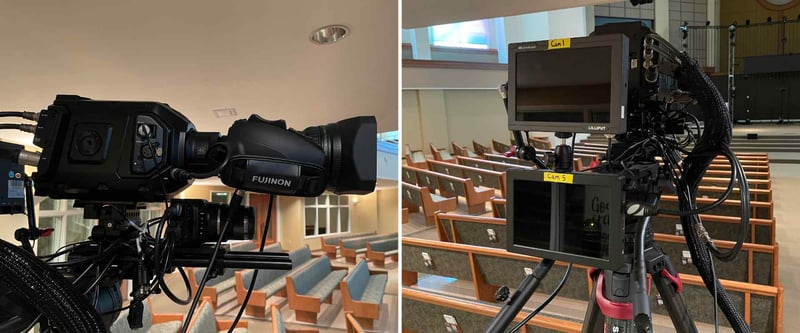 The Result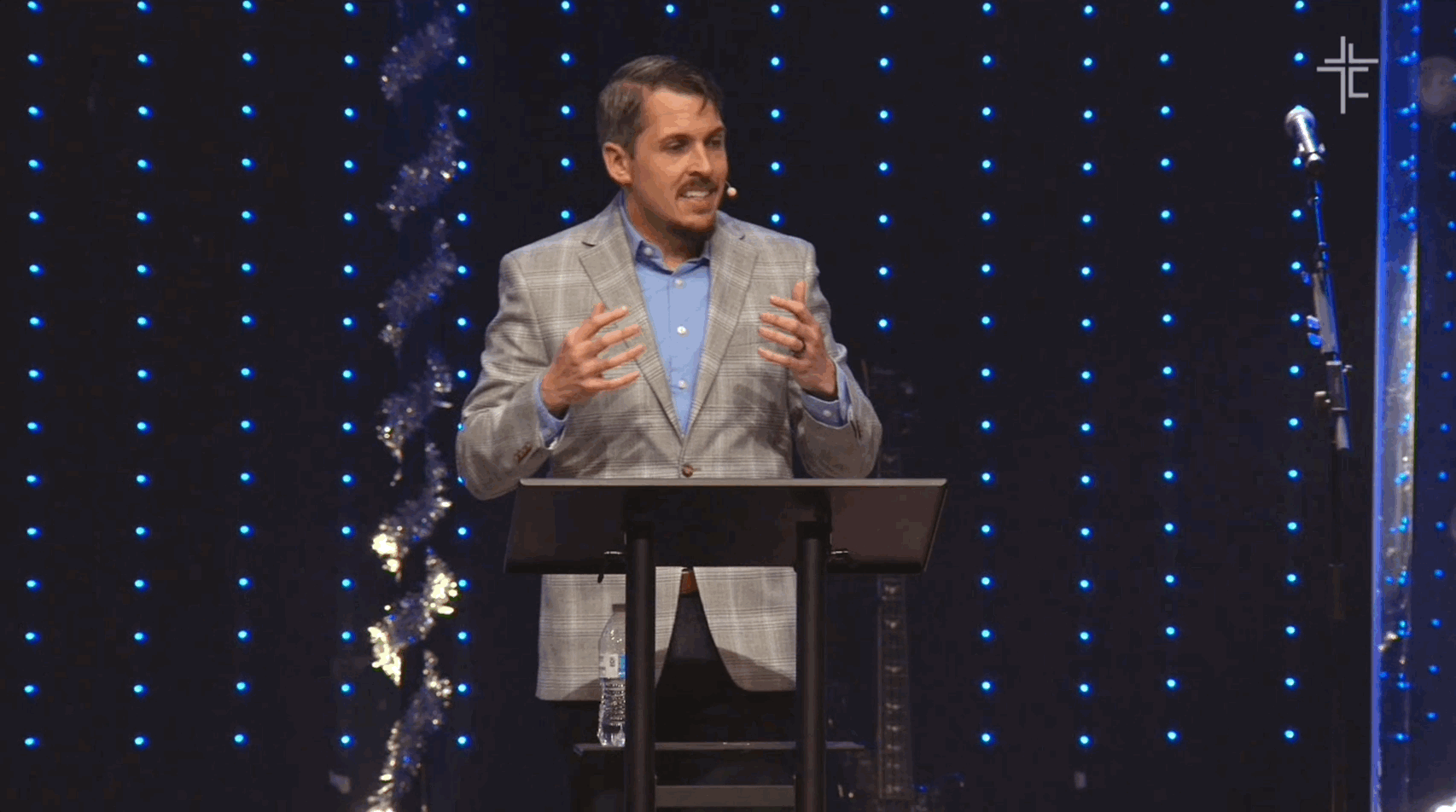 The Wide Shot: Camera 5
The wide shot gives a feeling of atmosphere and environment to your video. It establishes where everything is taking place, and can also feature the crowd or in-person audience. Learn more about wide shots and how to use them as safe shots in our blog post on multi-cam productions and camera angles.
Camera 5 (which you can see below camera 1) is a Blackmagic Design Micro Studio Camera 4K, and is Tim's safe shot. If the other five cameras aren't providing a good angle, Tim can always cut to this camera to get a wide shot of the room while his camera operators reposition.
The Safe or Bail Shot
Though it's not an official industry term, a safe or bail shot in live video production is when you cut to a wide shot when something goes wrong. This can hide a mistake or something that has occurred onstage that would normally only be noticed if the camera was zoomed in.
Tim's Pro Tip: This is a great way to work because no matter what, you always have a shot you can fall back on.
The Result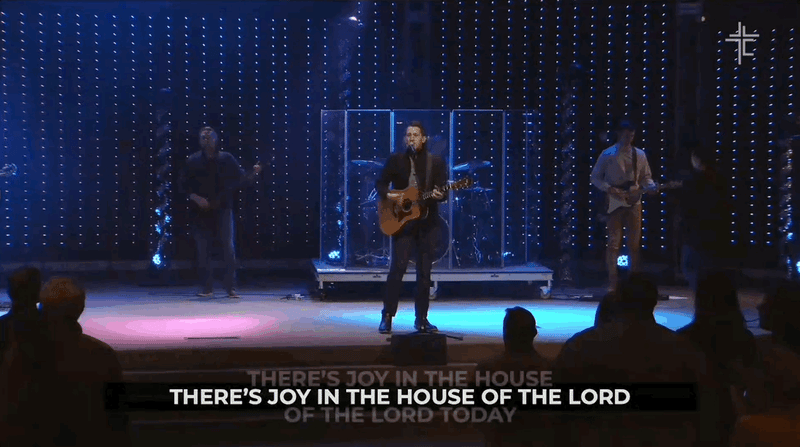 The Onstage Close-Up Shots: Cameras 2 + 3
Cameras 2 and 3 offer great angles because they go right onstage and give online viewers a front-row view of people singing, playing drums, or jamming out on the keyboard. Since it puts online viewers right in the mix with the band, it lends the broadcast a unique perspective attendees can't get in person.
The cameras Tim uses for these shots are Blackmagic Design URSA Broadcast G2 Cameras. Since Tim and his team have a communications system, they're able to talk to the people onstage and give them live feedback during the service. Tim can call for the shots he wants as things happen to make the broadcast the best it can be.
Tim's Pro Tip: If you want to give your remote audience the best experience possible, these onstage shots are a must.
The Cameras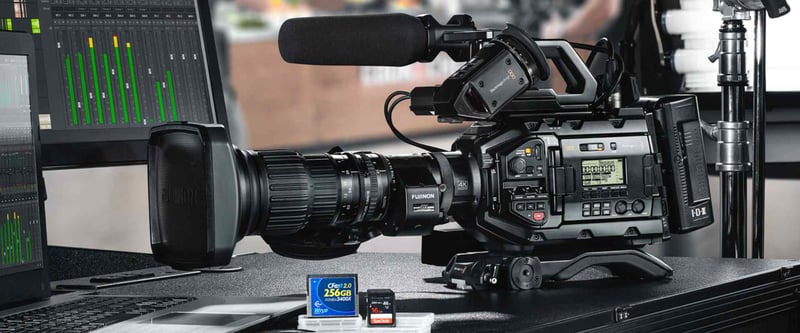 The Result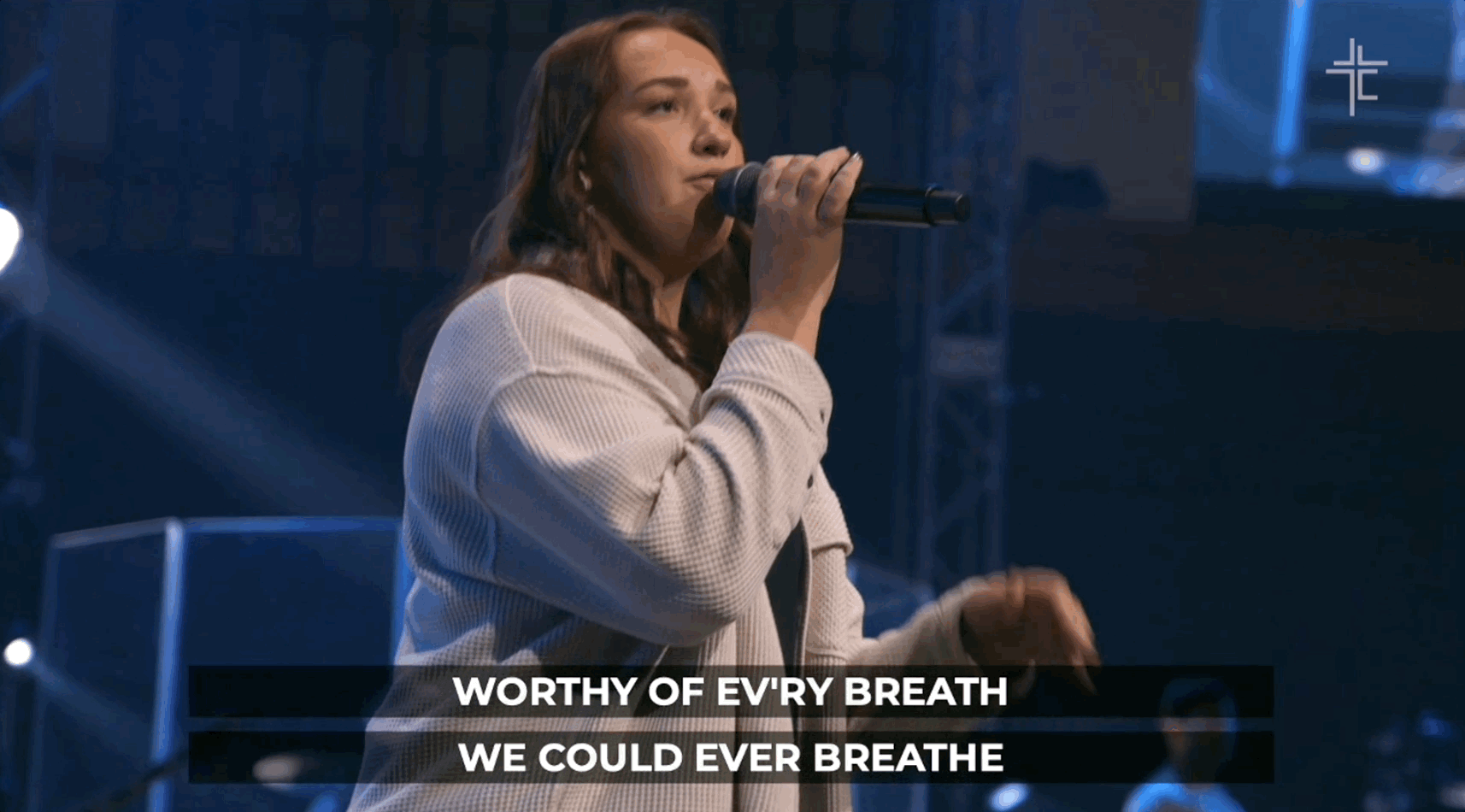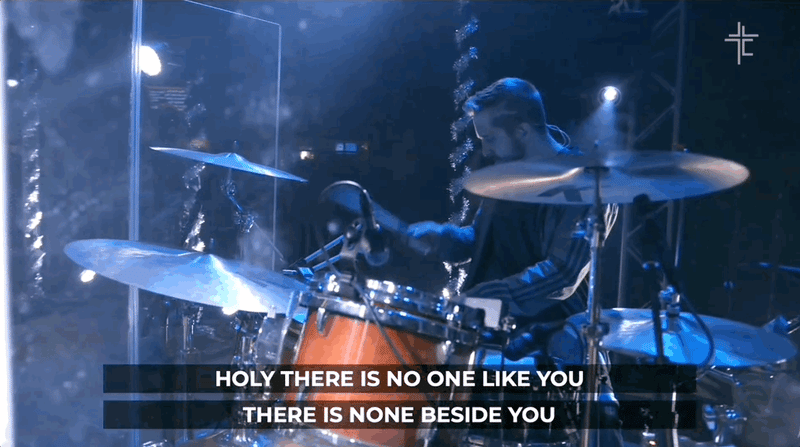 The Bonus Shot + Training Camera: Camera 4
Every church knows it can be challenging to train volunteers. Getting new people to hop on a camera can be difficult for production teams, too — there's generally a fear of messing up and having everyone see the mistake. To help with that, Tim set up Camera 4, a Blackmagic Design Pocket Cinema Camera 4K, to be his training camera.
Tim's strategy? Any new person who joins his team starts on Camera 4, so they can get comfortable moving and zooming in — without worrying their mistakes will be included in the live stream because the camera only broadcasts to the control room.
This method also gives the volunteer a chance to listen to the production talk between Tim and their other teammates while providing an extra shot for Tim. He doesn't really need it to make the broadcast great, but anything a new volunteer might contribute to the live stream is a bonus. Once each new recruit gets comfortable running this camera, they can move on to the stage cameras or main camera.
Tim's Pro Tip: If you have an extra camera in your church, this is a great way to get a new volunteer involved in live streaming with a low-risk camera angle.
The Camera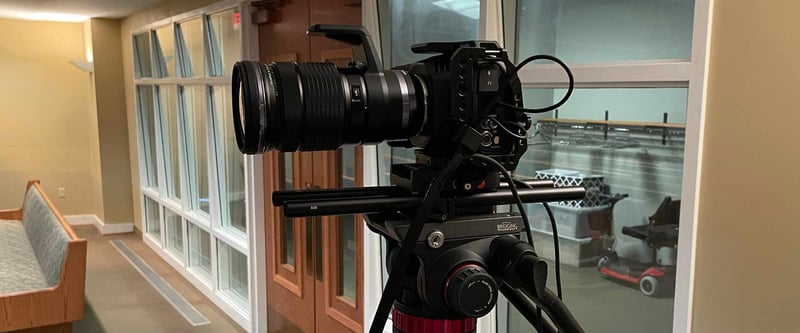 The Result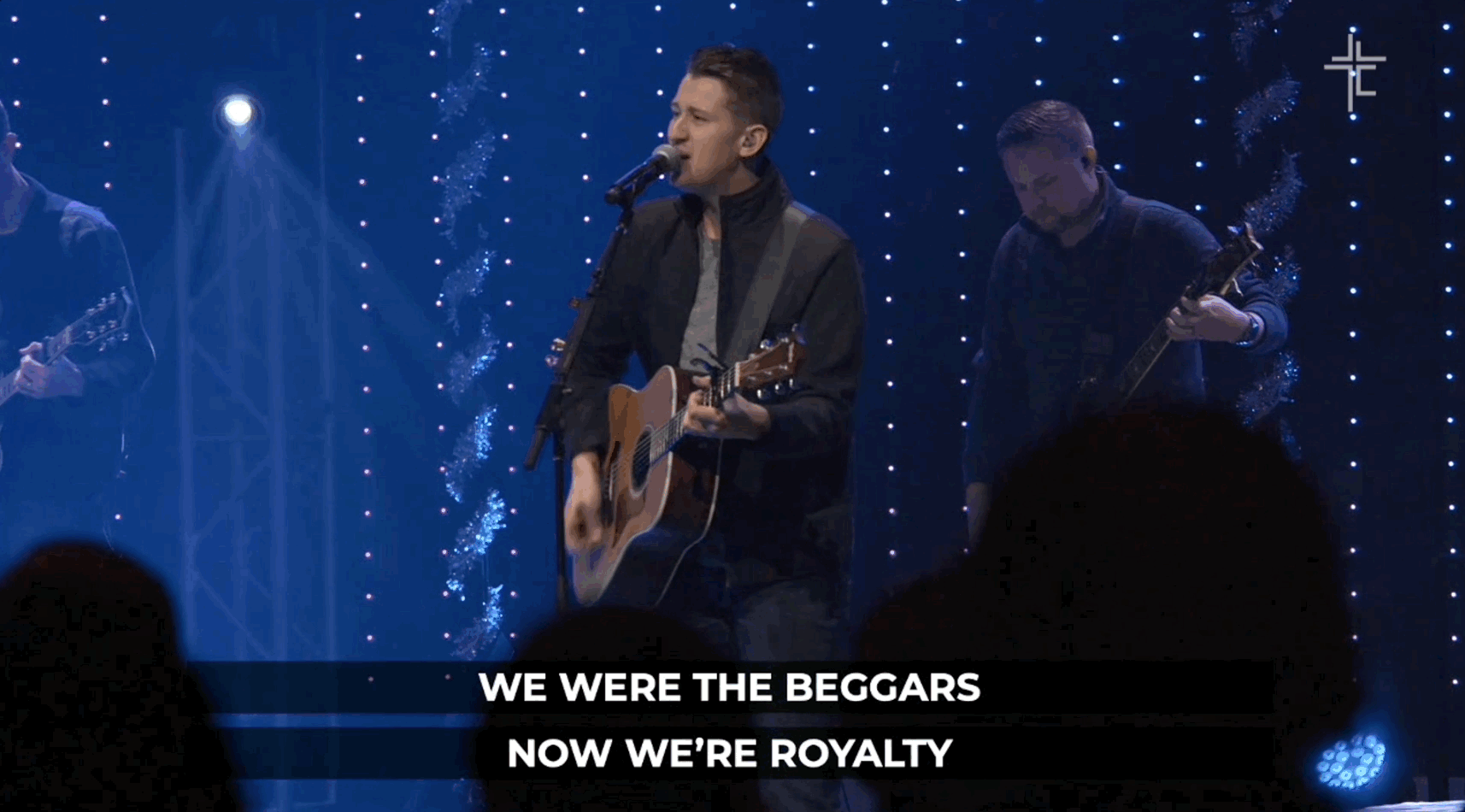 The Slider Shot: Camera 6
For his last shot, Tim uses a GVM GP-120QD Motorized Carbon Fiber Video Slider that's mounted on a tripod and allows the camera (Blackmagic Design Pocket Cinema Camera 4K) to smoothly move back and forth. This is another safe, wide shot Tim can cut to if his camera operators are busy getting the next one.
Tim's Pro Tip: Have a small team? Sliders are a great way to get some camera movement without needing another volunteer to run the camera.
The Camera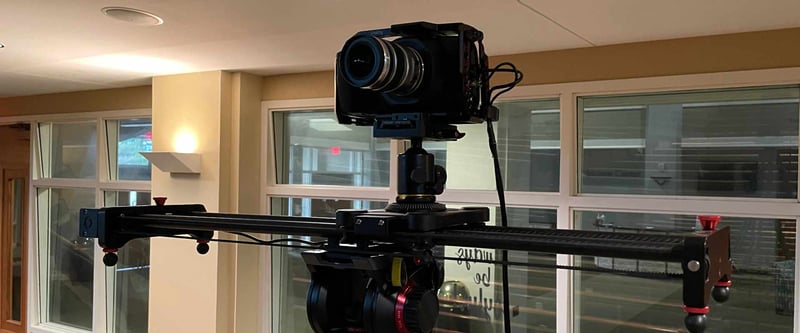 The Result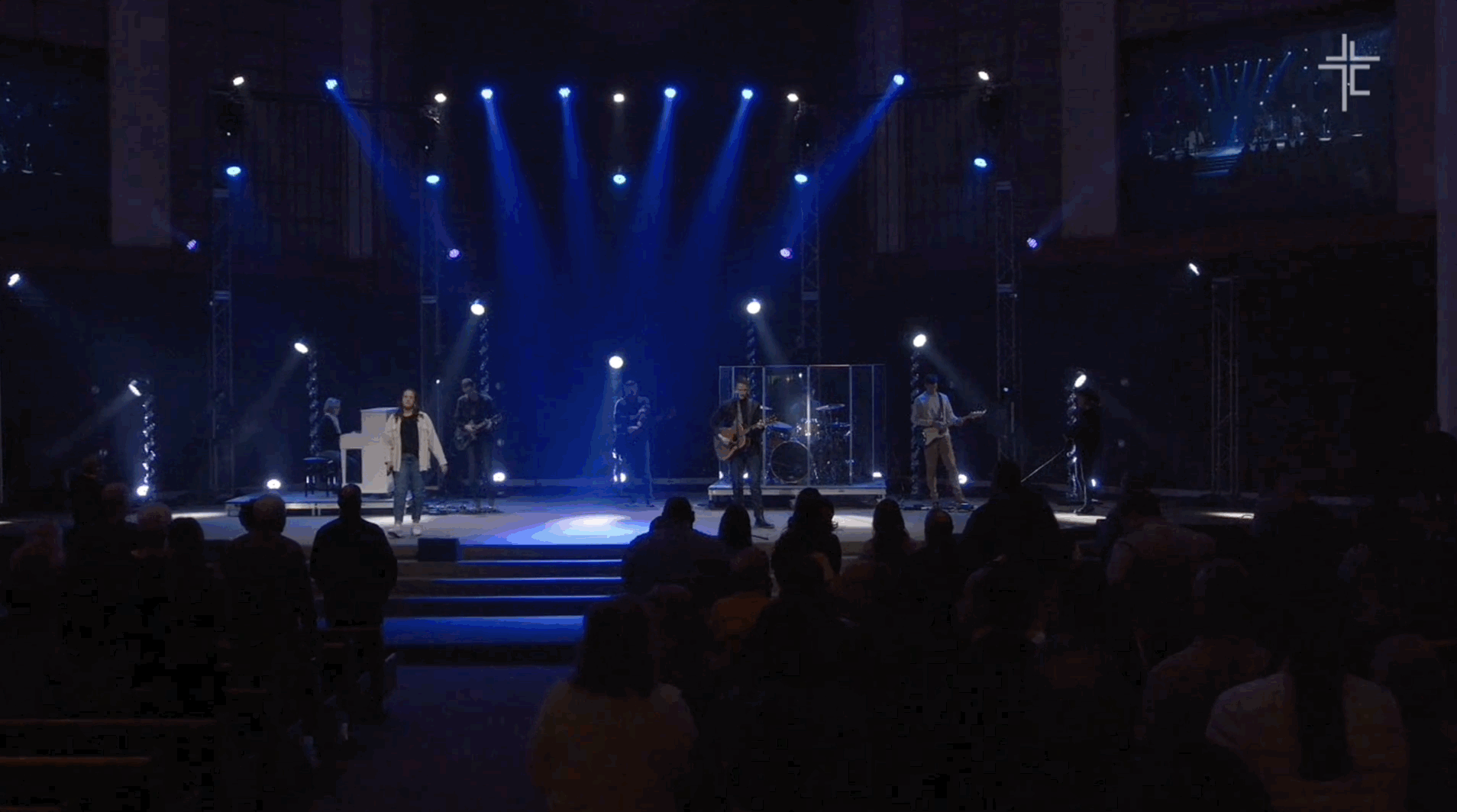 Resource: How Christ Church Trains the Video Team
| | |
| --- | --- |
| | Check out Tim's guide for training volunteers and new recruits on the video team. |
More Video Production Tips from Tim + Christ Church
Send the camera plot and/or shot list to your Production team in the middle of the week so everyone has ample time to review and prepare.
Film preroll video or have a host speak live specifically to your online audience before your service starts.
Train new volunteers by letting them use an extra camera. This way, your volunteers get real, Sunday service experience, but you don't have to use their camera feed if you don't want to.
Use a slider to add energy and movement to your shots (without requiring an extra volunteer to operate the camera!).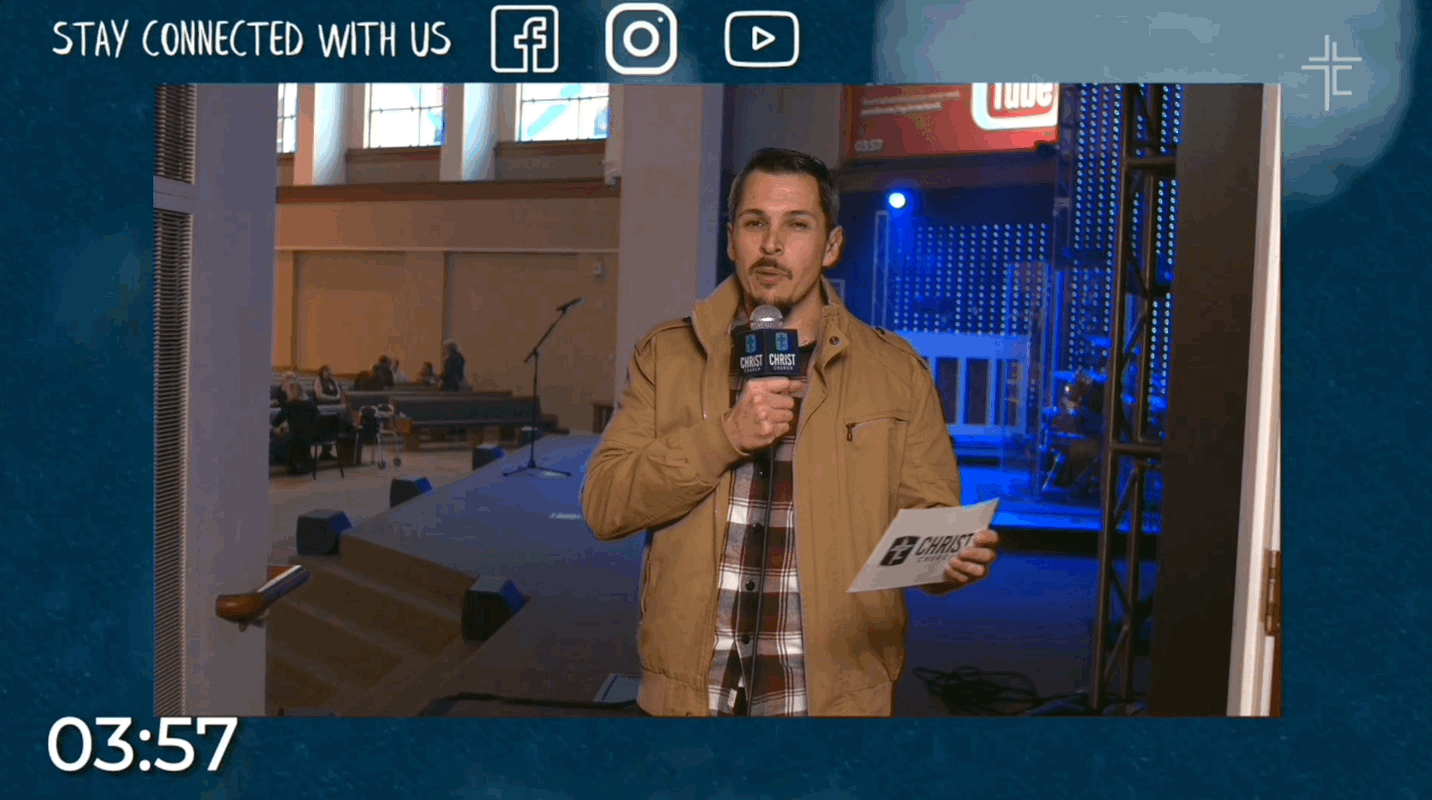 Christ Church's associate pastor gives online-specific announcements and speaks directly to the online audience before the worship service starts. This makes those watching at home feel much more connected and involved with the church.
Final Thoughts + Further Reading
We're so grateful to Tim for making time to chat with us. We hope his live streaming setup and insights on cameras, angles, and volunteer training inspire you to take your church broadcasts to the next level.
After all, Tim and his church started live streaming with just two cameras — and their video production has certainly evolved over the years! If you're looking to add cameras to your live stream or enhance your broadcasts, we always recommend doing some research, watching YouTube sample videos, and even renting camera gear before you buy. These resources are a great place to start your research:
Downloads:
Articles: