Scoreboard: High school football $500,000, air-conditioning 0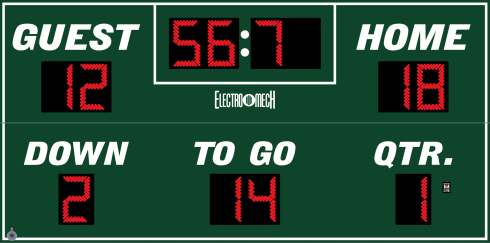 Is there any doubt that high school sports programs are moving toward becoming big businesses like their college brethren? Take a glance at the end zone of the Norcross (Ga.) High School football field.
There, you will find what is being billed as the largest high school football video display board in the country — something on par or even more elaborate than at some major universities.
School officials won't say how much it cost, but estimates put the figure at $500,000, paid for by the city, a car dealer, local bank, local sports academy and the company that made the scoreboard.
"It's a great rallying point for our community," Norcross football coach Keith Maloof told the Atlanta-Journal Constitution. And an opportunity for the athletic department to sell commercials, the newspaper presumed.
But not everyone in the community was as thrilled. Parents of the girls' volleyball team couldn't help but question the investment, given that their daughters must play in a gym with no air-conditioning. In Georgia.
But high school sports as big business isn't going away. In fact, strap in. We've only just begun. Financial pressure on school districts and athletic programs is just too great not to succumb to a commercial model, for better or worse.
You've already seen advertising crop up in high school end zones and gymnasiums and on the stadium itself. If ads and corporate logos haven't begun appearing on the field yet, stay tuned. They will.
With little fanfare, (it was buried in a
press release
), the
National Federation of State High School Associations
, which governs most state high school sports programs, loosened its rules a few years ago to allow exactly that.