The Blackmagic ATEM Mini Extreme ISO is the perfect starter video switcher for smaller organizations and houses of worship looking to upgrade to a professional, multi-cam workflow. We love it because it grows with your productions and level of expertise. You can easily train volunteers on it and still get a high-quality feel using multiple cameras.

Table of Contents
Video Review: Blackmagic Design ATEM Mini Extreme ISO
In this post, we take a closer look at the Blackmagic ATEM Mini Extreme ISO and show you how its top features can help you take your live productions to the next level.

Blackmagic SuperSource

SuperSource is a feature that lets you display up to four input sources onscreen at the same time. This allows you to show four live presenters or any other combination of speakers on your program. In the ATEM Mini's software control, you can easily customize your SuperSource layout with the ability to crop, scale, and reposition each video source. You can even set your background to be a still graphic or an HDMI input of a looping video from a laptop.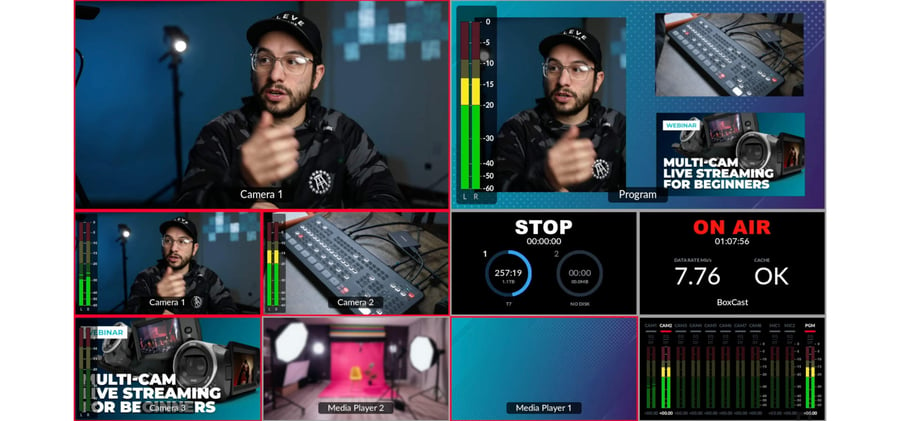 Inputs + Outputs

One of the most important things when it comes to buying a video switcher is making sure it has inputs and outputs that work with what you're already using. The ATEM Mini ISO Extreme has flexible enough inputs and outputs to fit into an HDMI workflow.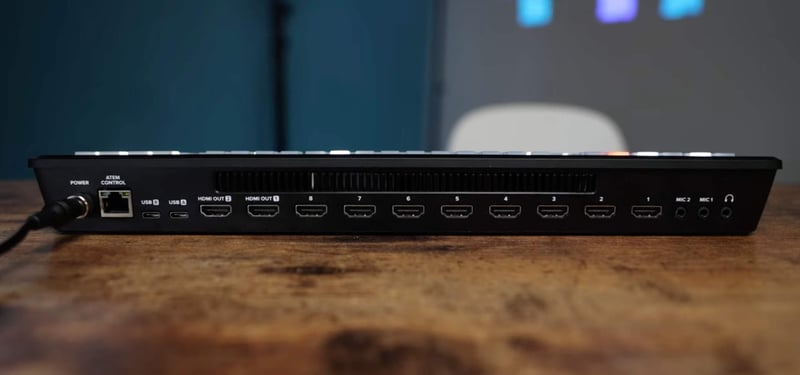 Ethernet

—

Use the switcher's software control or live stream via a hardline Ethernet connection.

2 USB-C Connections

— To record to a single SSD, connect the switcher to your computer as a video capture device and connect to the ATEM software control when you're using Ethernet for live streaming purposes.

8 HDMI Inputs

— Connect up to eight camera angles, computers, or other HDMI video sources.

2 HDMI Outputs

— Both HDMI outputs are assignable in the ATEM control software, so you can designate whether you want each one to display multi-view, program, or individual video sources.

2 Mic Inputs (⅛")

— Two unbalanced stereo mic inputs let you connect stereo or mono audio from a microphone or mixer. If you don't own an audio mixer, you can connect two different mics for podcast host and guest applications.

1 Headphone Port (⅛")

— Monitor program audio while you're live switching.
Built-In Scaling

Some video switchers require you to send the same resolution and frame rate from each camera or video source for them to all work properly — which can be cumbersome when you're using a combination of computers and cameras from different manufacturers and price ranges. Each of the video inputs on the ATEM Mini ISO Extreme has built-in scaling, so you won't have to worry about converting those video signals to ensure they all match (although it certainly doesn't hurt to do so if you can).
This graphic from Blackmagic shows all the video formats you can convert.

Source: Blackmagic Design
Custom Multi-View

We love the ability to fully customize the multi-view layout with this switcher, so you can monitor what's most important to you and de-clutter your layout. You can prioritize different camera angles in various sizes, and look at audio levels, recording status, and live stream diagnostics all on one monitor.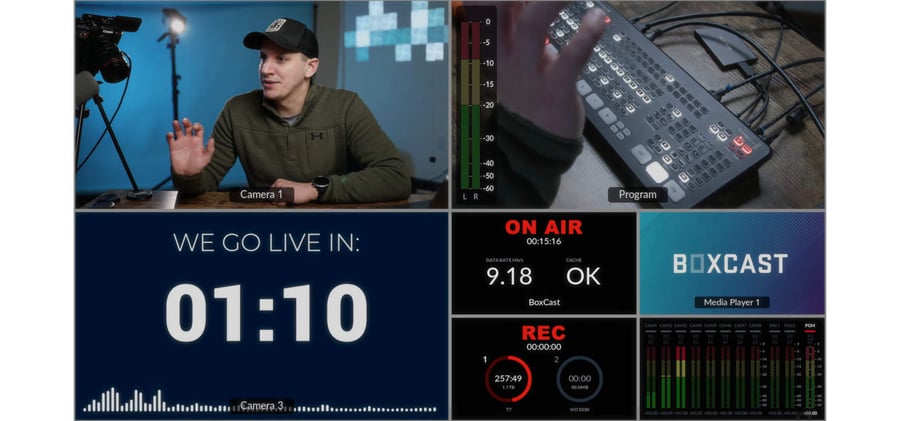 Video Effects

Including SuperSource, the ATEM Mini Extreme ISO also enables you to apply a wide variety of video effects for practical live streaming applications.
2 Downstream Keyers

— Downstream keyers let you overlay logo bugs and lower-third graphics — even if they have transparency.

4 Upstream Keyers

— Each upstream keyer allows:

Green-screen a background

Use basic picture-in-picture (PIP) effects

Overlay lyrics onto your live streams from your worship services. You can also overlay lyrics using presentation software like

ProPresenter and the luma or chroma keying features on the switcher.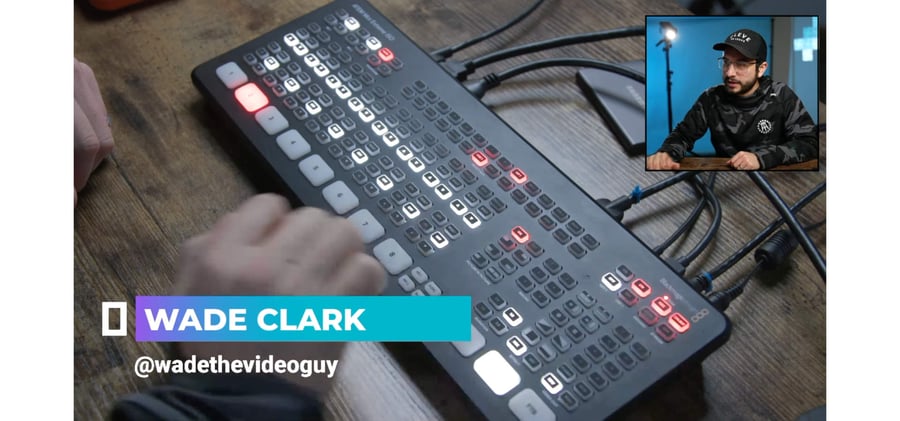 ISO Recording

This switcher has ISO in its name because you can record each individual input as a separate file. This is known as ISO recording in the multi-cam production space. When you set the switcher to record all inputs, you'll get nine separate video files of each camera angle/video source.
This switcher records these files to an SSD over a USB-C connection, which you plug into the back of the switcher using one of two USB-C inputs.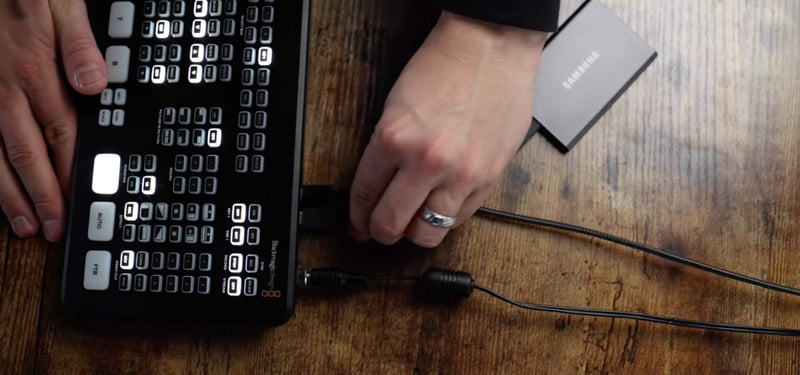 Audio Mixing

The built-in audio mixing capabilities of the switcher go beyond what you'll find in a typical video switcher at this price point. Not only can you control audio levels for each video and audio input on the panel itself, but also do more advanced mixing using the ATEM software control. Here are some features we like most about the audio mixer:
Muting/unmuting sources directly on the panel

Switchable line-level and mic-level for mic inputs

EQ, compressor, and gain control available for each input

Separate level control for both headphone monitor and program volume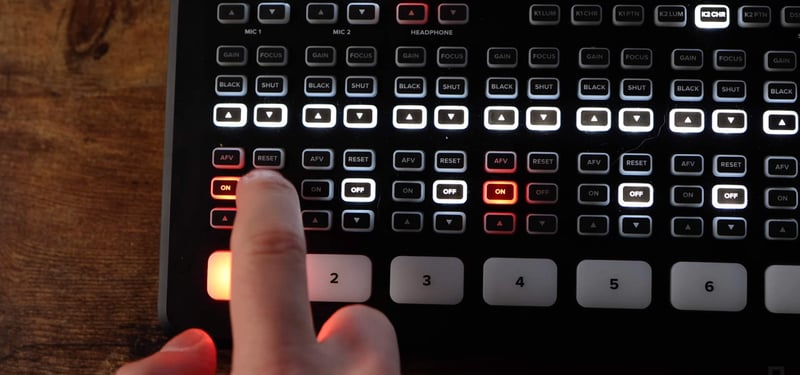 It's Also a Capture Card!

The USB-C ports on the back of the ISO Extreme also let you use it as a capture device, so you can connect to web conferencing software like BoxCast Producer, Zoom, Microsoft Teams, Google Meet, and more.
Live Streaming with the Blackmagic ATEM Mini Extreme ISO

With the ATEM Mini Extreme ISO, you can live stream directly from the switcher itself. The best way to do this is by using the Ethernet port on the back of the switcher and connecting to a router or switch in your local network.
With built-in live streaming, you can push your stream directly to BoxCast, which will allow you to multistream to social media destinations and smart TV apps all at the same time. Watch this quick video to see how it works.
FAQ
Does the ATEM Mini ISO Extreme work as a capture card?

Yes. Use the USB connections on the back of the switcher to connect the ATEM Mini ISO Extreme to a computer or laptop and use it as a capture card for Zoom, Microsoft Teams, Google Meet, or other streaming software.

How do you record with the ATEM Mini ISO Extreme?

You can record directly to an SSD to record all eight video inputs plus program. You can also output to an external recorder, like Blackmagic's Video Assist, using one of the assignable HDMI outputs on the back of the switcher.

Does the ATEM Mini ISO Extreme work with BoxCast?

Yes! You can stream directly to BoxCast using RTMP with the built-in live streaming on the switcher. This quick video shows you how.

How many mics can I use with the ATEM Mini ISO Extreme?

Use up to two microphones with the ATEM Mini ISO Extreme for a podcast host and guest, or connect an audio mixer and mic separately if you need more audio inputs for house of worship services.

Can I green-screen with the ATEM Mini ISO Extreme?

Yes. You can green-screen a background using the built-in DVE and chroma key feature to remove a solid-colored background or foreground of your choice.

How many inputs can I display with SuperSource?

SuperSource allows you to display up to four video inputs and one background source from the switcher's media player. This lets you show up to five sources on your program feed at the same time.

Final Thoughts + Further Reading
Beyond multistreaming, BoxCast offers a ton of professional streaming features. Learn more about the BoxCast Platform in the links below: