Editor's Note: This list has been updated! Click here to see the top 4 conferences to attend in 2018.
For those of you who have had been blessed enough to attend church conferences, you know that joining thousands of other dedicated believers is an amazing way to recharge spiritually.
The sermons and breakout sessions challenge you intellectually and can strengthen your relationship with God in ways you might not have thought possible.
Luckily, there are hundreds of conferences each year, so there is rich opportunity to attend at least one. Below are five conferences we find most worthwhile to attend in 2016.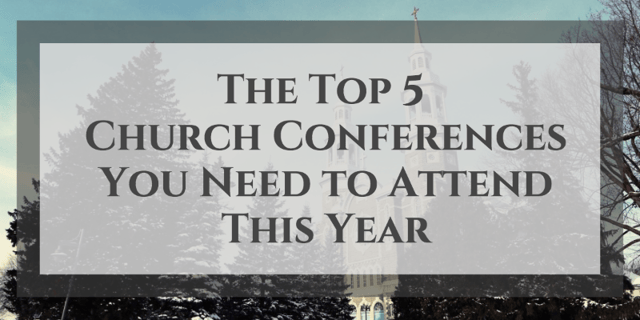 Location: Minneapolis, MN
When: January 25-27
Attendance: 2,000 pastors, mainly from the U.S.
Why we like it: In the words of John Piper, "God is most glorified in us when we are most satisfied in him." Bethlehem Conference, previously known as Desiring God, exists to help everyone live this truth, learning how to understand and live it fully.
The glory of God and the goodness of joy is at the heart of every aspect of this conference. Filled with passionate leaders who are walking in faith, Bethlehem promises to leave you feeling fulfilled and inspired for your next year in ministry.


Location: Louisville, KY
When: April 12-14
Attendance: 7,000 people, mainly millennials
Why we like it: This conference is dedicated to expanding the Gospel to all corners of the earth. Celebrating its 10th anniversary this year, T4G will re-focus Christ's followers on the words of the Gospel and encourage its attendees to work together to help local Churches reach more people. With such a deep commitment to the Gospel, this conference attracts not only pastors, but all people who seek to spread God's truth.


Location: Chicago, IL
When: May 23rd-27th
Attendance: 1,500 Senior Pastors
Why we like it: This influential conference takes place at the Moody Bible Institute. Thanks to its relatively smaller size, MPC feels intimate and fosters a deep connection between you and your brothers and sisters in Christ. Moody's passion is to serve and raise godly pastors and is sure to leave you feeling grounded in your faith.


Location: South Barrington, IL
When: August 11-12
Attendance: Around 7,000 attendees (and broadcast live to 300 multi-site locations)
Why we like it: The GLS focuses on church leaders. The church is felt most fully when Christ-centered leaders take charge in their communities, establish and grow churches, and fully utilize their skills to make a positive impact on those around them.
Whether you're a Head Pastor looking for year-long insights or a Communications Pastor looking for a new way to connect, the leadership strategies taught here will leave anyone on your team with ripe material to bring to your community.
Location: Louisville, KY
When: September 21-22
Attendance: 4,000 attendees and 200 exhibitors
Why we like it: Media and technology are constantly changing. As a result, so do the needs of church staff and congregations!
For two and a half days, your entire ministry team will get hands-on training and education about the ever-changing technology, not to mention incredible networking opportunities.
Every part of your staff, including worship, tech, facilities and administration, will find something worthwhile at the Expo. You'll be blown away by the exhibitors and how much there is to take in.
When choosing which conference is right for you, consider whether you'd like to focus on preaching, worship, or something in-between. The five we've listed above do an amazing job of engaging both your minds and spirit, giving you the tools to better connect with and lead your followers.
Should you have a question on which conference is right for you, we'd love to give you additional insight. Just click the button below.
Editor's Note: This list has been updated! Click here to see the top 4 conferences to attend in 2018.