When it comes to keeping archives of public meetings, different local governments operate on a variety of rules, regulations, and practices. Some governments prioritize the meeting's transparency whereas others think record-keeping is most important.
Since there's not just one right way to go about this, it's important for you to understand what you're looking for in a video archiving and storage solution. The following questions will help clarify that for you:
Are you keeping the videos for internal purposes only?

Do you want to make your videos available on your website?

How can your residents find videos of past meetings? Is it easy and intuitive?

Should your archived meetings exist in the same place as current live streams of meetings?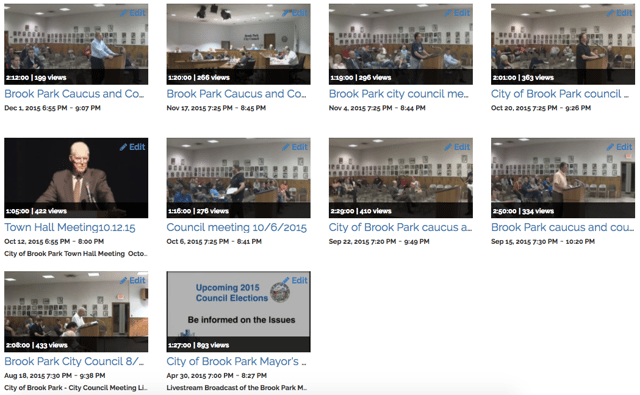 When it comes to affordable options for long-term video storage, YouTube and Vimeo are the two dominant players. Below we list their respective advantages and limitations, and offer an additional alternative.
YouTube
YouTube is the world's largest video search engine.

Example: City of Rancho Mirage, CA
Advantages
It's Free
If you don't have a budget for archiving videos, then few things can beat a free platform.
Easy to Start
YouTube has a low barrier of entry. It's intuitive and lets you easily upload and store content.
Search Engine Optimization
Because YouTube is a product of Google, your YouTube content can be easily found when people search for video content on the world's largest search engine.
Limitations
Though YouTube has several benefits, there are certain limitations you'll want to consider:
YouTube is Built to Serve Itself, Not You
YouTube, like any other business offering a free platform, has a different agenda that isn't always aligned with your goals.
To ensure that they make money off of your content, YouTube places ads on your videos to drive your viewers back to other content on their platform. Unless you disable monetization, YouTube will automatically run ads, even on your embedded videos.
Additionally, they will push your viewers to other content that isn't yours. While you want your viewers to stay with you, YouTube would rather have your viewers explore the other content on their platform. They are great at sending your viewers to other videos.
Staff Time
Uploading videos after every public meeting can require a lot of staff time. Once the video is recorded on your camera, someone needs to download the video from the camera onto a computer, trim the video if needed, upload it back to YouTube, and then embed the video on your website. The whole process can take several hours for each meeting you record.
Vimeo
While Vimeo isn't as large as YouTube, they have a strong and dedicated customer-base.

Example: City of Spartanburg, SC
Advantages
Built with Organizations in Mind
Vimeo is better suited than YouTube for brands and organizations. It's easy to turn off monetization and, as the platform doesn't link to videos that aren't yours, you won't have to worry about your viewers wandering to unrelated content.
Fewer Trolls
While YouTube is unfortunately full of trolls and spammers that can create a mess of unhelpful and/or inappropriate comments under your videos, the Vimeo community is built on a culture of respectful feedback and comments.
Limit Videos to Your Website
Unlike on YouTube, Vimeo allows you to display your videos exclusively on your own website (as opposed to requiring you to share your content on Vimeo). This means that you can include your archived videos on your website alongside other citizen services.
Limitations
Just like with YouTube, Vimeo has certain limitations that are worth reviewing:
Not Free
Vimeo has some clear advantages to YouTube, but, as a result, it's not a free service. Plans are affordable, but they are more than $0.
Staff Time
Just like with YouTube, the process of downloading and uploading videos on Vimeo can take a long time and often requires the time of additional staff members. Downloading, uploading, and embedding videos will become part of the job description of whoever fills that role.
Alternative Solution: Automatic Archiving with BoxCast
At BoxCast, we understand the importance of archive public meeting videos. In fact, we do it automatically to save your staff time and hassle. But we've taken it a step further: in addition to automatically archiving your content, we also make it easy to live stream the meeting so that your residents can tune in to your meetings in real-time, wherever they are.

Governments across the country are choosing to live stream their meetings as a way to engage with citizens and offer transparency for citizens who cannot attend the meetings in person. Historically, however, streaming solutions have been expensive and complex. At BoxCast, we're changing that.



How Does Streaming With BoxCast Work?
BoxCast offers a plug-and-play device that works with any kind of video camera setup. It takes less than a minute to schedule a broadcast on our easy online dashboard. From there, the broadcast will start on its own at the assigned time and automatically archive on your website once the live stream is over. It's that easy.
BoxCast can save you time and take the hassle out of using video for meeting transparency and record-keeping.
Recommended Reading
To learn more about BoxCast and how live streaming enables your local government to bring meetings to its residents in an accessible way, download this free guide.