Whether due to public health concerns, being out of town, or other reasons, people can't always attend funerals in person. Live streaming gives friends and families the opportunity to be present virtually rather than miss the service.
In this post, we'll show you the easiest way to stream funeral services, as well as the equipment you'll need.
What You Need to Get Started
Reliable Internet or Cellular Service
A solid internet connection is critical to ensuring a successful live stream. Before you begin, make sure you have at least 3mbps upload speed available for your stream, and avoid using any "public" or "guest" Wi-Fi connections. To see how much upload bandwidth you have available, visit speedtest.net and run a free test on your network.
A Streaming Device
If you're new to live streaming, we recommend starting out by using your smartphone or tablet as a streaming device. This way, you won't have to worry about the hassle of purchasing a video camera and
an encoder
separately.
Quality Audio

Just as important as good video (if not more so) is the ability to stream clear, high-quality audio during your live stream — especially during a funeral service, where speeches and eulogies are profound and meaningful to viewers. Having a way
to connect to your sound system
, using a lavalier microphone, or
attaching a microphone to your streaming device
can be a tremendous improvement over using the built-in microphone on your camera or smartphone.
A Streaming Service
Whether you use a free service like Facebook Live or a more professional service like BoxCast, you need a destination to send your stream to, so that your viewers can access your broadcast.
BoxCast's Broadcaster App
A single funeral service will oftentimes include travel to multiple locations (funeral homes, churches, cemeteries, etc.). It's difficult to ensure a reliable internet connection from place to place, and even more cumbersome to haul around professional video gear.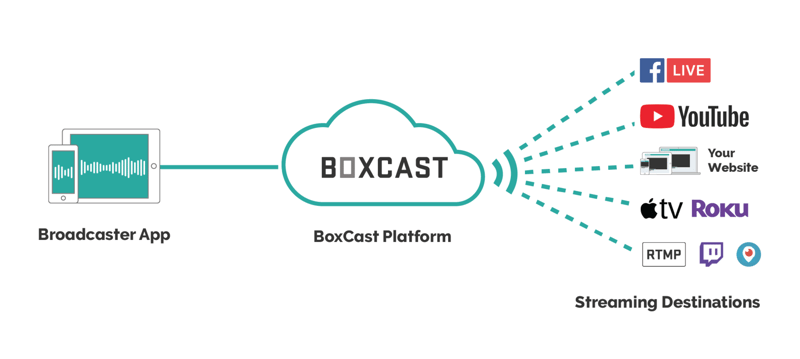 For typical funeral services, a portable streaming setup using a mobile device is ideal. BoxCast's Broadcaster app strikes a balance between simplicity and professional-quality video. Here are some features that make Broadcaster for iOS ideal for live streaming your funeral services:
1080p Video Streaming: Broadcaster gives you the ability to stream 1080p video instantly straight from your iPhone®, iPad®, or iPod touch®.
HEVC Compression: Broadcaster makes the most of limited internet connections by using HEVC compression, which allows for reduced required bandwidth of your live broadcasts. This is especially useful when streaming in places like cemeteries or remote locations.
Channels + Embedding: The BoxCast platform allows you to schedule your broadcasts ahead of time and categorize your live streams into channels. This gives viewers the ability to watch all memorial service events using one link, or on a single embedded player on your website.
Unlimited Simulcasting: In addition to your website, you can send streams to a private Facebook group, a memorial Facebook page, and any other social media site.
Additional Equipment
Here are some other tools you can use to enhance the production value of your mobile live streams: kit.co/BoxCast/funeral-live-streaming-starter-kit. To see more of our favorite gear, visit kit.co/boxcast.
Final Thoughts + Further Reading
Live streaming memorial services can bring loved ones together during difficult times and make people who can't be present part of the experience.