It's undisputed that there's immense power in video.
Many of us don't even realize how pervasive of a communications tool it has become. But think of how much video content we process daily, whether it be from news, commercials, movies, or YouTube. Video's ability to simultaneously appeal to both sight and sound has captivated audiences for decades. We're hooked!
The previous post in this series discussed why video is so important and listed several ways you could incorporate video storytelling at your church. This post offers specific tactics to build a storyline and identify your sources.
Live Video vs. Video Storytelling
If you've already chosen to live stream your services, it's clear that you understand that video is powerful. But there is a crucial difference between live streaming an event and shooting a video for storytelling purposes, besides the obvious fact that one is live.
When you stream a service, meeting or choir concert, the content or "story" of the video is determined for you; it's the event taking place, which comes complete with a beginning, middle and end. To oversimplify, you turn the camera on when it starts and turn it off when it ends.
Using video to communicate a message, however, requires that you create the story and tell it in a concise, effective and interesting way. That entails planning and deliberation. The most important thing to decide is the story — what knowledge do you want viewers to come away with – what message do you want to deliver?
Story is Everything
A well-shot, well-edited video that is uninteresting or muddled in its message will not have the impact you want. People might watch it, but they will not be moved to act or remember it for long. The story behind your video has the ability to affect people's emotions much more than the production value. Often, using first-hand sources (and identifying them in the video) is a compelling way to communicate your message.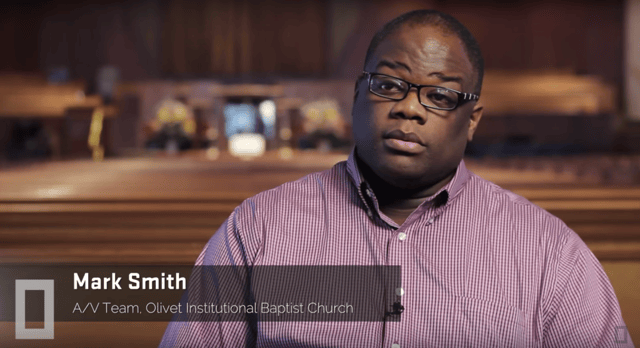 Define the message before you turn on a camera.
Example: 50th Anniversary Celebration
Let's say your church is celebrating its 50th anniversary and wants a video as part of the commemoration. That might sound simple, but there are many possibilities for an anniversary video.
It could be as simple as a succession of congregants wishing the church a happy anniversary or older members recalling significant events and milestones. It could be a chronological recount of the church's growth and development, complete with old photographs and documents. It could even be a forward-looking video that focuses on what the church hopes to accomplish in the next 50 years.
What it can't be is a hodgepodge of all the above because that would be disorganized, drawn out and unwatchable.
Including old photos in your video can add an element of nostalgia. Ask your community whether they have any you could include borrow.
Proper Source Material is Crucial
Depending on the storyline you choose, you might need to invite people to participate and share their own stories. Consider leveraging your church newsletter to let people know about the project and invite them to come forward. (Be aware that you might get more volunteers than you can accommodate.)
Once you've identified likely sources, sit down and talk to them off-camera. Though it may require some tough decisions, evaluate the person's suitability for the video:
Are their stories relevant to the material you want to cover?

Are they articulate?

Do they ramble?

Are they telling the same story someone else tells better?

How would they appear on camera?
Once you've identified the people you'd like to include and the relevant materials, take stock of your sources. It's always better to assemble too much information and trim than to not have enough material to make a good video.
Now you're ready to write the script, which is the backbone of the video. That will be the topic of our next installment in this series.
Recommended Reading:
If you're ready to craft a compelling video, you'll want to make sure to put your best foot forward. Our Video Framing & Composition Guide expands on various best practices so that you can capture a beautiful shot.