The Cleveland International Film Festival is an annual film festival based in Cleveland, Ohio. It is the largest film festival in the state. Every year, the film festival presents hundreds of feature films and attracts over 100,000 visitors to the city.
The festival lasts one week, and concludes with a Closing Night Reception, which includes several speakers and an awards ceremony. You can watch their most recent Closing Night Reception here:
Three years ago, the CIFF made the decision to live stream their Closing Night for the first time with BoxCast. Going into it with little expectation, they were pleasantly surprised to see their online community was engaged.
By only embedding on their website the first year, they had 1,203 live stream views of their first broadcast.
Expanding Their Reach
Once they learned about BoxCast's ability to simulcast to multiple streaming destinations, they were excited to see how it would impact their overall viewership.
In the following years, the CIFF was able to increase their viewership of the Closing Night Reception nearly ten-fold by streaming to multiple streaming destinations using the BoxCast platform.
The second year, they expanded to Facebook Live.
The third year, they added YouTube Live.
Here's what happened to their viewership as they maximized reach across platforms: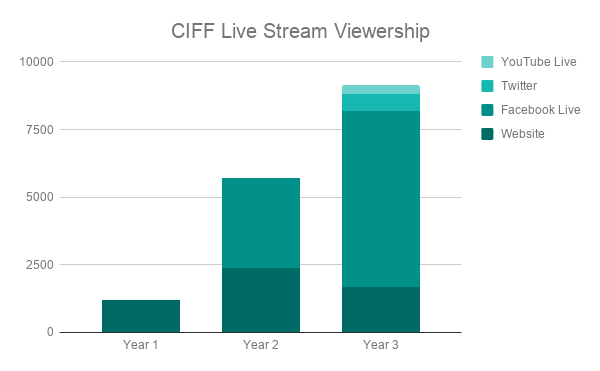 Final Thoughts + Further Reading
From this example, you can see how streaming to multiple destinations allows an organization to expand their audience, and attract viewers that may have been unaware of their broadcasts.
By simulcasting with BoxCast, you can broadcast your events everywhere, and meet your viewers where they are.