This post is based on"How to Reach and Engage Your Congregation In a Digital World: The Pastor's Guide to Live Video Streaming." If you're interested in learning more about live streaming and how it can help you share your ministry, download the free guide.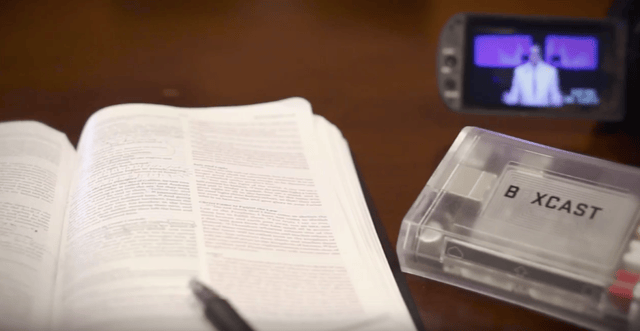 We live in a busy world. Sometimes, it feels too busy and can keep even the most faithful believer from attending Sunday service every single week. Luckily, live video streaming your services enables you to stay connected to your congregation whenever life's other commitments get in the way.
At BoxCast, we often speak with pastors and worship leaders about the power of live video streaming and how it can help them share their ministries and fulfill the Great Mission. Below are answers to the top three questions that we hear from pastors, expanded on in How to Reach and Engage Your Congregation in a Digital World.
1. Does live streaming hurt service attendance?
We understand the initial concern that live streaming a service might hurt attendance on Sundays. But actually, most churches that stream actually see steady Sunday morning growth over time. The thing is, live streaming is a wonderful tool, but it can never replace the communion of the saints and the importance of fellowship within a church body. Streaming your services is a wonderful supplemental tool to allow you to stay connected with your community when they, for whatever reason, can't be there in person.
Plus, once your Sunday service is over, BoxCast provides your church the ability to automatically archive video. Using these archived videos on your website is a wonderful way to reach out to prospective congregants who are searching for a community.
2. We're a small congregation. Is streaming right for us?
BoxCast works with churches of all different sizes. We built an end-to-end solution that could be valuable to a church of any size. Congregations as small as 25 members and as large as 8,000 have successfully engaged their community through live streaming. Pricing is based on church attendance, so it's affordable even for a small congregation. Plus, the streaming process is automated so you don't need to be a tech expert to use it.
3. How do other churches use live streaming?
Great question. Most churches we work with use BoxCast to regularly stream their Sunday services. Several have reported back to us that they use it for much more, including youth concerts, weddings, funerals and small group ministry. To learn more about how our church customers are utilizing live streaming technology, read our testimonials.
For more answers to common questions and insights into how to reach your congregation in a digital world, download How to Reach and Engage Your Congregation in a Digital World.