The world is more connected than ever. Let's connect it with Christ.
These are the words that greet you on Church Online Platform's website. It's true – we spend an increasing amount of time connecting with people online, whether it be friends and family on Facebook or colleagues on LinkedIn. In a world where technology is so readily at our fingertips, why not use it to grow closer to Christ?
Church Online Platform makes this easy to do. Founded on the idea that "church" isn't confined to a building, this free platform leverages technology to build a community that extends beyond one location. In doing so, they've been able to engage more people in ministry and reach seekers that may never have otherwise had an encounter with Christ.
As a BoxCast customer, it's clear that your ministry is aligned with this mission. As you look to amplify your church's impact, consider these six beneficial features of Church Online Platform: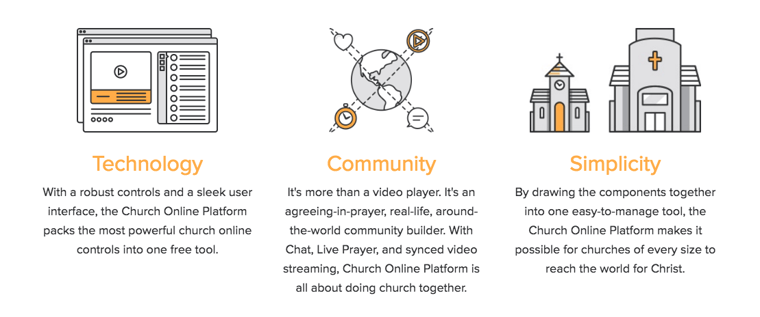 1. Streaming Integrations
Church Online Platform integrates seamlessly with live video streaming providers to let your church share sermons and other events with your surrounding community, regardless of whether they're physically present. The platform does allow you to play pre-recorded videos, but its live streaming capacity means that you can share live sermons and events as they're happening to harness the power and unity found only in live events.
This link shows exactly how BoxCast integrates with the platform to make your online service even more powerful.
2. Live Chat and Live Prayer
Features like live chat and live prayer can add additional depth to your live video stream. From anywhere in the world, people can engage in meaningful conversation with one another while watching and learning from your sermon.
3. Calendar
Church Online Platform's calendar feature makes it easy for people to see what your church is doing and when. The calendar lets people can coordinate their busy lives around your sermons, ask to be reminded about when it starts, and even invite friends and family to watch with them.
4. Next Event Countdown Timer
In a similar vein, Church Online Platform lets you include a countdown timer until your next stream. As a church's website has become its new front doors, many people will go online to see if a particular church is the right fit for them before ever stepping foot inside any physical place of worship.
The countdown timer helps people understand when to join the next event. Viewers can even choose for the platform to send them a text message or email reminder when the stream is about to begin.
5. Social Sharing
There are few things in history that has revolutionized our online behavior as much as social media. People spend hours each day on these platforms, not only to stay in touch with friends and family, but also to stay up-to-date on the organizations they care most about.
A church with an active social media presence shows that it understands how its community spends its time and can keep its ministry at the forefront of people's minds. With just the click of a button, the platform makes it easy for your church to maintain stay active on various social channels, including Facebook, Twitter, Google Plus, and email.
6. It's Free
Church Online Platform wants to minimize any barriers a ministry might face in spreading its word. That's why they've made this platform entirely free. You can even access other free digital downloads and church apps on their resources site Life.Church Open Network.
In our ever-changing world, the church's mission has remained the same: to reach and engage people with God's word. If you're a BoxCast customer, or looking to start soon, we'd love to start a conversation about how COP can help you share your ministry beyond the walls of your church.
Image Source: www.ChurchOnlinePlatform.com