This post talks about the XTPower XT-20000 External Battery Pack, our favorite power source for mobile broadcasting. It's part of our series on live streaming equipment.
Mobile broadcasting presents a few extra challenges for broadcasters. The biggest obstacle of course is ensuring you maintain an uninterrupted, strong network connection for the broadcast.
The top hurdle beyond your mobile network is your power supply. Your setup (specifically your encoder) needs a source of power that is both compact and long-lasting. This post addresses our favorite battery pack to power your live streaming set up on the go.
XTPower XT-20000 External Battery Pack
At BoxCast, our live streaming specialists constantly test out equipment so that we can give great recommendations to our customers. The XTPower XT-20000 External Battery Pack stood out as our favorite source of power.
With a small frame and numerous connection options, the battery pack can be used to supply power to various devices in your setup.
Most importantly, the XTPower XT-20000 External Battery Pack can provide power for a long time. Based on our own tests, the pack has no issue powering the BoxCaster for over 8 hours. If it's operating at 100%, this pack should be able to carry you through the entirety of your event.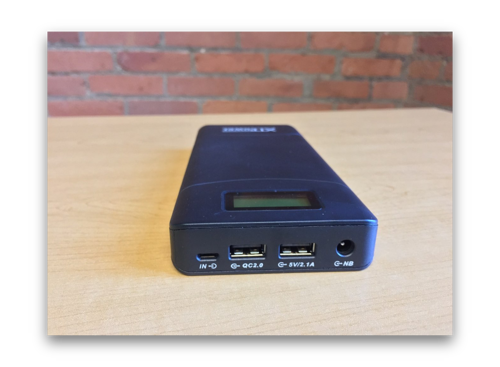 Packing Your Battery Pack and Other Elements of Your Mobile Setup
Great mobile streaming requires a great mobile setup. The XTPower XT-20000 External Battery Pack and the BoxCaster are a great starting place.
Another consideration for your setup is your case. A rugged hard shell case for your encoder, camera, battery pack, and other equipment can make mobile live streaming painless for you and your team.
Here are a couple you might want to consider:
Gator Cases Pro Series Rotationally Molded 6U Rolling Rack Case for a setup with a rack mounted video mixer
Zeikos ZE-HC36 Deluxe Medium Hard Shell Case for a simple mobile production setup with only a few pieces of equipment
Final Thoughts + Further Reading
While there are a few extra elements to consider, mobile live streaming can be easy. Before you start investing in a setup, make sure you read our post on alternatives to mobile hotspots.